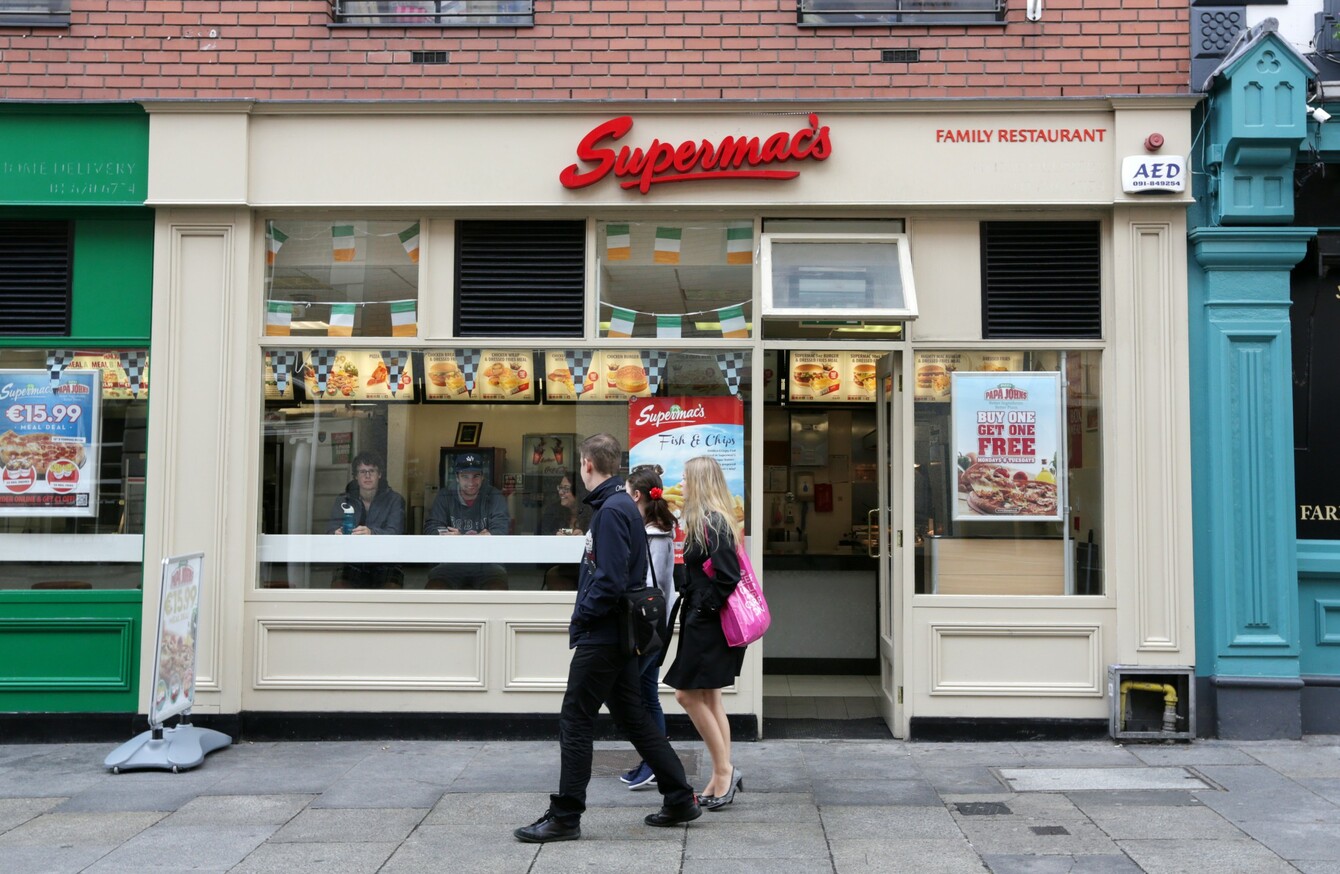 Image: Laura Hutton/RollingNews.ie
Image: Laura Hutton/RollingNews.ie
PROFITS SOARED AT the company behind fast-food chain Supermac's last year, more than doubling to just under €12 million.
According to new accounts just filed by Supermac's Ireland, the company had sales of just over €116 million in the 12 months to the end of 2015, up nearly one-quarter on the tally for the year before.
The firm, which is owned by Galway entrepreneur Pat McDonagh and his wife Una, who set up the first outlet in the chain at Ballinasloe, County Galway in 1978, made an operating profit of just under €14 million compared to slightly under €10 million in 2014.
After paying out about €2.2 million in taxes, Supermac's was left with a net profit of €11.9 million – more than double the €5.7 million reported by the business the year before.
Windfall
An average of 1,336 people were employed by Supermac's Ireland during the year, up from 1,032 the year before. This resulted in staff costs rising from about €22 million to just over €27 million.
The accounts also show that Pat McDonagh and his wife Una received a major windfall during the year, as Supermac's Ireland purchased property from the pair at "open market value" of nearly €27 million. Some €10.4 million was still due to be paid to the couple at year-end.
As well as owning more than 100 Supermac's outlets, McDonagh also owns several hotels, fast-food outlets and motorway petrol stations – most notably his Barack Obama Plaza in Offaly.
The directors report for Supermac's Ireland noted: "The activities of the group are diverse. They incorporate the hospitality sector, including quick service restaurants, hotels, service stations and the property sector."
Expansion
McDonagh said at the start of the year that Supermac's expected to open six new branches during 2016 in a move that would likely create at least 200 new jobs.
However, while it continues to expand across Ireland, the chain has apparently been stymied in its plans to move into mainland Europe and Australia due to opposition from American fast-food giant McDonalds.
The US company, which operates about 34,000 outlets across the world, had filed a 41-page complaint with the EU's Office for Harmonisation in the Internal Market (OHIM) about Supermac's pending bid for a Europe-wide trademark.
In its decision, OHIM has partially upheld McDonald's claim, rejecting Supermac's trademark application for a number of items including food and drink services.
While Supermac's was awarded its own trademark in Europe, it lost the part of the case which allowed it to sell its core products – including toys, food, drinks, coffee, ice-cream and meat.
Written by Paul O'Donoghue and posted on Fora.ie