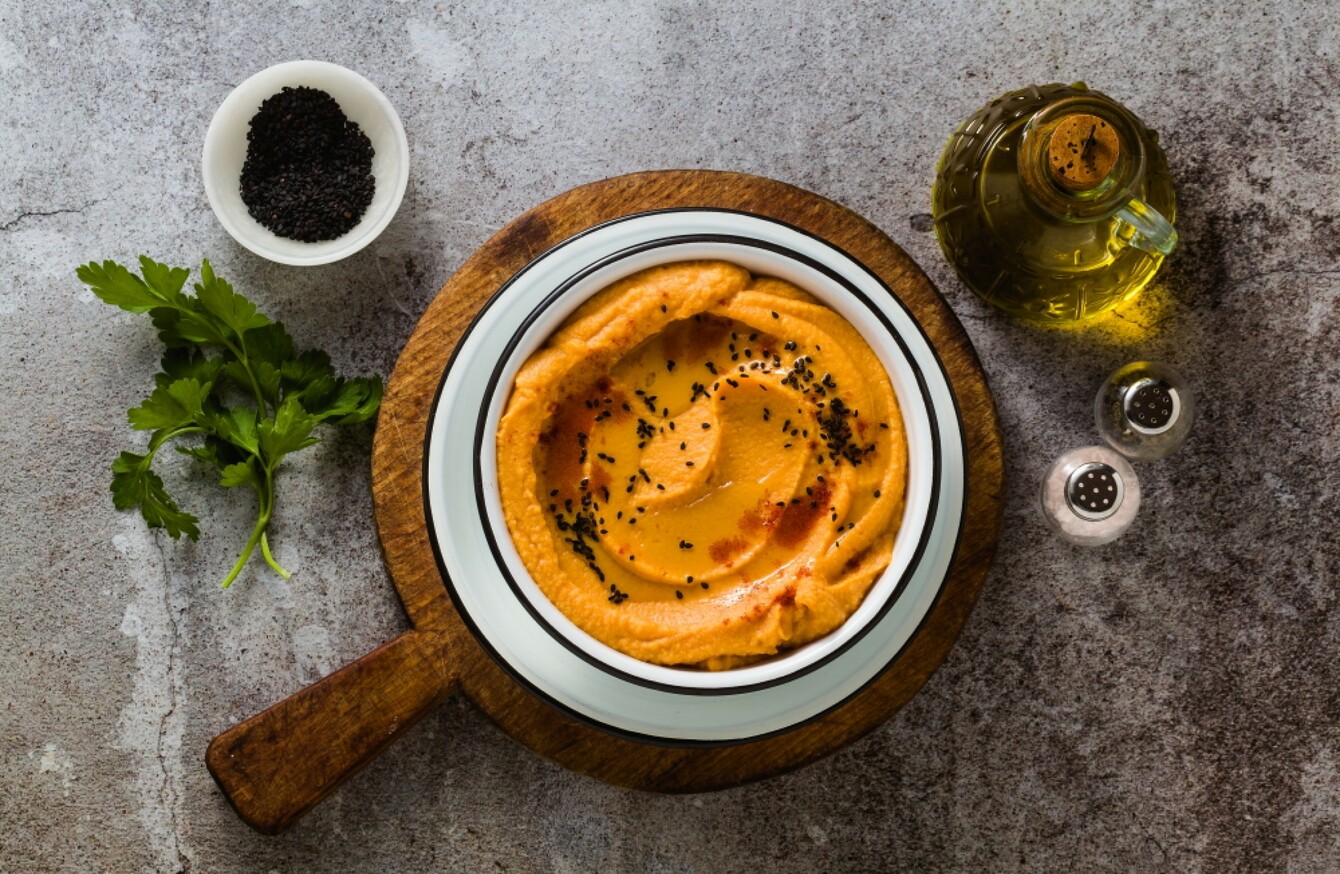 Image: Shutterstock
Image: Shutterstock
SWEET POTATOES ARE a great source of fibre, and also contain many other nutrients including iron and vitamins B and C (although not as much vitamin C as regular potatoes).
One of the biggest talking points around the nutritional profile of sweet potatoes is that they're high in antioxidants. These are found mainly in the skin, so try to leave the skin on when eating them – just don't forget to scrub it first.
You can use sweet potatoes simply roasted as part of a salad, in soups, curries and countless other meals. The popular root vegetable is so versatile that it can even be transformed into a dessert (yes, sweet potato pie is a thing). Whether you're looking for a weekend snack, meatless Monday dinner or make ahead lunch, we've got you covered with meals that are not just tasty, but easy to make too.
1. Sweet potato and spinach curry: This super healthy meat-free Monday dinner can be made in just 30 minutes! Heat some oil in a large saucepan and gently fry sliced onion along with ginger and crushed garlic for five minutes, until soft. Add sliced green chilli (deseeded if you don't like it too spicy) and a teaspoon each of garam masala, turmeric, cumin and black mustard seeds.
Fry for another 2 minutes to release the flavours of the spices, then add cubed sweet potato and cover with vegetable stock. Simmer for about 20 minutes, until the sweet potato is cooked, then add spinach leaves and stir. Serve with a dollop of natural yogurt and some chopped coriander on a bed of basmati rice.
2. Sweet potato falafel: Microwave 2 medium sized sweet potatoes for 10 minutes until soft, then set aside to cool. Once they're cool, slice them in half and scoop out the flesh into a large bowl.
Add some garlic, ground cumin, two spoonfuls of flour and seasoning along with finely chopped coriander and parsley, then mash everything until the potatoes are almost smooth and the spices are fully incorporated. With your hands, shape the mixture into small balls and place on a greased baking tray.
Bake in a hot oven for about 20 minutes, turning half way through, until they're golden in colour. Serve in pitta breads filled with some leaves, hummus and sweet chilli sauce. Or, for a seriously healthy meal, serve with a carrot and beetroot salad as seen in this recipe by Love and Blossoms.
3. Spiced sweet potato soup: This comforting soup is full of fresh flavours, making it a great lunch for any time of year. In a large saucepan, gently fry onions, ginger, garlic and red chili for about 10 minutes, until the onions are soft. Add cubed sweet potato, a pinch of curry powder and seasoning and stir everything together.
Turn up the heat, then add in a tin of coconut milk and a pint of vegetable/chicken stock. Once the liquid starts to simmer, turn the heat back down and allow to cook for 20 minutes, until the sweet potato is soft. Remove from the heat and blitz with a hand blender until smooth, adding more stock if the soup is too thick. Stir through a squeeze of lime juice, and serve.
4. Sweet potato hummus: Homemade hummus is so easy to make, and is perfect for a Friday night snack. Peel a large sweet potato, then chop roughly and place on a baking tray with some whole cloves of garlic and a teaspoon of chili powder. Toss in olive oil, and bake for 20 minutes or until soft.
Allow to cool, then add to a food processor (including the garlic) along with a tin of drained chickpeas, 4 spoonfuls of tahini, the juice of half a lemon and seasoning. Blitz to combine, adding some water if the mixture is too thick. Adjust the seasoning if needed, then serve straight away with some raw vegetables and flatbreads.
5. Jacket sweet potatoes with turkey chilli: Make the jacket potatoes first by rubbing them with olive oil and seasoning, then placing in a hot oven for about 45 minutes to an hour, until they're cooked through.
While they're baking, make the turkey chilli. Fry some onion, fresh chilli, cumin and garlic in a saucepan until soft, then add the turkey mince. Allow the mince to cook, then add a pinch of salt and pepper, a tin each of chopped tomatoes and drained kidney beans and simmer for 15 minutes.
Slice the potatoes down the centre and top with the turkey chilli, sour cream, coriander and jalapenos. Want to go veggie? Take inspiration from The Little Green Spoon's Middle Eastern recipe topped with spiced chickpeas and pine nuts.