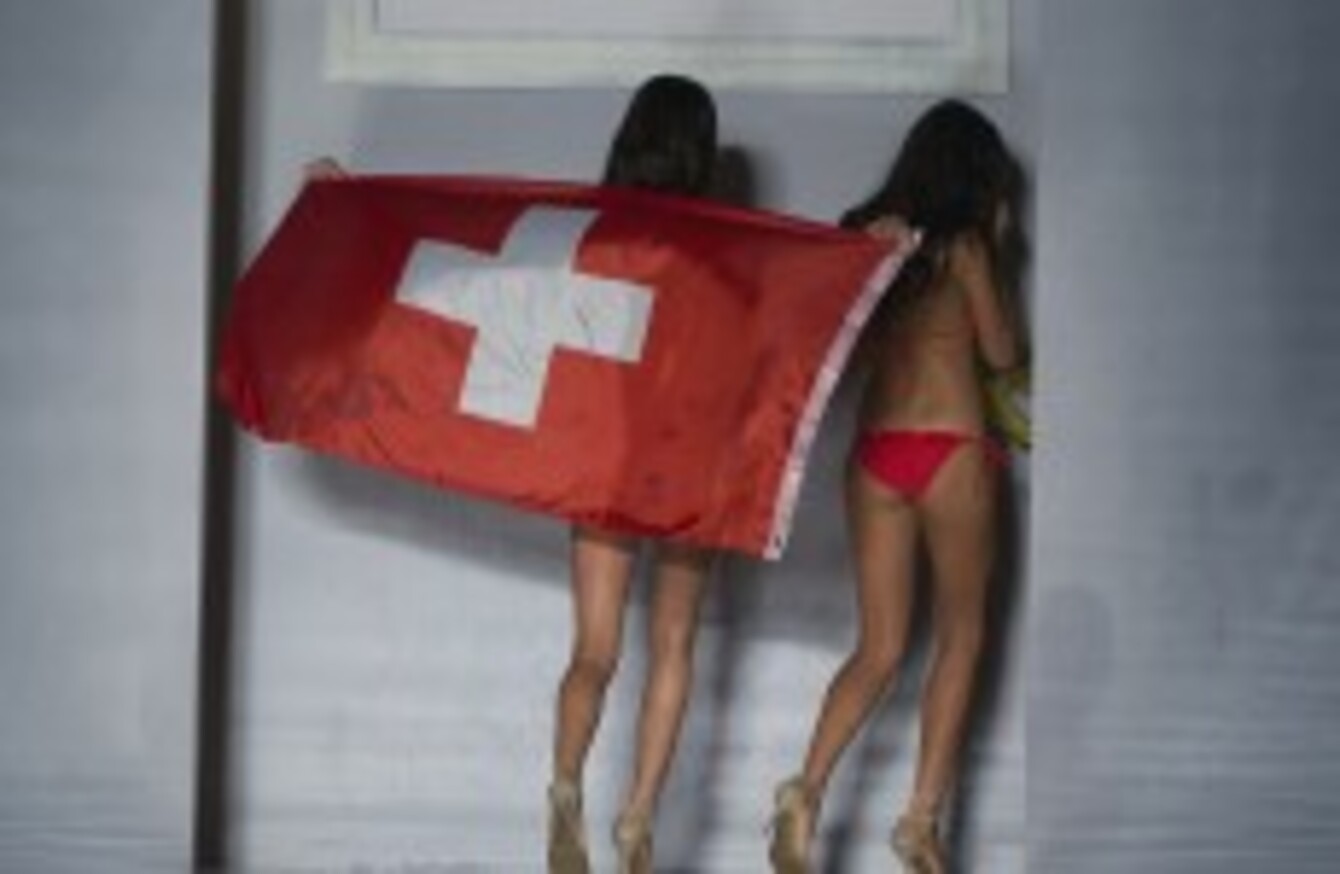 Image: AP Photo/J Pat Carter
Image: AP Photo/J Pat Carter
SWITZERLAND IS DOING something right now which, on the face of it at least, seems very un-Swiss.
While the rest of Europe has flailed in different directions trying to deal with the fall-out from the catastrophic economic crisis, Switzerland's economy has survived relatively unscathed. But even though it has avoided recession and austerity, the country is embracing some of the most radical policies of any European country to crack down on the excesses and flagrancy of the boom years.
It has already ended giant congratulatory bonuses to high-paid executives, while a vote today could bring in a cap on big salaries. There will be a future vote on introducing a basis income for every citizen of around €2,000 per month – and all the while, the focus has been on questioning basic ideas of fairness.
Given that Switzerland's economic strength has always been built on being pro-business, it may explain why one local politician has warned that the country was in danger of becoming "the North Korea of Europe".
While most people wouldn't go as far as suggesting that Switzerland is on the road to totalitarian communism (ahem), the country has punched open a frank and emotive conversation about whether or not it's fair for some people to be paid extremely high wages in a country that has a strong history of egalitarianism. But why Switzerland rather than any other European country?
Today's referendum
Today's referendum, which has become known as the 1:12 Initiative, is a good place to start. If passed, it would introduce a kind of maximum wage; the highest paid employee in a company would only be allowed to earn at most twelve times the salary of the lowest paid worker.
The proposal came from citizens rather than politicians (many of whom oppose it).  Following the public outcry over the massive salaries paid to bankers during the economic crash, the youth wing of a left-leaning political party led a campaign to gather enough signatures to force the government to consider it.
Proponents argue that the gap in salaries has been growing. Many Swiss companies have a ratio of around 40 or 50:1, rising to even 100:1 when it comes to top earners compared to lowest-paid employees. At least five of Europe's 20 best-paid chief executive officers are found in Switzerland, according to Bloomberg.
Switzerland is hardly alone in this – the average American CEO earns around 200 times the salary of their lowest paid employee.
However the difference in Switzerland is that the way the electoral system works means that people can institute change more easily than in other countries. JUSO, the youth wing of the Social Democratic Party, collected 100,000 signatures to propose a change to the Swiss Federal Constitution, forcing the referendum.  (Ireland had a similar provision in the Free State constitution of 1922 which allowed for a referendum if 75,000 signatures were collected but this was scrapped in the later version of Bunreacht na hÉireann).
Although Switzerland was not badly hit by the financial crisis – thanks, in part, to its decision to remain outside of the EU – it did lead to a reassessment of its attitude to bankers, who have always held a central role in Switzerland's economy. One expert said that many Swiss people believe that the attitude of bankers haven't changed, despite their fall from grace, and that they haven't thought enough about their responsibilities.
"There is unease that the country is seen as inhabited solely by bloated plutocrats, greedy bankers and tax dodgers," Clive H Church, a professor at the Centre for Swiss Politics at the University of Kent told Business Insider this week. "Economic equality is a way of mitigating this image".
It can also be seen as a reaction to the pain caused by the financial crisis. "There have not been major consequences, Bruce Kogut of Columbia Business School told Reuters. "Collective expiation of guilt and responsibility is lacking".
Result
Turnout is expected to be high in today's referendum. The numbers aren't looking great for supporters of the 1:12 Initiative, however. After initially drawing level on 44 points apiece in opinion polls, the No side has pulled ahead. One recent poll found the Yes side trailing by 36 per cent to 54 per cent.
This isn't too surprising. Businesses have been giving large amounts of money to the No side. And while  people-led referendums are seen as a way to provide a voice for marginalised groups and popular opinion and are popular in theory, they don't always work: of the 110 that have made it to a vote in the last 32 years, only 20 have passed.
Even though they may not always like the results, the Swiss are generally pragmatic about the results of people-led referendums. They are "willing to accept the people's decision even if it goes against [their own]," said Church. "Politicians can be counted on not to resign or protest if the vote doesn't go their way and – perhaps most incredibly – Swiss citizens will happily vote many times a year".
Fairness
Today's referendum comes eight months after the electorate voted in favour of the so-called fat-cat initiative which blocked 'golden handshakes' and severance packages and gave companies' shareholders a binding vote on managers' pay.
The vote, which was passed by a two-thirds majority – was successful partly because of Daniel Vasella, the CEO and chairman of pharmaceutical giant Novartis, who demanded a severance package worth around €58 million in return for a promise not to work for a competitor for six years. Commentators say he played a decisive role in the plebiscite's success.
Meanwhile the debate about fairness will go to a whole new place in just over a year's time when the Swiss will vote on a proposal to give every citizen a universal basic income of 2,500 Swiss francs (just over €2,000) per month to live on, regardless of other income, cutting out all other forms of social welfare. The idea has been mooted by academics for almost two decades, but Switzerland will become the first big country where the theoretical could become actuality.
Those two things, coupled with today's vote, adds weight to the notion that Switzerland has dealt with the economic crisis in a way very different to other European countries, but one which may catch on. The Social Democrats in Switzerland have said they want people in other countries to pay attention to the initiative – and the main opposition party in Spain has just adopted it as official policy.
Could it happen here?
So could something like the 1:12 Initiative ever happen in Ireland? Given how the government has fought to have Ireland seen as pro-business – The Best Small Country in the World in Which to Do Business By 2016, as the Taoiseach likes to say at pretty much every single business event he goes to – it's unlikely.
"I think it's something that we have to be always aware of," Paschal Donohoe, the Minister of State for European Affairs told TheJournal.ie.
"We have to look at the level of remuneration of people at the top of our society and the people at the bottom of our society; I'm extremely conscious of the degree of inequality [in Ireland]", he said.
However he refrained from suggesting it could work here. "I mean, it's not enough to come up with a more stable and secure society at the end, as we grapple with the current difficulties that we have," he said. "We have to come up with a far fairer society as well."
The result of the referendum is expected later today.