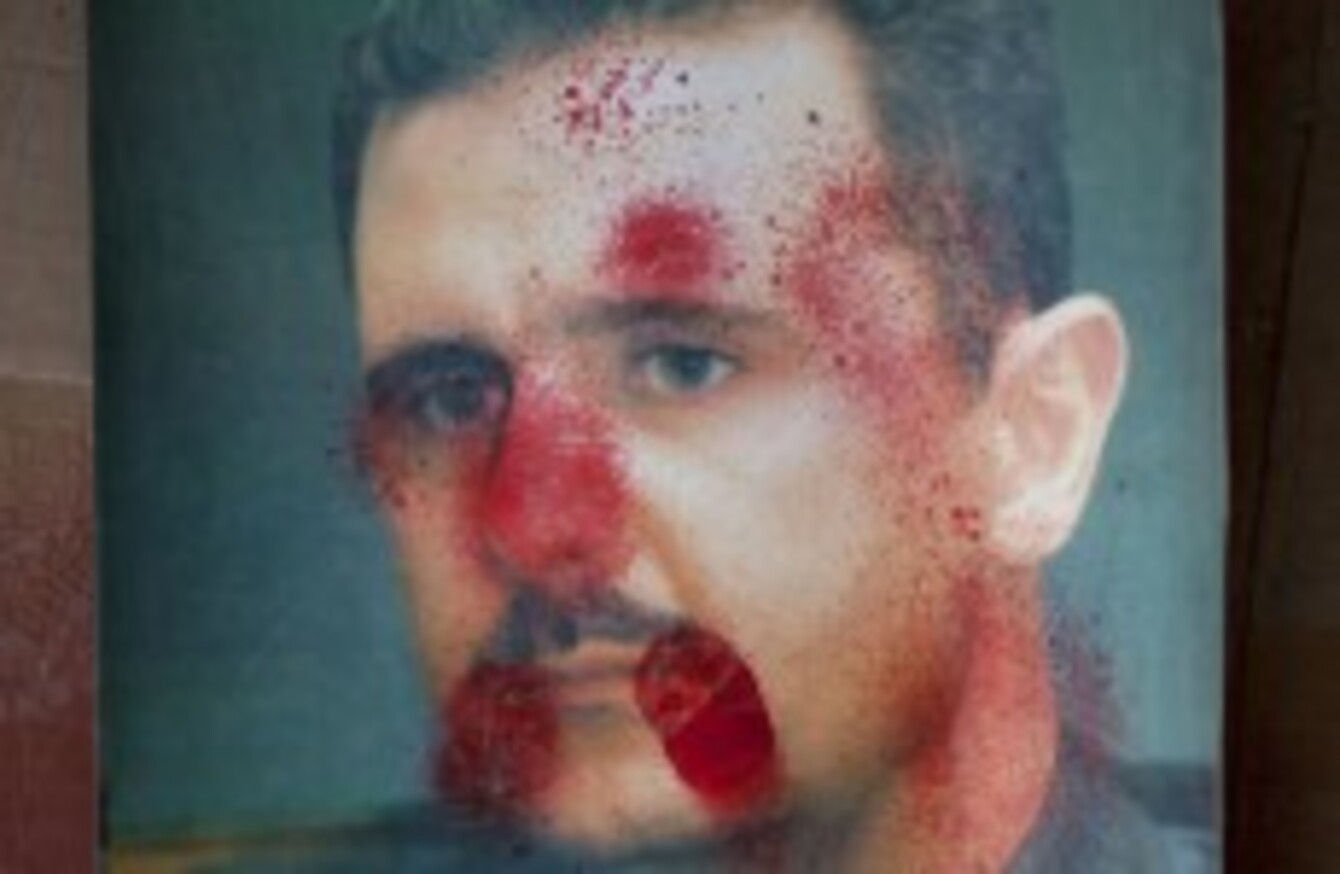 A portrait of Syrian President Bashar Al-Assad defaced with red paint is sown during an anti-government demonstration in the outskirts of Idlib in the north of the country
Image: Rodrigo Abd/AP/Press Association Images
A portrait of Syrian President Bashar Al-Assad defaced with red paint is sown during an anti-government demonstration in the outskirts of Idlib in the north of the country
Image: Rodrigo Abd/AP/Press Association Images
SYRIA PRESIDENT DEFIED mounting international pressure to end the year-old crackdown on an uprising against him and said Tuesday he was determined to go on fighting what he called "foreign-backed terrorism."
After a powerful American senator called for airstrikes on Syria, President Barack Obama said unilateral US military action against President Bashar Assad's regime would be a mistake.
The United States said it is proposing a new United Nations Security Council resolution demanding an end to violence in Syria, first by government forces and then by opposition fighters.
Russia and China, powerful allies that have blocked a Security Council resolution against Syria, made clear they were still standing by the regime in Damascus.
"The Syrian people, who have in the past managed to crush foreign plots, … have again proven their ability to defend the nation and to build a new Syria through their determination to pursue reforms while confronting foreign-backed terrorism," President Bashar Assad said, according to state news agency SANA.
The military crackdown has turned to southern Daraa province, where the uprising began a year ago. Troops shelled a village in Daraa and clashed with military defectors.
Activists said the military blasted a bridge and a tunnel near the border with Lebanon used as escape routes for the wounded and refugees fleeing central Homs province, an opposition stronghold which just endured a heavy monthlong offensive.
Rupert Colville, spokesman for the UN High Commissioner for Human Rights in Geneva, described video that has emerged of torture victims allegedly shot secretly in the Military Hospital in Homs as "truly shocking."
'Torture'
The video, broadcast this week on Britain's Channel 4, shows wounded civilian victims blindfolded and chained to their hospital beds, some of them with clear torture marks on their bodies, allegedly at the hands of medical staff.
The international outcry against Syria has been growing louder by the day. On Monday, US Sen. John McCain called for airstrikes against the country, saying the United States has a moral and strategic obligation to force out Assad and his loyalists.
Obama has resisted calls to step into the turmoil in Syria to stop Assad's bloody crackdown on protesters. He told a news conference Tuesday that the international community has not been able to muster a campaign against Syria like the one in Libya that ousted Gaddafi last year.
"For us to take military action unilaterally, as some have suggested, or to think that somehow there is some simple solution, I think is a mistake," Obama said.
"What happened in Libya was we mobilised the international community, had a U.N. Security Council mandate, had the full cooperation of the region, Arab states, and we knew that we could execute very effectively in a relatively short period of time. This is a much more complicated situation."
Obama's strategy has been to use sanctions and international diplomatic isolation to pressure Assad into handing over power.
The top US commander in the Middle East said the advanced air defence weapons Russia has provided toSyria would make it difficult to establish a no-fly zone there as part of an effort to help the rebellion.
Marine Gen. James Mattis, head of US Central Command, told the Senate Armed Services Committee it would take a significant military commitment even to create safe havens in Syria where aid could be delivered, as McCain suggested.
Turkish Prime Minister Recep Tayyip Erdogan said Assad, unlike his father and predecessor, will not escape punishment for the violence he has inflicted. Turkey and Syria, which share a border, were allies before the uprising began.
"I would like to remind Bashar Assad: his father was not made to account for what he did in this world, but his son will sooner or later account for what he did, for the massacre and the oppression," he said.
"This time, the blood shed in Syrian cities will not go unpunished." The father, Hafez Assad, died in office in 2000 after ruling Syria for nearly three decades.
More than 7,500 killed
The UN says more than 7,500 people have been killed since Syria's uprising started in March 2011. Activists put the death toll at more than 8,000.
Clashes that broke out in the village of Hirak, where many dissident soldiers are believed to be operating, were some of the worst lately in Daraa province, birthplace of the uprising to oust Assad.
Explosions shook the village as shells slammed into residential areas suspected of sheltering defectors, and even mosques were targeted, according to activists. A 15-year-old boy and five soldiers were killed, they said.
"The clashes are very intense and have been going on since the morning," said Rami Abdul-Rahman, director of the British-based Syrian Observatory for Human Rights, which relies on a network of activists on the ground.
A video posted online by activists shows what it said was the inside of the Abu Bakr al-Saddiq mosque in Hirak. There were images of rubble littering the mosque's entryway, doors blown from their frames and shattered glass covering the floor.
An unidentified man on camera says a tank fired on the mosque after town residents sought refuge there. Another video shows men, women and children fleeing a building after it appears to be hit by a shell.
Abdul-Rahman said the army was fighting a large number of army defectors in Hirak.
He said the rebels ambushed an armored personnel carrier, killing five soldiers and wounding several. He and the Local Coordination Committees, another activist group, said a 15-year-old boy was killed by snipers.
Snipers on rooftops
Activists and residents accuse the government of deploying snipers on rooftops in many cities to terrorize anti-government protesters. The circumstances of the teenager's death were not immediately clear.
Syria has barred almost all foreign journalists and human rights groups throughout the uprising, making most events difficult to verify.
Security forces were conducting raids in pursuit of defectors and activists, making arbitrary arrests and burning homes in Hirak, the LCC said. The group reported at least 21 deaths across Syria today.
The operation in Daraa province began just days after Syrian forces captured a key rebel-held neighborhood in central Homs province, another opposition stronghold.
Government troops intensely shelled Homs for four weeks before they captured the Baba Amr neighborhood in the city of Homs, wresting it from rebels who had held it for months. Activists said hundreds were killed in the month long offensive, which was forcefully condemned around the world.
Observatory director Abdul-Rahman said Syrian forces Tuesday blasted a bridge and a tunnel near the border with Lebanon used to evacuate the wounded and refugees to Lebanon from Homs province.
A top Russian diplomat also said Moscow was sticking to its position on the Syria crisis and urged the West to press the opposition to stop fighting Assad's regime. Both Russia and China fear a Security Council resolution condemning Syria could lead to military intervention against Assad, as it did last year against Gaddafi in Libya.
A special Chinese envoy to Syria arrived in Damascus Tuesday to press the regime for a cease-fire. Beijing remains firmly opposed to any foreign intervention in Syria.