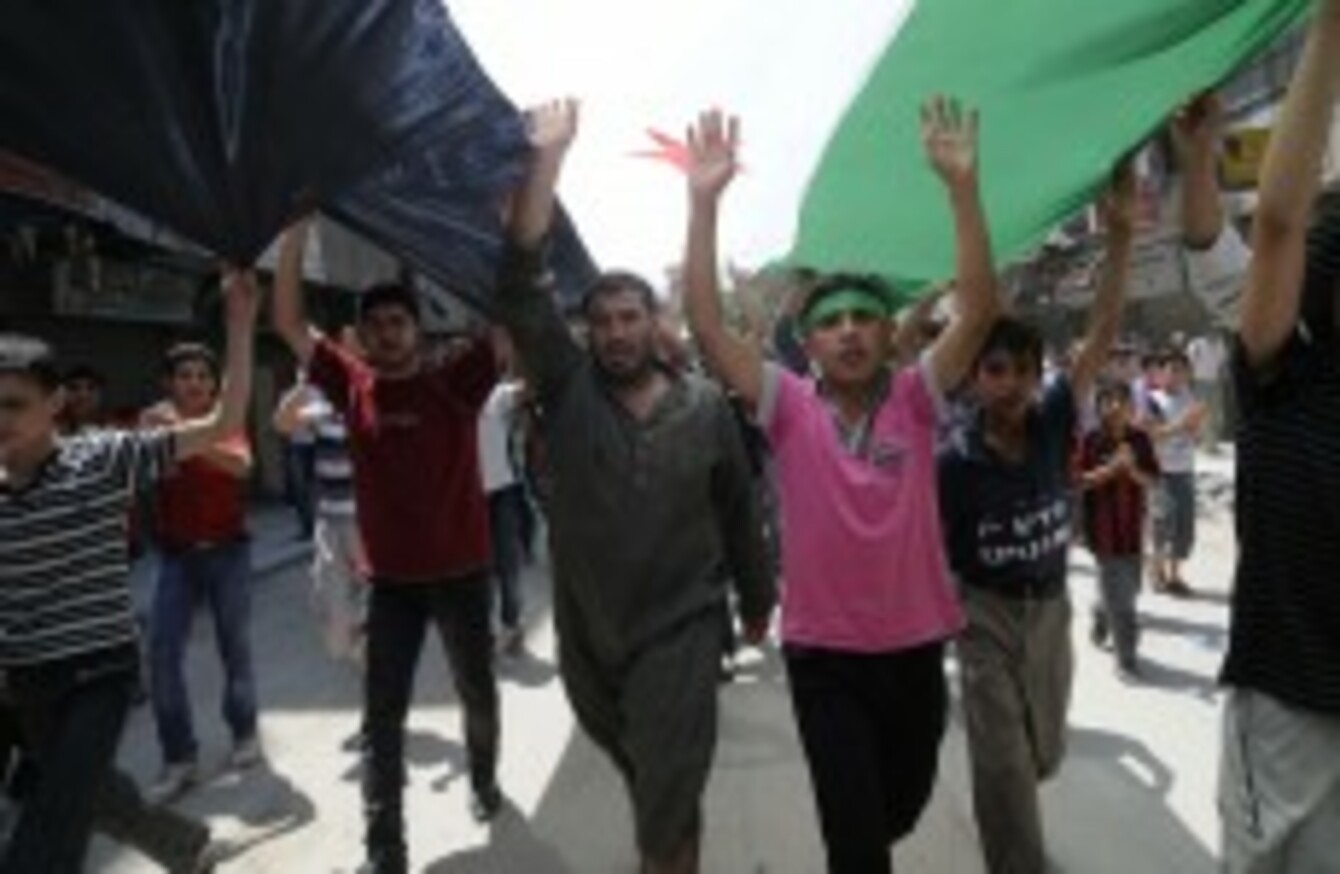 Syrians hold anti-government protest in Aleppo, Syria last week.
Image: Alberto Prieto/AP/Press Association Images
Syrians hold anti-government protest in Aleppo, Syria last week.
Image: Alberto Prieto/AP/Press Association Images
THE SYRIAN REBELS are reported to have bombarded a government airbase near the country's largest city, Aleppo.
AFP reports the latest development in the battle for the country's second city after earlier reporting that a raid by security forces near the capital of Damascus had left 43 people dead.
The Syrian Observatory for Human Rights said that regime forces had entered the Jdaidet Artuz district, southwest of Damascus, yesterday and arrested around 100 young people who were taken to a school and tortured.
"On Thursday morning after the operation the bodies of 43 people were recovered. Some of them had been summarily executed," the group said in a statement.
It said a total of 163 people were killed in violence across the country on Wednesday – 98 civilians, 20 rebels and 45 soldiers.
It came as a report from Reuters said that rebel fighters had publicly executed four men loyal to president Bashar Assad in Aleppo. Those executed included a local politician Zeino al-Barri, according to Al Jazeera
The New York Times' Lede blog carries graphic videos of the alleged executions.
BBC News reports that the fledgling opposition, the Syrian National Council, has criticised the rebel gunmen involved in the incident while Human Rights Watch said it was a potential war crime.
While it remains a "fluid" situation in Aleppo with both sides battling it out for control of the city, The Guardian's Martin Chulov told RTÉ's Morning Ireland that the regime controls the north of the city but rebels have made gains in the southwest and the east.
This may be as a result of a secret order signed by US President Barack Obama which authorises US support for the rebels.
Reuters said that this secret order broadly permits the Central Intelligence Agency and other US agencies to provide support that could help rebels overthrow Assad but the extent of any clandestine activity is unclear and the White House has not commented.
The United Nations has confirmed that rebels now had heavy armour and that its military observers had seen the Syrian military use a fighter jet to attack the rebels in Aleppo.
"The observers now have confirmed information that the opposition is in possession of heavy weapons including tanks in Aleppo," UN spokesman Martin Nesirky told reporters at UN headquarters.
AFP correspondents on the ground have reported that rebels have captured a number of tanks, and some armoured units have defected with their vehicles.
- with reporting from AFP