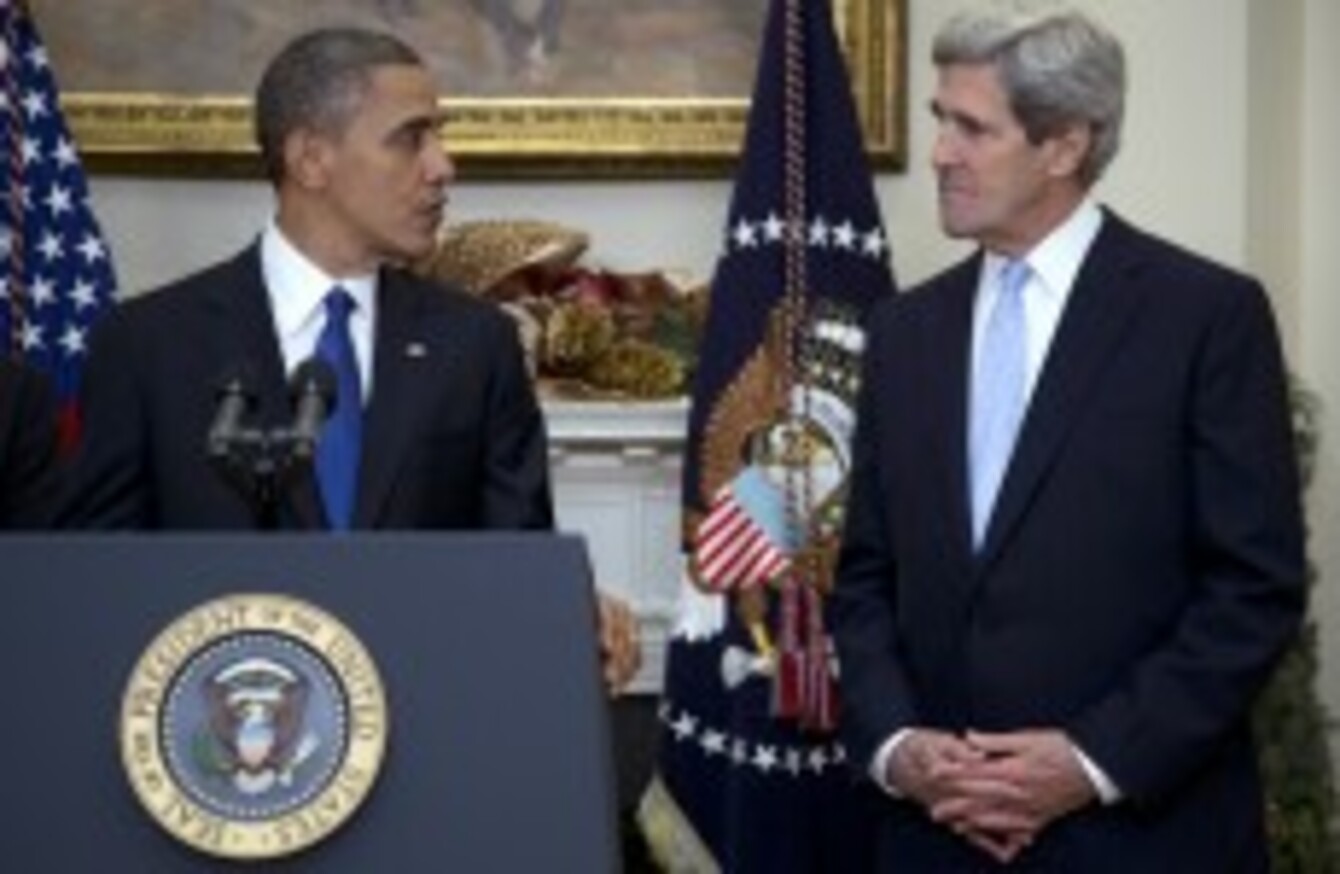 US President Barack Obama with US Secretary of State John Kerry
Image: AP Photo/Carolyn Kaster
US President Barack Obama with US Secretary of State John Kerry
Image: AP Photo/Carolyn Kaster
US PRESIDENT BARACK Obama says he has not yet decided whether to attack Syria – but that any US action would be a warning that "it better not" use chemical arms again.
Obama said that his government had concluded that President Bashar al-Assad's regime was behind the horrific attack on civilians in a Damascus suburb last week that killed hundreds of people.
But he clearly signalled that expected US punitive strikes would be limited in scope, and would not be an attempt to tip the balance between Assad's forces and rebels who have waged a bloody two-year civil war.
"I have not made a decision," Obama told PBS NewsHour, when asked how close he was to signing off on US military action against Syria.
Obama said however that he had concluded that:
…direct military engagement, involvement in the civil war in Syria, would not help the situation on the ground.
Given that limited vision for US military action in the country, Obama was asked what would be the strategic rationale behind a US assault, likely to take place with cruise missiles fired from US and allied ships and submarines.
He said that by the end of the engagement, the Syrian government:
will have received a pretty strong signal that it better not do it again.
Britain's response
Separately, Britain has said it will not take military action against the Syrian regime before UN inspectors report back on evidence of chemical weapons attacks, according to a motion published by the government today that is set to be put to a parliamentary vote.
Lawmakers are due to vote on Britain's response to the attacks on Thursday but any military action will require a further vote of parliament's lower House of Commons after the UN experts confirm their findings in the coming days.
"Before any direct British involvement in such action a further vote of the House of Commons will take place," the motion said.
Britain's Foreign Secretary William Hague leaves 10 Downing Street after a national security meeting today. (AP Photo/Alastair Grant)
The opposition Labour party had threatened to vote against Thursday's motion unless lawmakers were promised a second vote on the basis of the UN evidence — which had left Prime Minister David Cameron facing possible defeat in his bid for targeted strikes against the Syrian regime.
Along with the United States and France, Britain claims Syrian President Bashar al-Assad's government is responsible for horrific poison gas attacks believed to have left hundreds dead near Damascus a week ago.
The Syrian government strongly denies this and blames opposition fighters for the attacks.
Cameron will on Thursday try to convince lawmakers that targeted strikes would punish the Assad regime for its alleged use of chemical weapons and deter any further attacks.
Expectations of military assault rising
The parliamentary motion, released by Cameron's office, said "every effort" should be made to secure approval from the United Nations Security Council before any military action goes ahead.
Britain had already sought backing from the council on Wednesday, submitting a draft resolution to its five permanent members calling for action to protect Syrian civilians.
But British ministers concede that a UN resolution supporting military action is extremely unlikely as permanent members Russia and China fiercely oppose a strike against Assad.
Syria's ambassador to the United Nations Bashar Ja'afari speaks to reporters today at UN headquarters. (AP Photo/Seth Wenig)
Expectations of a Western military assault rose as the United States ruled out any chance of securing a UN resolution, and British Foreign Secretary William Hague said the international community had a responsibility to act even if the Security Council could not agree.
A UN spokesman suggested that the world body's team in Damascus will not report back until at least Friday.
Iraq war again
Some MPs are reluctant to back British military involvement, haunted by their experience of the Iraq war.
In 2003, parliament gave then prime minister Tony Blair a mandate to join the US-led offensive in Iraq on the basis of allegations that dictator Saddam Hussein had weapons of mass destruction.
The weapons never materialised and Britain became embroiled in the war for years.
"The PM is acutely aware of the deep concerns in the country caused by what happened over Iraq," a spokeswoman for Cameron said.
"That's why we are committed to taking action to deal with this war crime — but taking action in the right way, proceeding on a consensual basis."
A YouGov poll for The Sun newspaper showed that Britons overwhelmingly oppose the use of British missiles against military sites in Syria.