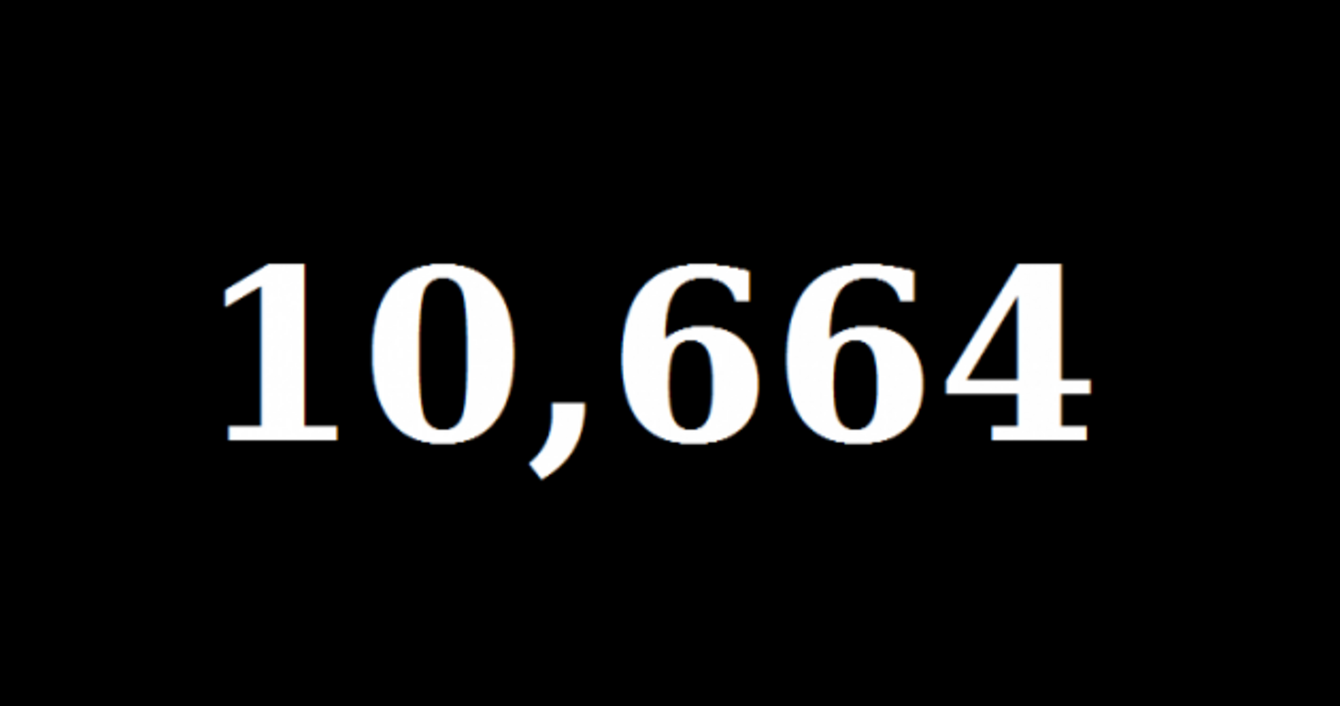 The number of children who have perished because of the Syrian conflict.
Image: TheJournal.ie
The number of children who have perished because of the Syrian conflict.
Image: TheJournal.ie
THE SYRIAN CONFLICT enters its fifth year tomorrow, with death and destruction so staggering it's almost hard to comprehend that we can talk about anything else.
Over the past few months, news headlines and bulletins have mentioned the war – but the focus has been on ISIS and its reign of terror in the area.
The faces we are seeing are those of the Jihadi Johns and other executioners who wreak havoc for terror's sake.
We have stopped looking at the faces of the refugees – the men, women and children who have lost their homes, their lives, their education and their prospects.
The UN's chief Ban Ki-moon said this week that the world has abandoned Syria.
The suffering continues "under the eyes of the international community, still divided and incapable of taking collective action to stop the killing and destruction," he said.
Since 15 March 2011, 210,000 people have been killed in the war. More than 4 million people have fled the country, with another 7.6 million displaced within its borders.
At last estimate, 10,664 children have lost their innocent lives.
Another 2 million have lost their homes. Some have never known anything other than a refugee camp or a war site. Very few go to school anymore.
"For the youngest children, this crisis is all they have ever known. For adolescents entering their formative years, violence and suffering have not only scarred their past; they are shaping their futures," said UNICEF chief Anthony Lake.
Each day brings with it fresh horrors – unemployment; a dire lack of food, water, clothing and medication; struggles with depression and loss; executions; arbitrary arrests; abduction and torture.
It is hard to keep caring
While individual donations are welcome, the UN has said it needs governments to step forward and produce results – in monetary terms and to welcome refugees.
However, a 'donor fatigue' has set in, they say.
Ban is due to chair a donors conference in Kuwait on March 31 to help raise millions of dollars needed to address Syria's deepening humanitarian crisis.
Jan Egeland, a former UN undersecretary-general for humanitarian affairs who now heads the Norwegian Refugee Council, told AFP that the crisis was a "betrayal of our ideals, because we're not supposed to be watching people suffer and die in 2015."
Jody Clarke of the UNHCR believes there is still a lack of recognition among countries of how bad the situation actually is.
"About two-thirds of urban refugees are living below the poverty line," he told TheJournal.ie. "People are existing on less than $40 per head and savings are dwindling so there are fewer coping mechanisms."
For Ireland's part, we have resettled or are due to resettle some 230 refugees. There have only been 89 asylum applications during the period, compared with some 6,000 applications in the UK.
"Every country needs to do more," says Clarke. "Syria is now the largest refugee producing company worldwide. What's happening now, given the pressures on resources and infrastructure in Turkey and Lebanon, is people are now beginning to undertake dangerous journeys over sea. That is leading to an increase in drownings."
He also believes there is a certain apathy that comes with a drawn  out conflict or famine.
"We just need to stress that the need for help now is greater than ever. Ultimately, there needs to be an end to the fighting but that is not yet in sight."
The pleas
The UN is not the only group urging action.
Médecins Sans Frontières/Doctors Without Borders issued a strongly-worded plea this week, asking why it is not running some of its largest medical programmes ever in Syria.
MSF was forced to reduce its activities inside Syria following the gradual deterioration of security situation and the abduction of five staff members by Islamic State in January 2014.
"Not only did this serious incident precipitate the closure of health facilities in Islamic State controlled areas, it also meant that most of MSF's international medical staff could no longer work in Syria, as we could no longer trust that our teams would not be harmed," said president Dr Joanne Liu.
It is unacceptable that humanitarian assistance is so limited when the death toll and the suffering of civilians has reached unbearable levels.
From the estimated 2,500 doctors who worked in Aleppo, Syria's second biggest city, fewer than 100 now remain. The rest have fled, been displaced, kidnapped or killed – leaving a catastrophic gap in care and expertise.
Put simply by Liu, "We can and should do better for the people of Syria," said Liu.
*Mohammad's story
"My father taught me to be Khadrejeh (a greengrocer). I used to travel all over the Syrian countryside to buy vegetables and fruit. I would bring them to my shop in the city and sell them. I can never forget those days. The Grand Aleppo Bazaar was a frequent destination. My children were growing up with me. And then, the protests for freedom from the big cities began to reach my city. With growing tensions with the army, it became difficult to bring bread and vegetables into the city. It was then that I started to smuggle vegetables into the city.
"My vegetable truck was stolen, along with all my money. My children and I became jobless. We would clap our hands on the mouths of our children when they cried, so no one would hear them. My son and nephew were both killed in a battle in the city. That is a moment that I will never forget. It is with me, always.
"I draw happiness and strength from travelling and selling fruits and vegetables. I always pray for my father; he influenced my life and taught me so much about trade and life. I begin my days by opening my shop and finding out about the latest events in the war. And I remember the words of my son, to pray for his victory."
Mohammad's fruit and vegetable (khadrjeh) shop participates in GOAL Syria's voucher programme. GOAL distributes vouchers amongst the most vulnerable that can be redeemed at local shops for food. Mohammed said: "If it wasn't for GOAL, I wouldn't have sold a single Syrian pound (worth of fruit/vegetables)".
*Anas' Story
"The stability and security that we lived in before the war was priceless. I was poor, but I was happy with my life. I was happiest when I was offered a job with the border services. Now, I fear the war. I fear for my children amid the airstrikes. There was a thunderstorm last night and there was lightening. My children thought it was an airstrike.
"One day in 2013, my daughter Hanan was sick, and I took her to the pharmacy to buy medicine. When we were driving back, an army vehicle blocked me and they dragged me off of my motorcycle.
They threw my daughter on the sidewalk; she was only three years old then. They started beating me up and kicking my head in front of people. I remember that my daughter was looking at me and crying uncontrollably.
"They insulted me and accused me of supporting terrorists, and threatened to shoot me dead. I kept begging them to let me go, and they finally left me injured and bleeding on a public street. After that incident, I fled with my family, my disabled father and my children, to hide in a nearby mountain. We later moved into an empty school there. One day, everything shook because of a heavy bombing; and I found out that our house was destroyed. Within a moment, we lost everything, everything we owned.
"When my family returned to the city, I made my private car into a taxi. A displaced family asked me to drive them to the Turkish border, so I drove through a checkpoint and nothing happened. But when I was driving back they started to shoot at me. Bullets caught my leg and arm. Then men dragged me out of my car and put me in its trunk. I felt my leg growing numb. They drove me to the border hospital and stole my car.
"My leg had been infected and the doctors decided to amputate it. If I had refused, the infection would have spread all over my body. Now I have a prosthetic leg and I received some physical therapy at the border hospital.
"It's very difficult, because my daughter still asks me, 'Baba, why did they cut your leg?' She asks, 'Why did they drag you off of the motorcycle and step on your head?' Those moments never leave her thoughts.
"I have three children; Hanan is five, Dima is four, and Anas is two and a half. My wife is pregnant. It is now her ninth month."
Anas is one of GOAL's beneficiaries. He used to receive food baskets from GOAL, and he now receives food vouchers that allow him to buy fresh and dry food at the market.
*All names have been changed