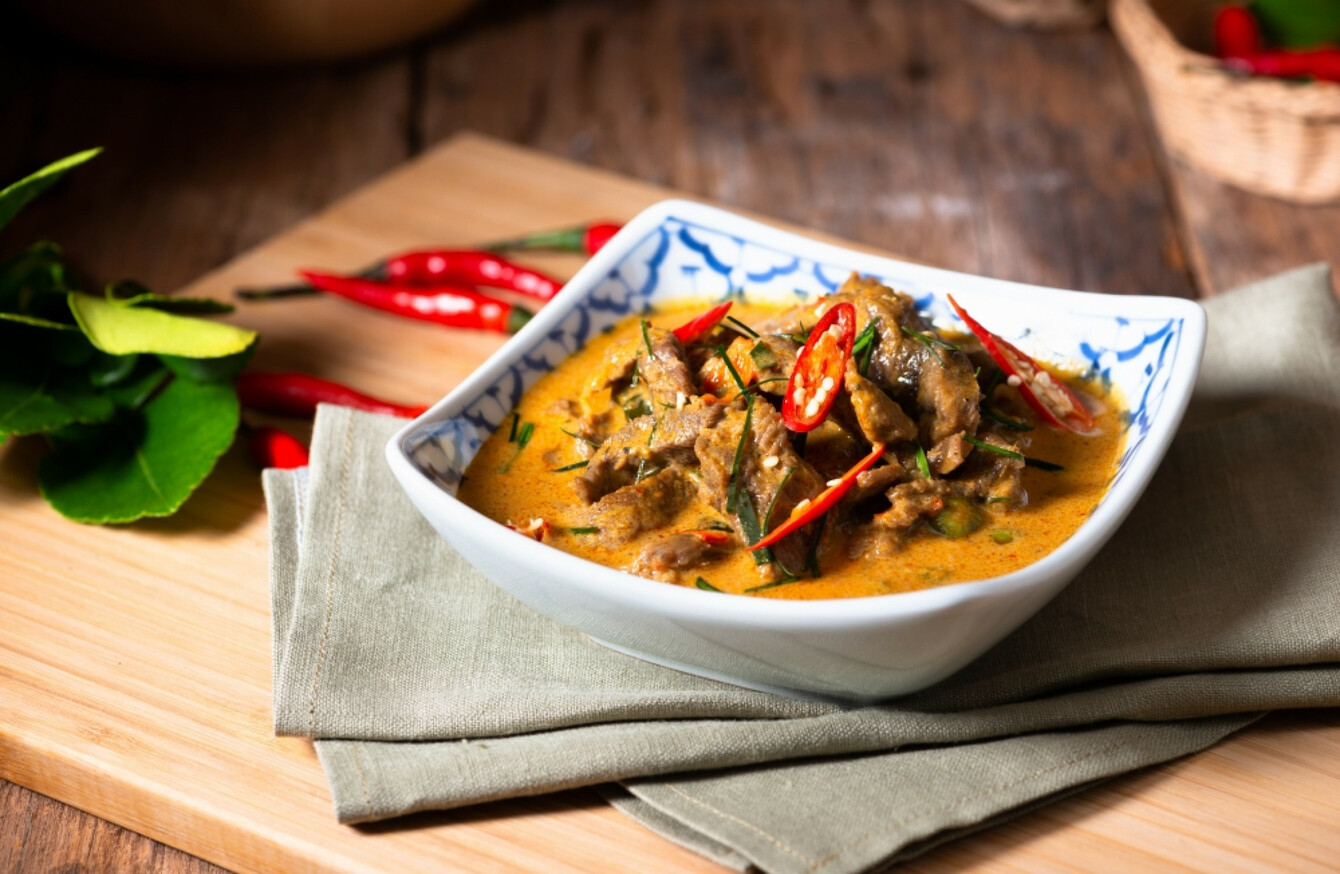 Image: Shutterstock
Image: Shutterstock
WE'RE ALL FAMILIAR with that overwhelming temptation to get a take away. But whether you're nearing pay day or just trying to be a bit healthier, making something yourself can be worth that extra time in the kitchen.
We've been on the hunt for some recipes that tick every box when you're in the mood for something that will seriously satisfy.
As well as being tasty and quick, our recipes below will more than likely end up a bit healthier too, so it's a win win! Whether it's a creamy Thai curry or a loaded burger, we've got all your Friday night cravings sorted.
1. Beef massaman curry: There are few things as satisfying as a really great curry. A Thai curry can be made relatively quickly with little hassle but, if you have time, letting it simmer away for an extra 20 minutes can result in an even better, creamier flavour.
Heat oil in a heavy based frying pan and brown sliced beef in batches then set aside (sirloin works well if you want to cook it quickly). Add sliced onion to the pan, frying for a few minutes, then add in crushed garlic and 2 heaped spoonfuls of massaman curry paste. Stir for a minute, then add in a cinnamon stick and a can of coconut milk.
Add the beef into the sauce with a squeeze of honey and a spoonful of nut butter, and simmer for 20-30 minutes on a low heat. If you have more time or you're making this the day before, you could slow cook it as seen in A Cookbook Collection's recipe. Stir through a drizzle of soy sauce and serve with egg fried rice.
2. Enchilada bake: Heat oil in a frying pan and fry thinly sliced chicken, onion, garlic and sliced mixed peppers for about 10 minutes. Stir in some cumin, paprika and chilli powder, and add in some passata (retaining some for the topping), a tin of kidney beans and seasoning. Simmer for 5 minutes, then remove from the heat.
Place tortilla wraps on a plate, spoon in the chicken mixture and wrap up before placing in an ovenproof dish. Repeat this process until the mixture is used up, then top with the remaining passata and grated cheese. Bake in a hot oven for 15-20 minutes, until bubbling. Serve with a few dollops of sour cream and fresh coriander.
3. Chickpea, spinach & lentil dhal: Heat oil in a pan and fry onion, garlic, ginger and freshly chopped chilli until soft, for about 10 minutes. Add in a tin of chopped tomatoes and chopped courgette, and simmer with the lid on for a further 10 minutes. Stir through cumin, garam masala and turmeric along with 350g lentils and 1 litre of hot water.
Simmer for 20 minutes, adding more water if required. Once the lentils are cooked and the water has been absorbed, add in a tin of chickpeas and a few handfuls of spinach. Cook for another 5 minutes, then serve with warm naan bread and natural yogurt, or some sliced avocado for extra protein, as seen in this recipe by Deliciously Ella.
4. Loaded homemade burgers: The best thing about homemade burgers has got to be the endless possibilities when it comes to toppings. Think extra cheese, ALL the sauce, bacon… the works!
To make, tip some beef or lamb mince into a large bowl and add in a cup of breadcrumbs and a beaten egg. Stir in a spoonful of barbecue sauce, salt, pepper, and some very finely chopped onion. Stir to combine (it might be easiest to use your hands for this), then shape into round patties.
Fry for 3 minutes on each side, then pop into the oven for a further 10 minutes. Serve on a brioche bun with whatever toppings you're feeling.
5. Prawn fried rice: Quick to make and handy to use up leftovers, fried rice is wonderful for a late night snack when you're craving something tasty. This recipe couldn't be simpler and we're even cheating a bit by using pre-cooked rice pouches.
Fry garlic, ginger, sliced onion and fresh or frozen prawns on a high heat for two minutes. Turn down the heat slightly, and stir through a pouch of cooked rice, defrosted peas, a splash of soy sauce and a teaspoon of curry powder. I Love Cooking uses brown rice in her recipe, which is a great way to pack in some extra fibre. Stir to combine, then crack in an egg and turn up the heat, continuing to stir until the egg is cooked.