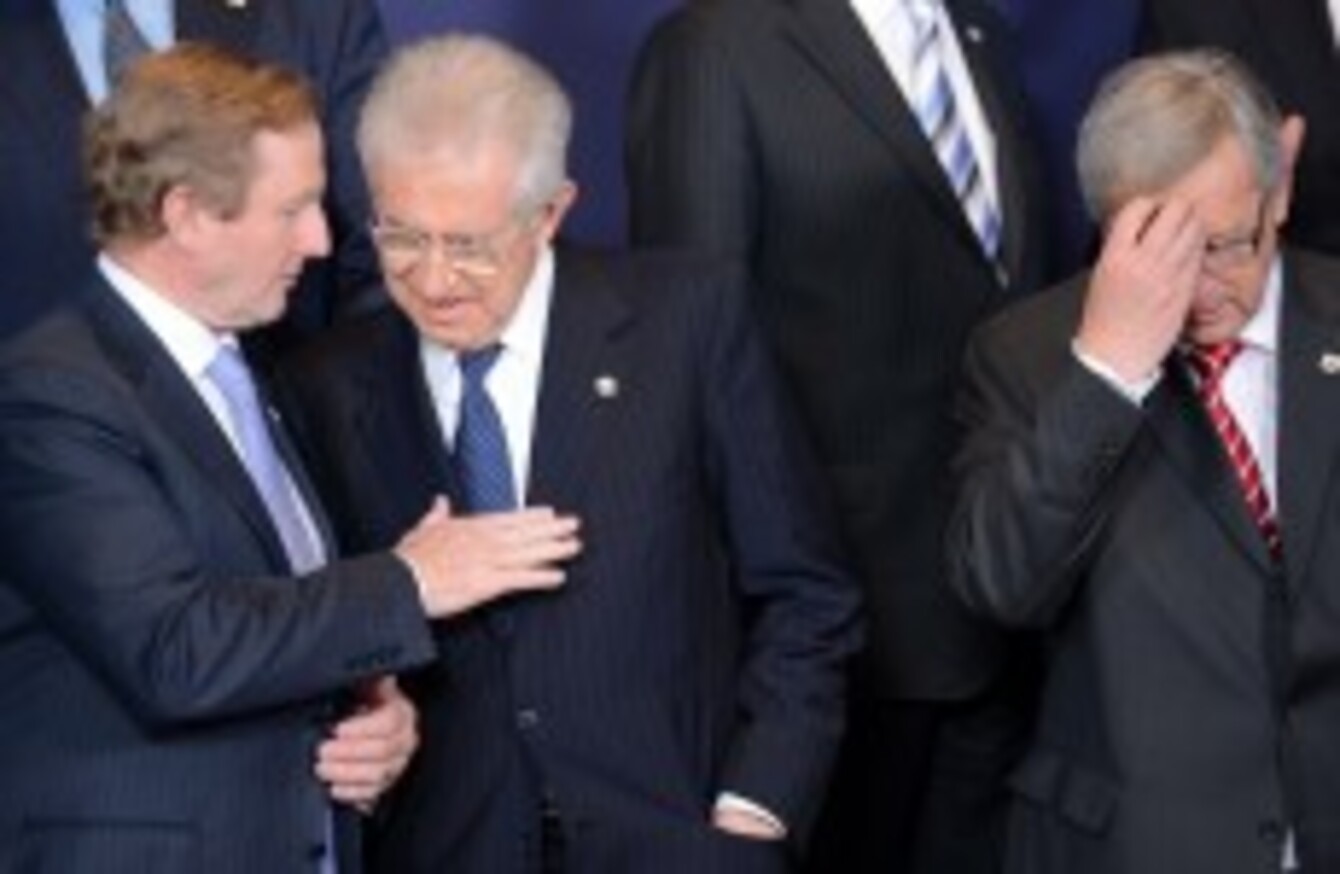 Taoiseach Enda Kenny with Italy's Prime Minister Mario Monti and Luxembourg's PM Jean-Claude Juncker last night
Image: AP Photo/Geert Vanden Wjingaert
Taoiseach Enda Kenny with Italy's Prime Minister Mario Monti and Luxembourg's PM Jean-Claude Juncker last night
Image: AP Photo/Geert Vanden Wjingaert
TAOISEACH ENDA KENNY has said the text of the  fiscal compact will not be changed following an informal summit of EU leaders in Brussels last night.
Speaking after the discussions, the Taoiseach also said that any kind of growth deal will be separate to the fiscal compact. "Anything in respect of a growth agenda is additional to [the fiscal compact]," he said afterwards.
"It's clear that the issue of stability and investment for jobs is fundamental to a growing economy and for that reason we hope for a very strong outcome," he said.
"It is also clear that what the people will vote on next Thursday will not be changed. That's the Treaty, and anything in respect of a growth agenda is additional to that, that may be considered arising from the meeting of the heads of government meeting in June".
The leaders of the EU countries agreed at the summit that they want Greece to remain in the eurozone as long as it respects its commitments made under the terms of its bailout. Over €150 billion has been given to Greece since 2010.
The informal summit of the leaders of the 27 EU countries was held to discuss how to boost growth in Europe during the ongoing economic turmoil.
Leaders disagreed over the issue of eurobonds – a jointly pooled eurozone debt – with Angela Merkel rejecting the suggestion from new French leader Francois Hollande that it could offer a potential solution to the crisis.
Enda Kenny described the meeting as "very positive".  He gave a report to the meeting on the progress of the referendum campaign in Ireland ahead of next Thursday's vote and said that the momentum for a growth agenda is now palpable among EU leaders.
The head of the European Council said the meeting had been about "putting pressure, focusing minds, and clearing the air", and described the discussions as "focused and frank".
Herman Van Rompuy said that deficit reduction and growth need to be discussed together.
"They are two sides of the same coin," said Rompuy. "Without sound public finances there can be no sustainable growth; but without sustainable growth, the measures to bring our debt levels under control will be done in vain".
The leaders are due to meet again in June.
(EU Heads of State pose for a group photo during the EU summit in Brussels last night. Photo: AP Photo/Geert Vanden Wjingaert)