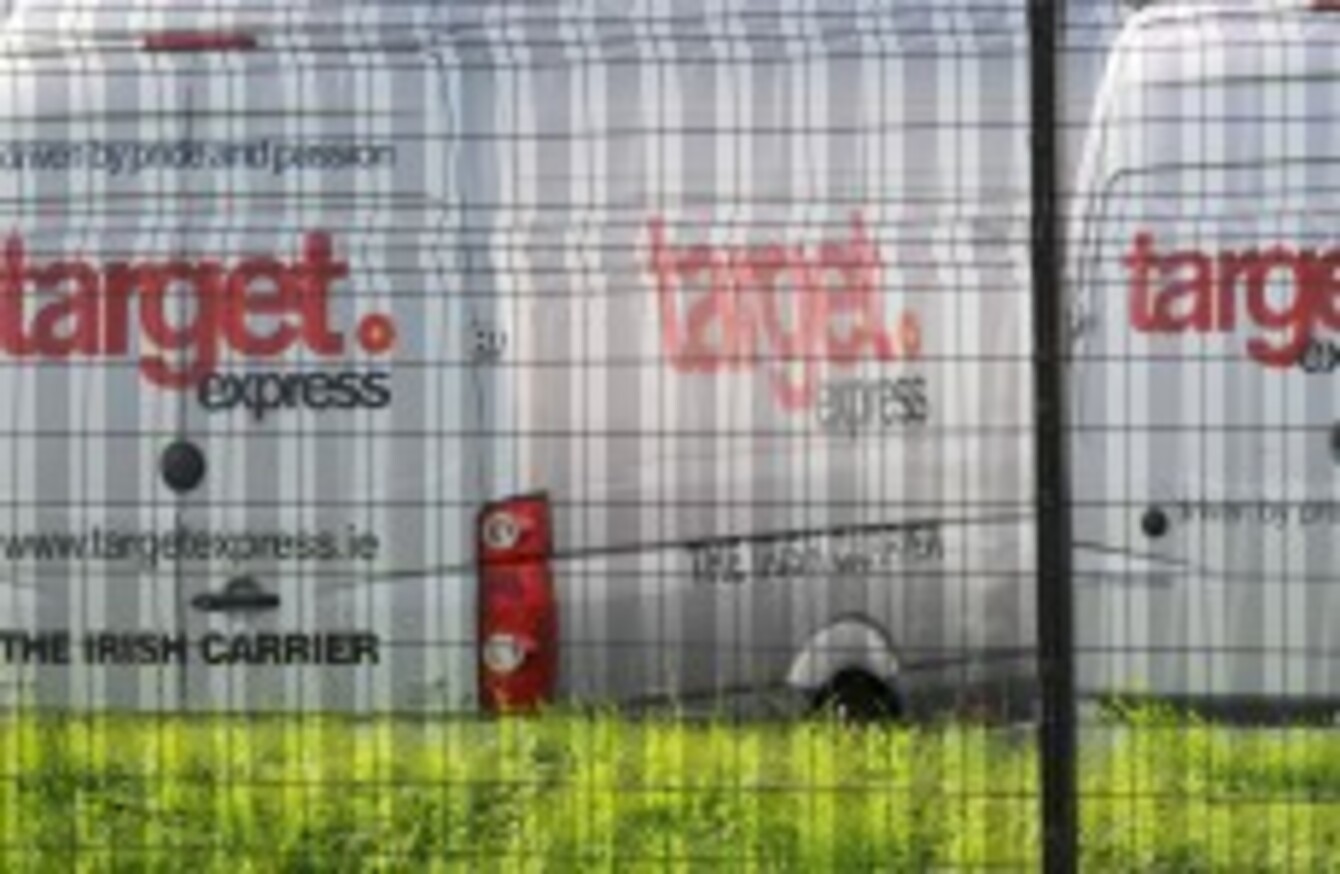 Image: Laura Hutton/Photocall Ireland
Image: Laura Hutton/Photocall Ireland
EIGHT TARGET EXPRESS workers stayed overnight at their former employer's depot in Cork as part of a sit-in protest.
The employees are demanding to be paid "several weeks" wages which are due to them, as well as immediate negotiations on an acceptable redundancy package.
Spokesperson Tom Cullen told Morning Ireland that the group just wants what is fair. "What we want is what should be coming to us," he said. "We have lads here who have to pay bills. We have mortgages to be paid. We want our two weeks wages."
He said the only communication the workers have had with the company is an email and two phone calls yesterday, which informed them that "receivers are coming in".
He also claimed that a managing director instructed them to leave the premises as there was no money available to meet their demands.
Target Express chief executive Seamus McBrien is expected to release a statement on the matter later this morning. He has previously criticised the Revenue Commissioners for the way it handled the company's case.
Although Revenue denies that its involvement has led to the loss of almost 400 jobs, McBrien insists that his company were ready to pay €80,000 of its debt by Friday.
The money was due on Wednesday and when it was not paid, an attachment order was put on the company accounts and trading ceased immediately.
Sit-ins are also taking place at depots in Galway and Carlow, where workers say the company has treated them "in an abominable fashion".
"At a time when children are returning to school, workers and their families are now being left destitute," the Cork workers added in a statement. "No indication has been given to us as to when we will be paid. We cannot claim social welfare because we are officially not unemployed at this time. Verbal assurances that the Receiver will deal with us are of no use whatsoever."
According to the Irish Road Haulage Association, 5,000 jobs have been lost in the industry in the past two years on the island of Ireland.
"Surely with this in mind, the Revenue Commissioners should have taken a more sympathetic approach," suggests Sinn Féin MLA Seán Lynch.