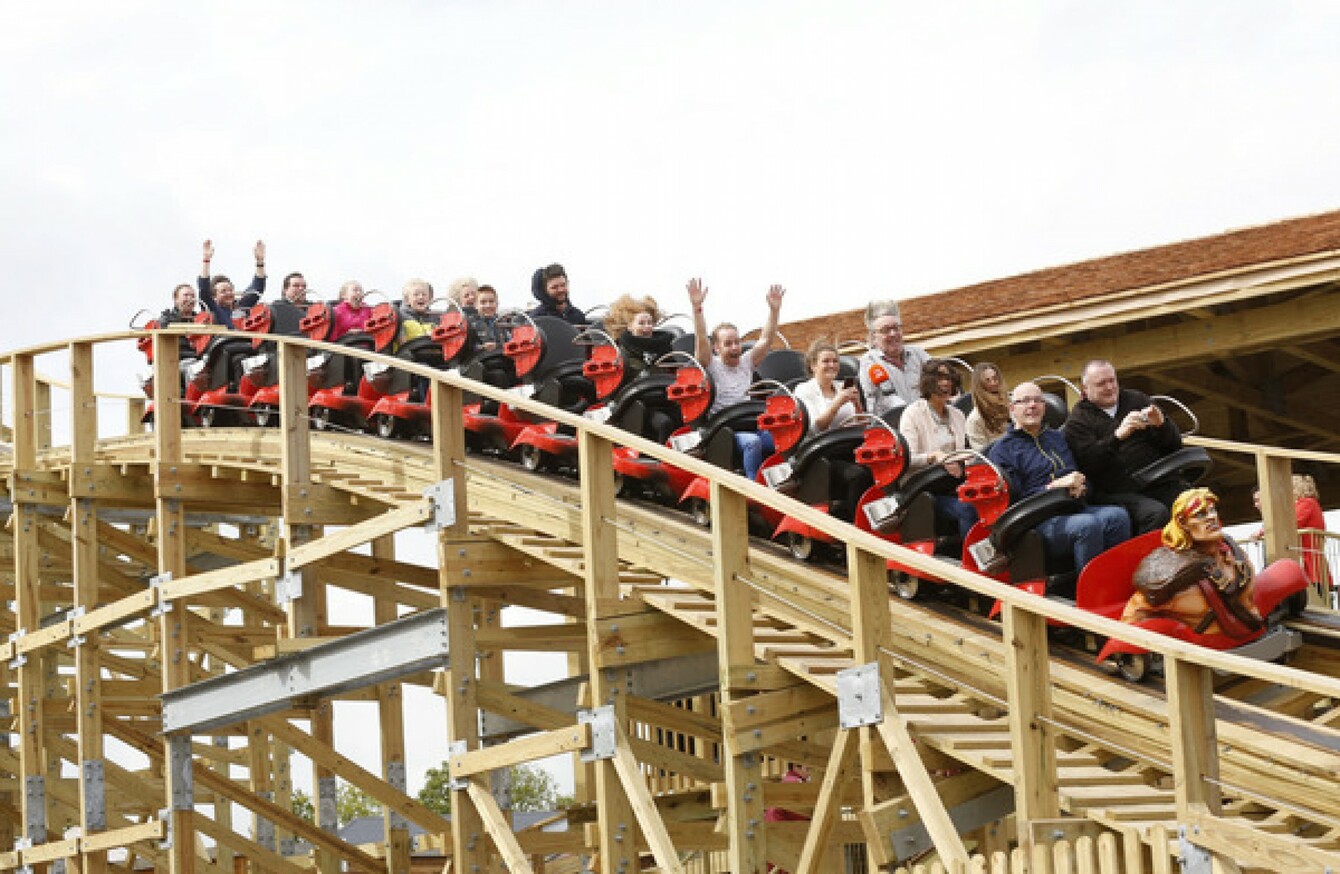 Eoin Moran spoke about his 12-year-old's injuries this evening.
Image: Leon Farrell/RollingNews.ie.
Eoin Moran spoke about his 12-year-old's injuries this evening.
Image: Leon Farrell/RollingNews.ie.
THE FATHER OF a girl who allegedly broke her neck on the Cu Chulainn rollercoaster in Tayto Park has expressed his shock that there is no State agency to investigate such incidents.
Speaking on RTÉ Prime Time this evening, Eoin Moran alleged that his daughter initially believed she had suffered whiplash but following four weeks of pain and an x-ray it was determined that her neck was broken.
"When she was x-rayed in Crumlin, the medical team reacted immediately that this was an emergency situation and she was in surgery twice over the next couple of days," Moran told the programme.
The medical team has made it clear to us that this is a very serious injury – that she is very lucky to be breathing, that she is very lucky not to be paralysed. She is lucky to be alive.
Tayto Park was contacted by the programme and said that when it was notified of the extent of the alleged incident four weeks after it occurred the park carried out a full investigation.
Tayto Park also said that it would be "rigorously defending" subsequent legal proceedings.
On Friday, management said that the central allegation was "uncorroborated" and "without basis or merit".
Moran said that the case highlighted the legal gap which means that there is no statutory body to investigate such incidents at theme parks.
He said:
When we raised the issue and our concerns that this could happen to someone else and find that no one is responsible, that no one is looking after the health of our children, that there is no oversight, to find that neither the Health and Safety Authority or no other body is overseeing the health and safety, protecting our children. That has been quite a shock to us and this is something that needs to be dealt with.
The legal loophole exists in that the Health and Safety Authority would be responsible for non-criminal investigations if an employee were injured at such a park or entertainment venue, but not a patron.
Prime Time also reported that no state authority has investigated the stairs collapse in the House of Horrors attraction in Tayto Park last October.
This evening, Fianna Fáil has published a bill that seeks to strengthen health and safety provisions at funfairs by amending section 8 of the Health and Welfare at Work Act.
"Under these proposals any funfair equipment operator must ensure a duty of reasonable care to recreational users," says Fianna Fáil's Niall Collins.
"Considering there have been fatalities and injuries in other jurisdictions, Ireland needs to strive for the highest health and safety protections for recreational users at funfairs."
This article was updated on 3 February to include a response from Tayto Park management. 
Comments have been closed for legal reasons.