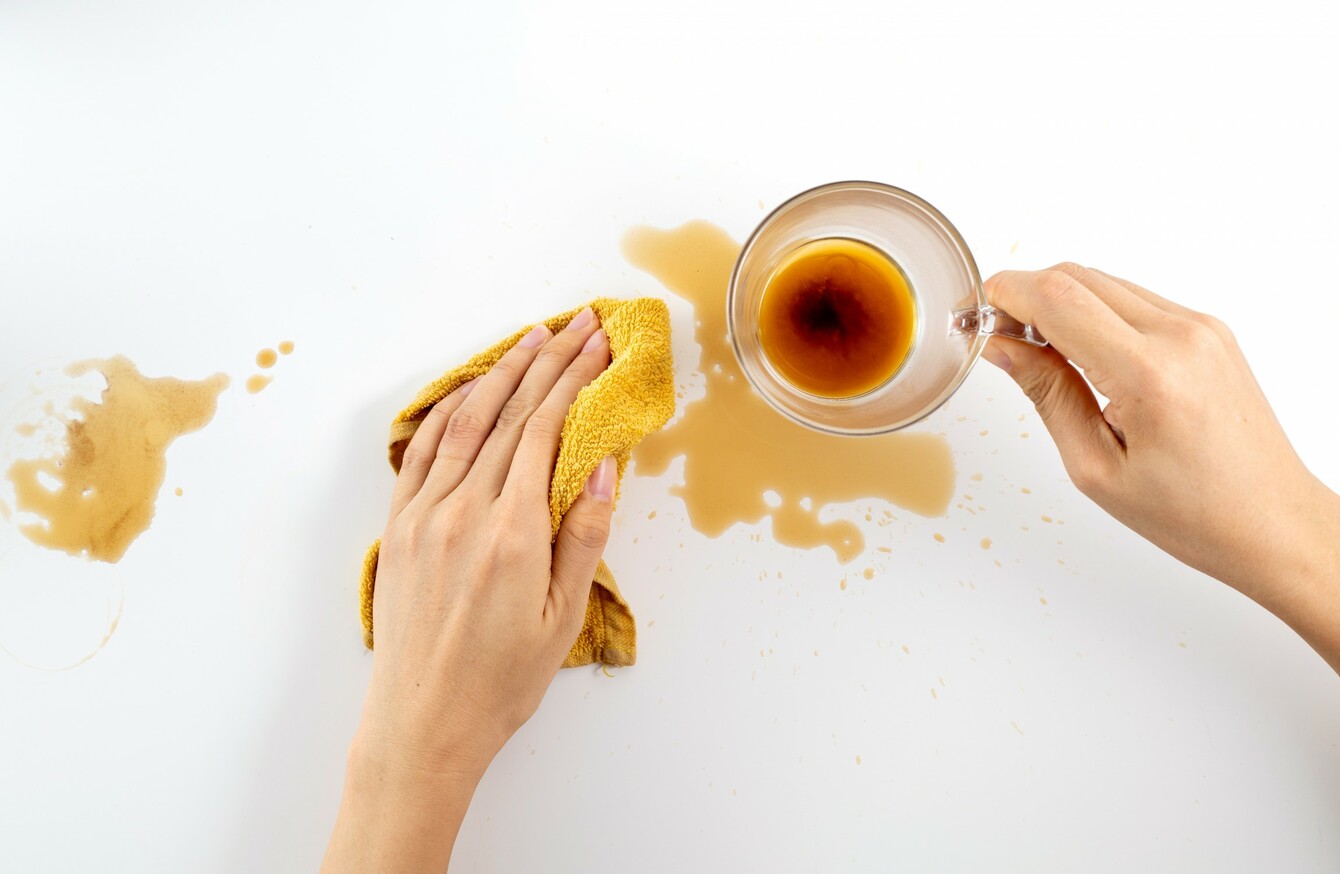 Image: Shutterstock/AngieYeoh
Image: Shutterstock/AngieYeoh
LAURA DE BARRA regularly brings her lifestyle and home maintenance masterclasses to the Glenveagh Home Magazine on TheJournal.ie. This week: removing cup rings and other stains from tables and desks.
DISCOVERING A TEA, coffee or water stain can be scary, especially if you are renting and the piece of furniture is not yours! A hot cup of coffee or cold bottle of water can leave behind a stain that people often think is irreversible… but fear not, there is something you can do.
Light vs dark stains
Before we get into the treatment for water stains on wood, we must first discuss the two types of water stains you'll come across: light and dark.
Light marks are usually caused by a cup or a glass being left on a surface for a few hours or overnight, allowing steam or condensation to drip down and seep under the finish of the wood. This moisture becomes trapped and forms a cloudy ring on the wood.
Dark stains are caused by moisture penetrating deep past the finish, into the wood itself. These are usually caused by something sitting on the surface for a long period of time.
Do note that some wood finishes will be more susceptible to one type of water mark. For example, oil finishes are less protective and so are prone to darker stains. High gloss finishes like shellac are extremely sensitive in general.
Newer varnished furniture is less likely to stain as its coating will still super protective, but spots where the varnish has worn away will be more likely to water mark. No matter what type of finish you have, always, always test an inconspicuous area before you treat the stain.
Treating lighter stains
If the stain on your wood is light coloured or white, you're in luck. As it will be a superficial stain and hasn't penetrated far enough into the wood, it can easily be removed by applying some heat.
A hairdryer on a low setting can often work on smaller, fresher stains. Making sure you have it on the lowest heat setting, and hover it over the stain, moving in circles to make sure that you are not concentrating too much heat on one particular part of the wood for too long. If the stain was recent, this should be enough to take out the moisture.
Another favourite method of mine is to use an iron. Always place a tea towel between the stain and the wood to ensure that you don't cause any heat damage. Ensure that the iron on the lowest setting, because a scorch mark is the last thing you need. Most importantly, the iron must be completely empty of any water. If the iron releases any steam during this treatment, you'll end up trapping even more moisture under the finish, so empty is essential here.
#Open journalism No news is bad news Support The Journal

Your contributions will help us continue to deliver the stories that are important to you

Support us now
To ensure you don't damage the wood or the finish, I would suggest only applying heat from the iron in short bursts and checking under the tea towel frequently. I wouldn't apply the heat for more than a few of seconds. You'll start to see the white mark fade as you apply the heat and pull back the towel but don't be inclined to keep the iron on it for long. Slow and gentle will work well here.
Treating darker stains
As these will have damaged and discoloured the wood, they will need a lot more effort. You'll need to remove the finish on the wood first.
Different finishes will require different removal techniques, and antiques can devalue with finish removal, so tread carefully.
Next you'll need a wood bleach. I would suggest taking an image of the stain to your local DIY store and they will advise which one is best. Once you have taken the colour out of the stain and followed all instructions, you'll be able to apply a new finish to the wood.
Want more tips and hacks? Laura de Barra's debut book, Gaff Goddess: Simple Tips And Tricks To Help You Run Your Home is on shelves now, published by Transworld Ireland. Buy it here or in all good bookshops, and follow Laura on Instagram for even more cleaning and lifestyle tips.