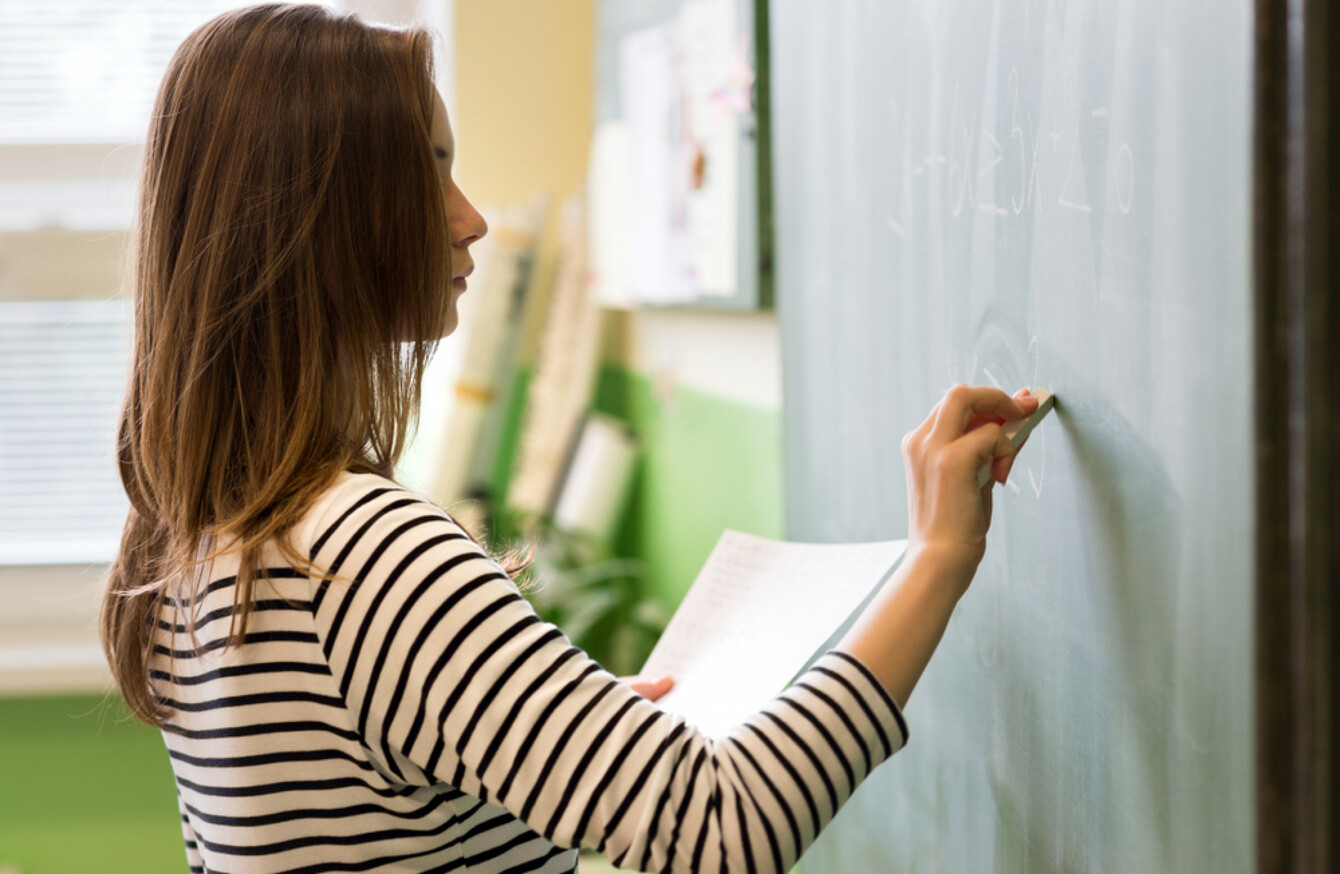 File photo
Image: Shutterstock/ABO PHOTOGRAPHY
File photo
Image: Shutterstock/ABO PHOTOGRAPHY
KATIE LYNCH QUALIFIED as a teacher in 2012.
She shares a one-bedroom flat in Dublin that costs €1,500 a month and teaches in a school in Lucan.
Lynch got her undergraduate degree a year prior but stayed on to do a masters degree in the expectation that it would boost her career prospects.
But, because she stayed on that extra year, she's lost out on around €28,000 because of the way the contracts changed for new teachers to the profession since she qualified.
"I love teaching," Lynch told TheJournal.ie. "I love the school, I love my job… But when you go to college for years and get the job you want at the end of it, you shouldn't have to go asking your parents for money to pay for supermarket shopping."
In a week when all the unions have united behind the teachers in a bid to have the pay of newly qualified teachers restored and put on par with others, some teachers we spoke to said they may have no other choice but to move abroad given the pay they could get elsewhere.
With teachers who began in or before January 2012 and from February 2012 on different pay scales, the unions are pushing the government to eradicate this pay inequality.
The Association of Secondary Teachers of Ireland (ASTI), the Teachers Union of Ireland (TUI) and the Irish National Teachers' Association (INTO), have voted overwhelmingly for industrial action if pay inequality is not addressed by next month.
Although cuts made by government have been slowly rolled back on, around 20,000 teachers remain on lower pay scales than their colleagues.
And, for those who've been qualified and working as a teacher for a number of years now, it means they have missed out on thousands of euro. With opportunities for better pay and full time hours available abroad, many are considering leaving Ireland.
'I've made the decision. I need to move away'
Katie Lynch told TheJournal.ie that after rent, bills, car and other expenses, her roughly €2,000 a month salary barely leaves her enough to survive.
"My partner is feeling the weight of responsibility when it comes to money," she said. "I've not been able to save. We're putting off getting a mortgage, having children.
I'm 30 now. It's coming to a stage where I can't take it any more. All I want is equal money for equal pay.
Lynch said that she worked in other sectors before becoming a teacher and, while she enjoys teaching the most, she earned more in other jobs.
"I stayed and got a postgraduate degree," she said. "Under the old system, I would have started on point three of the scale (of pay). But because I qualified in 2012, I started at the bottom."
With a number of post-2012 qualified teachers in her west Dublin school, Lynch said they have crunched the numbers and have collectively lost out on €300,000 because of pay inequality.
But, with the staff room split between those on the lower pay and those on the other scales, Lynch said that she and her fellow lower-paid colleagues can no longer let the situation continue.
She said: "There's so many of us now. Back at the start of the decade, class sizes were growing so they had to keep recruiting more of us. Now, we have a huge cohort of public sector workers on lower pay than their peers."
With the current pay situation and the possibility of more pay elsewhere, Lynch said she has no choice but to consider moving away and working abroad.
"I'm really lucky to be in a supportive school with a supportive principal," she said. "But if I can't get a mortgage, can't plan for a family, it's not feasible to stay.
Our rent is going to go up again in September. I'm at breaking point trying to pay bills as it is.
Lynch even said that, despite her love for the job, if she'd realised she may have to move away in her 30s to achieve what she wanted, she would have things a lot differently.
She said: "I thought I was putting myself in the best position by doing a masters. I thought it would give me better career progression. If I hadn't done that, I would have been earning a lot more now."
"I'd think twice"
Joseph Farrelly also qualified in 2014, and he lives and works in Drogheda.
Similar to other colleagues, he is already down €20,000 on what he would have if the pay scales were aligned.
"I always wanted to be a teacher," he told TheJournal.ie. "It's career I absolutely adore. But [if I were to do it all again] I'd have to think twice about it. Maybe I'd go to the Middle East."
And, similar to the others, Farrelly described the tough situation trying to rent and save, without the possibility of trying to get a mortgage.
"We're in there with other teachers on the normal pay scales," he said. "And you feel slightly inferior. Like you're not as good, even though you might have the same experience."
Out of his college class of 20, Farrelly is only aware of 2 others working full time in teaching in Ireland.
He said that once you upload your CV onto an English jobs website, for example, you are "hounded by recruiters".
Farrelly already worked a term in England, himself, but in terms of the community spirit and his interest in GAA, his goal was to always teach in Ireland.
"Leo Varadkar said in the Dáil that people 'go abroad' to get the money for a mortgage," he said. "Hearing something like that is a bit of a kick in the teeth.
I can't consider getting a mortgage for a long, long time. I wouldn't dream of going into ask for one now… It's all about getting that pay equality. With the money I've lost out on so far, that would be something towards a deposit for a house.
'I don't think there's any teacher who hasn't considered moving away'
Tom Dixon graduated in 2014, and is based in Kildare.
Already on a lower pay scale than some colleagues, he was also on just 16 hours for his first while as a teacher.
"I don't think any teacher is under the illusion that they'll become millionaires by doing the job," he told TheJournal.ie.
It's not about the money as such. It's the inequality. You're sharing a staff room with someone on €6k or €7k more than you. They're fighting for you too because they understand it.
The 28-year-old said he also finds it impossible to try to rent and save, and is back living with his parents.
Like Lynch, Dixon has considered moving abroad to put himself in a better financial position, but has no plans to move right now.
He said: "I don't think there's any teacher who hasn't considered moving away.
You hear stories of Dubai, and of Canada. I know people who've left teaching and gone into financial services and other sectors. That's a thing everyone has to think about.