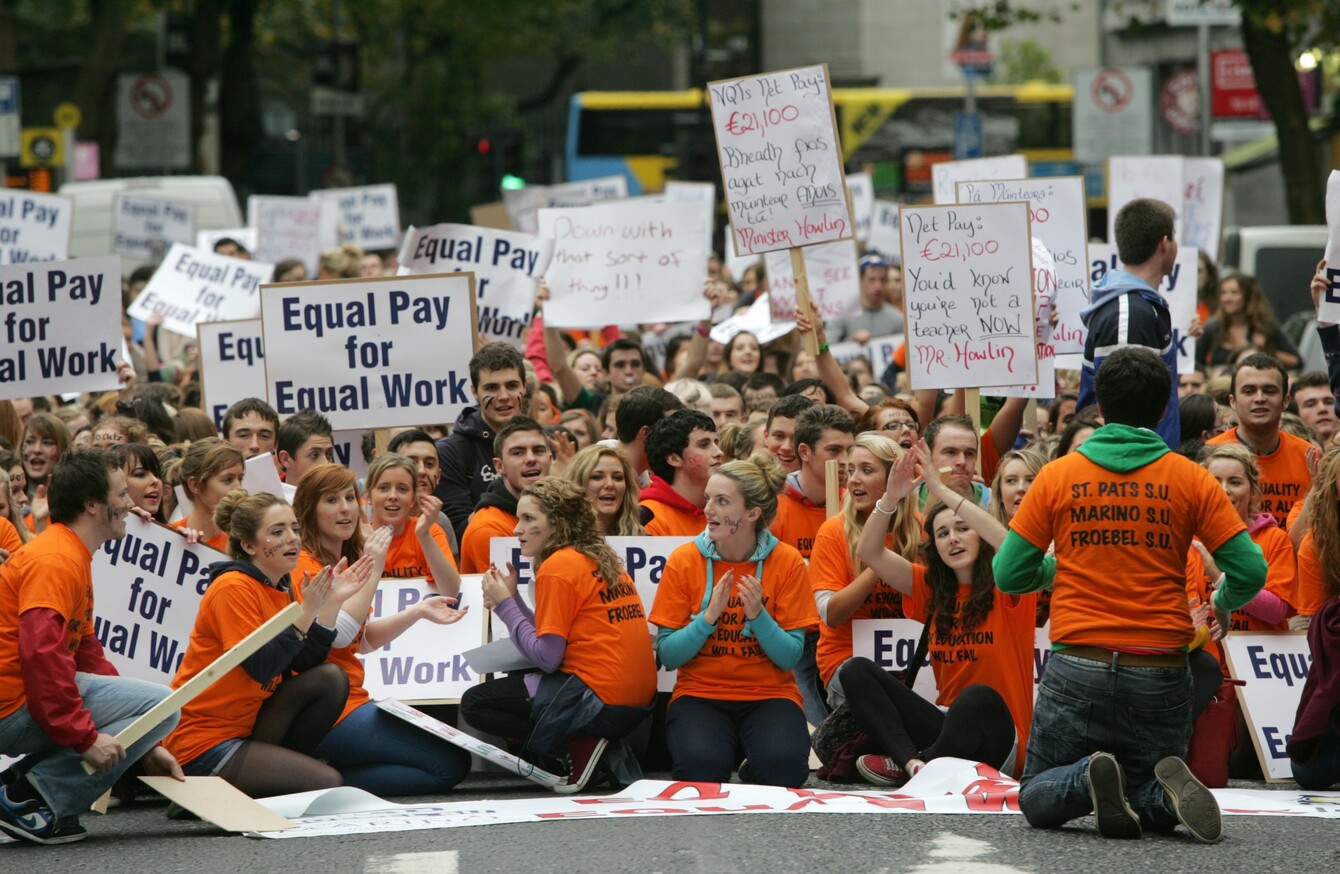 Teachers protest against proposed education cuts in 2012.
Image: RollingNews.ie
Teachers protest against proposed education cuts in 2012.
Image: RollingNews.ie
THE TEACHERS' UNION of Ireland (TUI) is to ballot its members at second and third level for industrial action as part of a campaign against precarious employment, exploitation and "income poverty".
The union confirmed the move this afternoon following a protest outside Leinster House over fresh legislation to restore public servants' pay.
The TUI said that the Public Interest Bill (FEMPI) 2015 seeks to force unions into the Lansdowne Road Agreement (LDA), which its members rejected last month.
The union contends that the LDA ignores its concerns about cuts to education funding, falling lecturer numbers and "discriminatory" pay for new entrants to the profession, as well as the precarious employment status of many second-level teachers and academic staff.
'Oblivious'
"TUI members voted overwhelmingly not to accept the LRA in October by a margin of 92%, and this was due in large measure to the fact that the agreement was oblivious to a number of issues of grave concern within the education system," said Gerry Quinn, the union's president.
"On a daily basis, [our members] see first-hand the damage that an era of austerity cuts continue to wreak on the education system and the students it serves.
"In addition, there is no commitment [with FEMPI] to have the remaining pension cuts restored for retired teachers and lecturers.
Beginning with institute of technology lecturers next week, Quinn said, TUI members will be balloted on "whether they agree to engage in a campaign of industrial action, up to and including strike action, in order to secure a fair and sustainable resolution of these issues".