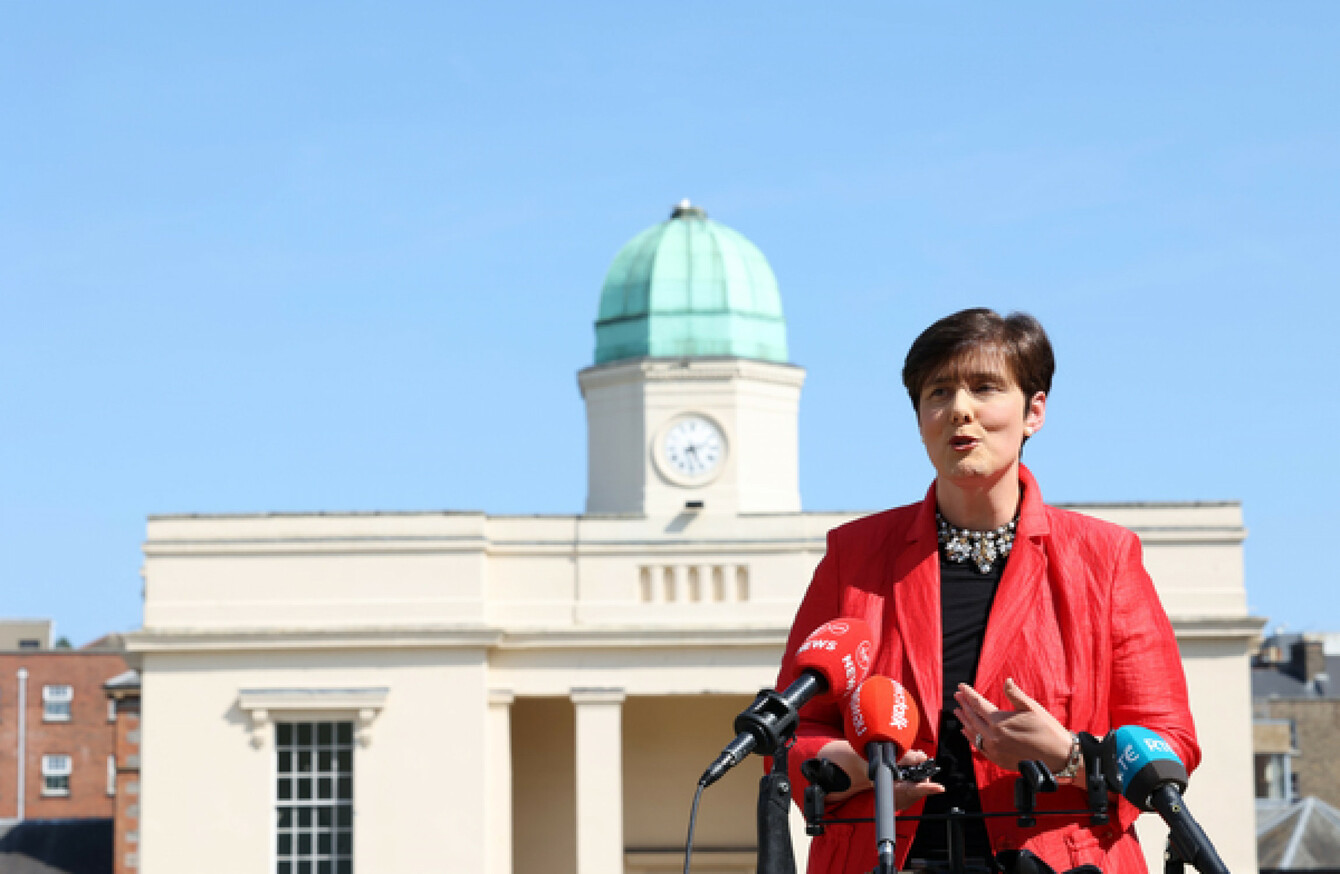 Education Minister Norma Foley.
Image: Sam Boal/Rollingnews.ie
Education Minister Norma Foley.
Image: Sam Boal/Rollingnews.ie
Updated Aug 25th 2021, 4:54 PM
EDUCATION MINISTER NORMA Foley has said the department is "following expert medical advice" by saying that pregnant teachers who are yet to be vaccinated can return to classrooms. 
Pregnant women in Ireland are advised to wait until they are 14 weeks into pregnancy before receiving a Covid-19 vaccine. The HSE said this is a precaution to avoid any possible association with a miscarriage, but added that there is no evidence any Covid-19 vaccine will harm the baby.
In the UK, the advice is for women to receive a vaccine, with no specific advice on the period during pregnancy when they should receive it. 
The three teachers' unions here have said that pregnant teachers who are not yet vaccinated should be given the option to teach remotely until such time until they are protected. 
In a statement today, the Irish National Teachers Organisation (INTO), the Association of Secondary Teachers Ireland (ASTI), and the Teachers' Union of Ireland (TUI) reiterated their call "for swift action to be taken to permit these workers to work from home" and support pupils remotely. 
In a joint statement, the unions said that three months ago, public health advisers assured education unions that all members would be offered vaccines before the next school year began.
"While we acknowledge that the vast majority of our members have received vaccines in advance of schools reopening, we find it incredible that government expects vulnerable members in the early stages of their pregnancy to return to school buildings without vaccine protection. 
Over the last number of weeks, we have called on the Department of Education to engage with these workers directly and to provide short term relief, enabling them to work from home for a short period of time until they have the same opportunity as all other education workers to build up immunity against Covid-19.
"We condemn the failure of the Minister for Education and the Department of Education to provide alternative time-bound working arrangements for teachers who have been ineligible to receive vaccines.
"To cause a group of pregnant workers to endure weeks of anxiety and fear is unconscionable. We reiterate today our call for swift action to be taken to permit these workers to work from home and support pupils remotely, until such time as they achieve significant vaccine protection."
Speaking to reporters today, Foley said that when the issue first arose earlier this year pregnant staff in schools were stood down pending a expert report and that the Institute of Obstetricians and Gynaecologists has not completed that review. 
"We have consulted with public health, we have consulted with occupational health and it is their expert view that staff who are pregnant are eligible to return to work and that at 14 weeks take their vaccine," she said. 
Despite this advice, the minister said that "every pregnancy is an individual experience" and that pregnant teachers who do not wish to work until they are vaccinated can use pregnancy related leave. 
"I'm very cognisant that every pregnancy is an individual experience and so there may well be a situation where an individual may feel in consultation with their GP or their consultant they recommend that it might not be appropriate for them to return to work. If that's the case there is a leave and that is a pregnancy related leave and that has always been in place, it remains in place and on foot of a recommendation of a GP or a consultant and women are entitled to avail of that," she said.
There's 183 days available and just to acknowledge that, as I say if it signed off by a GP or a consultant it is available and going forward it does not impact on any sick leave going forward should they need to draw that down. 
When asked why the teachers do not have the choice to provide teaching from home, the minister repeated that "the current professional view being offered" by public health officials is that they could return to classrooms and get vaccinated from 14 weeks. 
She also added that there were pregnant women in other professions who are also subject to the same advice: 
There are women working in a variety of different fields, whether they're in supermarkets or retail or GPs themselves, whoever who happens to be pregnant, who are being made aware of this advice from the Institute of Obstetricians and Gynaecologists, and we're just following that best practice. 
Foley said she was satisfied the school system is ready and can cope with the current Covid-19 situation.
A spokesperson for the Department of Education earlier this month said HSE guidance for the education sector confirms that pregnant employees "can safely attend the workplace in school where all the infection prevention and control measures are in place by implementation of the School Covid-19 Response Plan".
However, the spokesperson said all pregnant employees should apply to the Occupational Health Service before the end of their first trimester "so that their individual medical circumstances can be assessed in the context of Covid-19″.
Hospitalisation
The dispute comes as the Institute of Obstetricians and Gynaecologists (IOG) has again reiterated its advice that pregnant women should avail of a Covid-19 vaccine.
The call comes after the HSE confirmed yesterday that 16 pregnant women have been admitted to ICU units with Covid-19 so far this year, with most of the women concerned being unvaccinated. 
#Open journalism No news is bad news Support The Journal

Your contributions will help us continue to deliver the stories that are important to you

Support us now
The Irish Examiner reported earlier this week that almost one in 10 Covid-19 patients in ICU since the end of June have been pregnant women. 
"Pregnant women are not at higher risk of contracting the virus but those that develop symptoms have a higher chance of hospitalisation and needing intensive care," said obstetrician and chair of the IOG Dr Cliona Murphy. 
"The adverse effects of Covid-19 in the second and third trimester can be reduced by vaccination. Vaccine effectiveness and safety in pregnancy has been established with no increased risk of miscarriage, stillbirth or growth restriction. Couples trying to conceive should avail of vaccination first. Vaccines do not impact fertility.  Having the vaccine is also safe for breastfeeding mothers," she said. 
- With reporting by Rónán Duffy