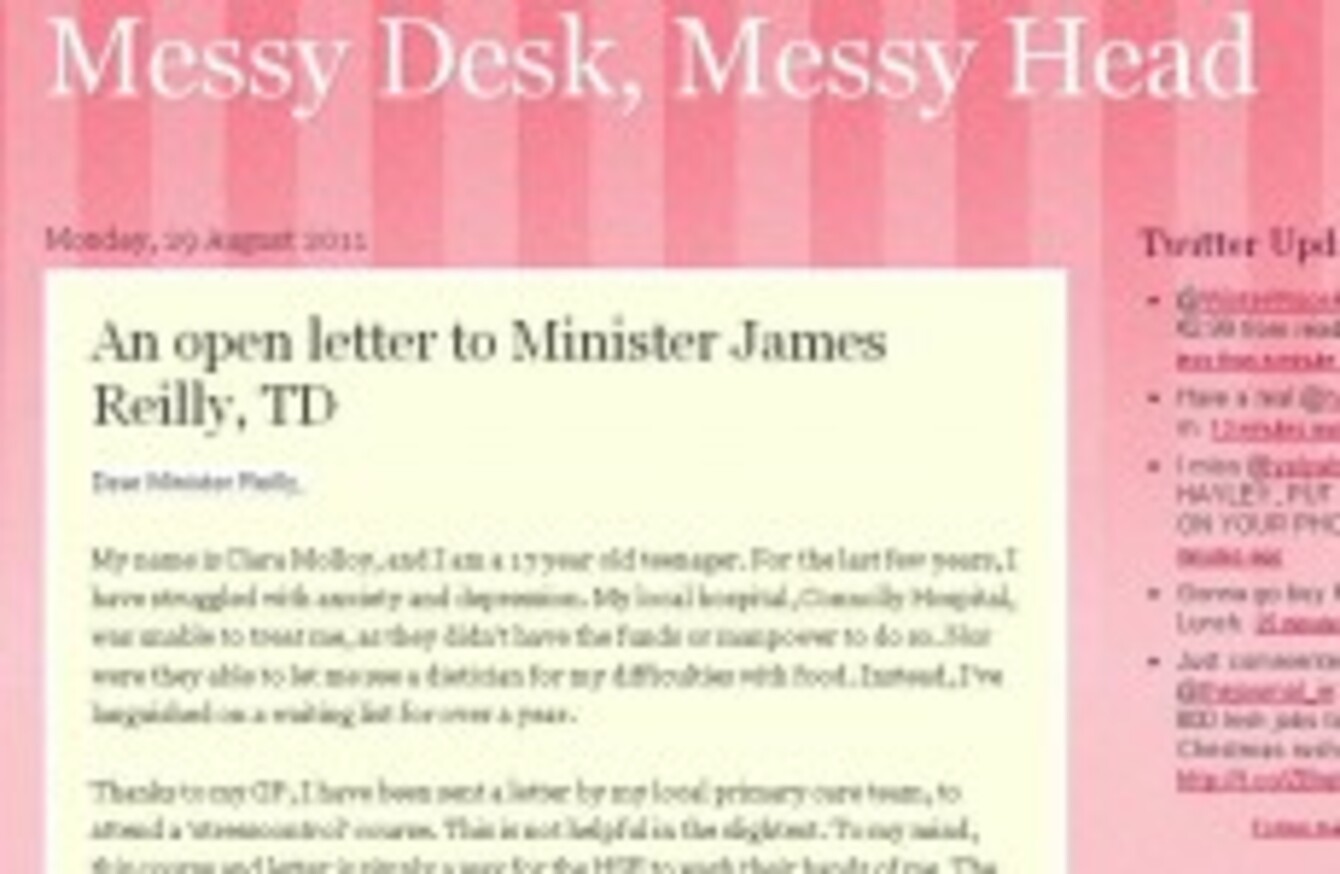 A screenshot of Cíara Molloy's blog.
A screenshot of Cíara Molloy's blog.
Updated 15.29
A 17-YEAR-OLD DUBLIN girl has made her struggles with depression and anxiety public in order to get the help she needs.
Cíara Molloy has written an open letter to the Minister for Health to "beg" for help. In her letter, she tells Dr O'Reilly that the current psychiatric care for teenagers in Ireland is a "disgrace".
She told TheJournal.ie that she decided to "go public" about her depression after receiving notice from her local primary care team last Friday that she was offered a place on a 'stress control' course.
The idea of a six-week lecture series – held during school hours – was the last straw for the Leaving Certificate student from Dublin.
The placement was offered in response to a request for an appointment with a psychologist.
It was as if the whole health system was washing its hands of me.
She sat down at her computer and, like many of today's teenagers, used the power of the Internet to get her voice heard. She published an open letter to the Minister for Health Dr James O'Reilly on her blog and emailed a copy to the Department of Health, the HSE and several newspapers.
Depression
An outpatient in the endocrine department at Connolly Hospital, the Dublin student has been given an unconfirmed diagnosis of polycystic ovary syndrome. However, that is only one of her health issues.
For the past few years, she has asked on numerous occasions to see a dietician for her difficulties with food. She has also requested to be recommended to a psychologist for her depression and anxiety.
"Everything is related to the depression," she told TheJournal.ie. "Everything is inter-connected but if you do not fit into one diagnostic area, there is nothing the hospital can do to help you."
The Leaving Cert student told me that Connolly Hospital could not treat her for an eating disorder as there is only 12 public beds for such patients. Currently, there is an 18-month waiting list, she says.
She is also on a waiting list to see a diabetic psychologist – even though she does not suffer from the illness.
"I had asked to see a dietician and psychologists but dieticians are only offered to coeliacs and diabetics at the moment," she added. "I was eventually offered a place on the diabetic psychologist's waiting list but I haven't heard anything in more than four months.
"I cannot afford to have insurance and go through the private system," Cíara tells me.
In her letter she wrote:
I cannot afford to see a private counsellor. I can't afford to see a private dietician. Is the HSE simply going to let me rot because of my socio-economic class? I thought Ireland looked after its people.
Unless you've attempted suicide, you can't even be seen by a counsellor. How is this fair?
Stress control course
Three weeks ago, Cíara visited her GP, who contacted the local primary care team to see what they could do for her.
On Friday, she returned to her Castleknock home to find a letter offering her a place on the stress control course. The talks will be held on Wednesday's during school hours and drinking habits will be discussed with those attending.
Cíara tells me the series is described by the tag line, "Think Clearer. Learn to control your eating. And control your drinking."
"I'm 17 and I don't drink," was Cíara's first thought on reading the letter.
"I just broke down crying then," she said. "The HSE were saying that they do not care."
Response
Cíara has yet to receive a reply from the Minister for Health or the Health Service Executive.
#Open journalism No news is bad news Support The Journal

Your contributions will help us continue to deliver the stories that are important to you

Support us now
Contacted by TheJournal.ie, the Department of Health said it could not comment on individual cases but confirmed it had received Cíara's letter and would "issue a response directly" to her.
The Department added that Dr O'Reilly is "aware" that the HSE has prioritised the development of the Child and Adolescent Mental Health Service and that further multi-disciplinary teams are being developed.
The HSE is yet to respond to TheJournal.ie's requests for comment on Cíara's situation or mental health services available to teenagers in her area.
What next?
Cíara's parents will take over the fight for the next few months as the 17-year-old enters her final year in school. She says:
My parents consistently call the HSE when I am in school and they have been really involved to date.

I need to get through sixth year without cracking. I want to study law next year.
The motivated teenager has spent the past two weeks on a work experience placement in a solicitor's office.
For the moment, however, Cíara just wants to feel like there is the possibility of help out there.
Today, Cíara confirmed she had received a letter from the HSE telling her that she would be put on the list for adult help. "It's not ideal, but better than nothing," she tweeted.
Here's her letter in full:
An Open Letter to Minister James Reilly, TD:

Dear Minister Reilly

My name is Cíara Molloy, and I am a 17 year old teenager. For the last few years, I have struggled with anxiety and depression. My local hospital, Connolly Hospital, was unable to treat me, as they didn't have the funds or manpower to do so. Nor were they able to let me see a dietician for my difficulties with food. Instead, I've languished on a waiting list for over a year.

Thanks to my GP, I have been sent a letter by my local primary care team, to attend a 'stresscontrol' course. This is not helpful in the slightest. To my mind, this course and letter is simply a way for the HSE to wash their hands of me. The course itself isn't suitable for me, because, as the letter states, it 'is NOT group therapy'. Secondly, it is on on a Wednesday morning from 10 – 11.30. Minister, I am going into sixth year, and wish to study Law in college. I cannot afford to take that much time off school, because by the time I get out of the course, go home, get my schoolbag and get the bus to school, it will be 1.30.

Minister, I am begging you to help me. Nobody else seems to want to, and the HSE appear to have washed their hands of me. Psychiatric care for teenagers in this country is a disgrace. There are no facilities. Unless you've attempted suicide, you can't even be seen by a counsellor. How is this fair?

I cannot afford to see a private counsellor. I can't afford to see a private dietician. Is the HSE simply going to let me rot because of my socio-economic class? I thought Ireland looked after its people.

Yours sincerely,

Cíara Molloy,
Dublin 15