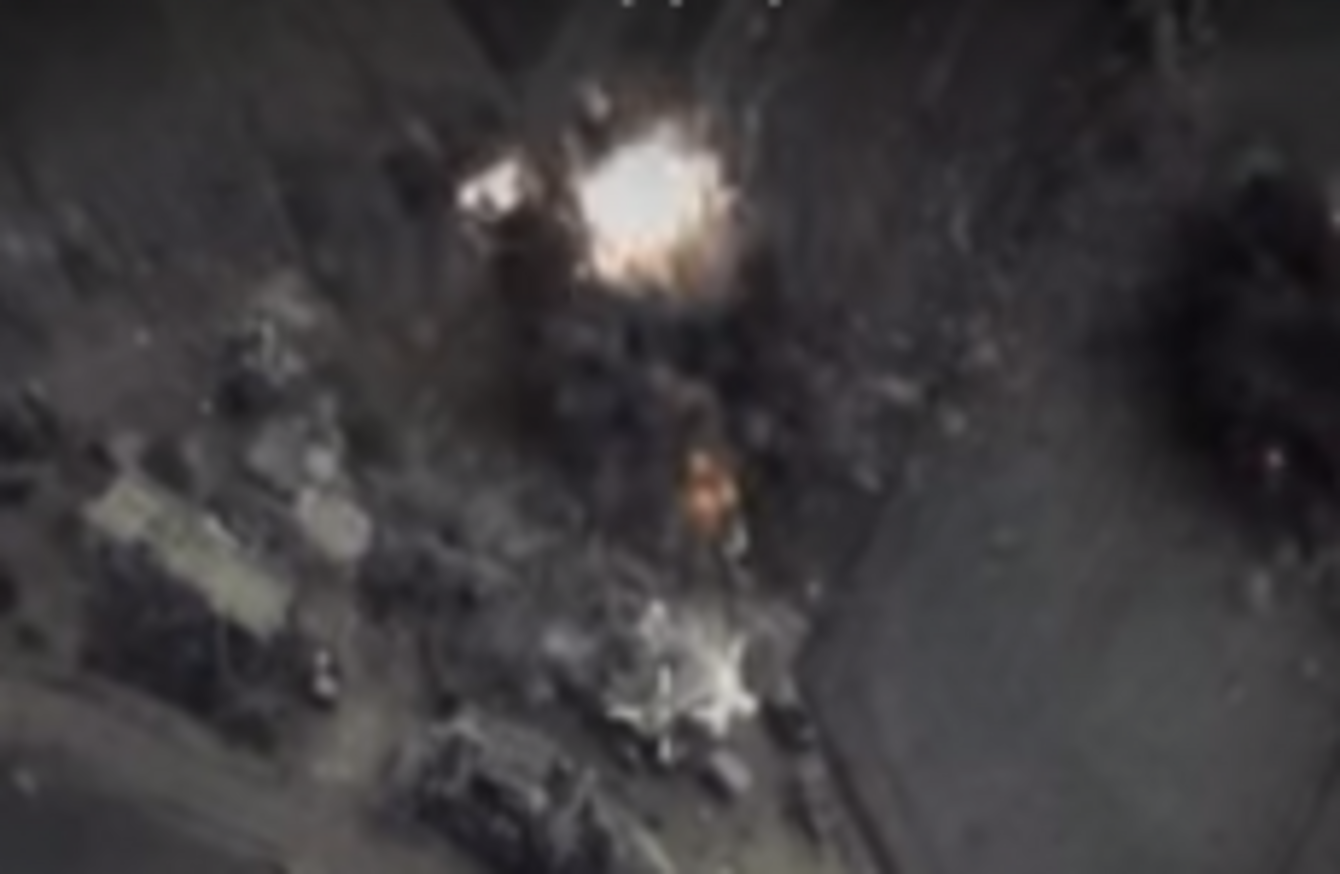 Footage of a Russian air strike posted by the country's defence ministry
Footage of a Russian air strike posted by the country's defence ministry
Updated at 3:05
TURKEY, ITS KEY Western allies and Gulf nations today urged Russia to stop attacks on the Syrian opposition, warning Moscow's bombing campaign would "fuel extremism".
This follows reports that a number of Russian air strikes launched on Wednesday were targeting groups opposed to Syrian president Bashar al-Assad other than the Islamic State group.
"These military actions constitute a further escalation and will only fuel more extremism and radicalisation," said a statement by seven countries including Turkey, Saudi Arabia and the United States.
"We call on the Russian Federation to immediately cease its attacks on the Syrian opposition and civilians," added the statement, which was published on the websites of foreign ministries in Turkey, Germany and France.
The states, most of whom are full members of the US-led coalition against Islamic State (IS) jihadists, said Russia should "focus its efforts on fighting ISIL," an alternative name for the IS group.
In a press statement, the White House spokesman John Earnest said that Russia had carried out "few if any" strikes against Isis targets while launching "indiscriminate military operations against the Syrian opposition".
Source: Минобороны России/YouTube
Footage of the air strike posted to YouTube by the Russian defence ministry 
The BBC, which has footage from the aftermath of the Russian bombing in Syria, is reporting that Russian air strikes have almost exclusively hit areas under rebel control.
Later today, Russian president Vladimir Putin is set to meet with French president Francois Hollande.
The French military have already been involved in carrying out air strikes against Islamic State forces in the region.
Speaking ahead of these discussions Hollande has said that, "the strikes, regardless of who is carrying them out, target Daesh (an Arabic acronym for Isis) and not other groups."
Source: DailyMilitary.News/YouTube
The Russian defence ministry has said that its planes have hit 12 Isis targets, although these were not necessarily within areas currently under Isis control.
Speaking yesterday, Russian foreign minister Sergei Lavrov told the UN in New York that his country was pursing "the same position that the Americans are taking" and that the two countries see "eye to eye" on this issue.
He also said that Russian targets in the region had been selected in co-ordination with the Syrian army.
Additional reporting by © – AFP 2015