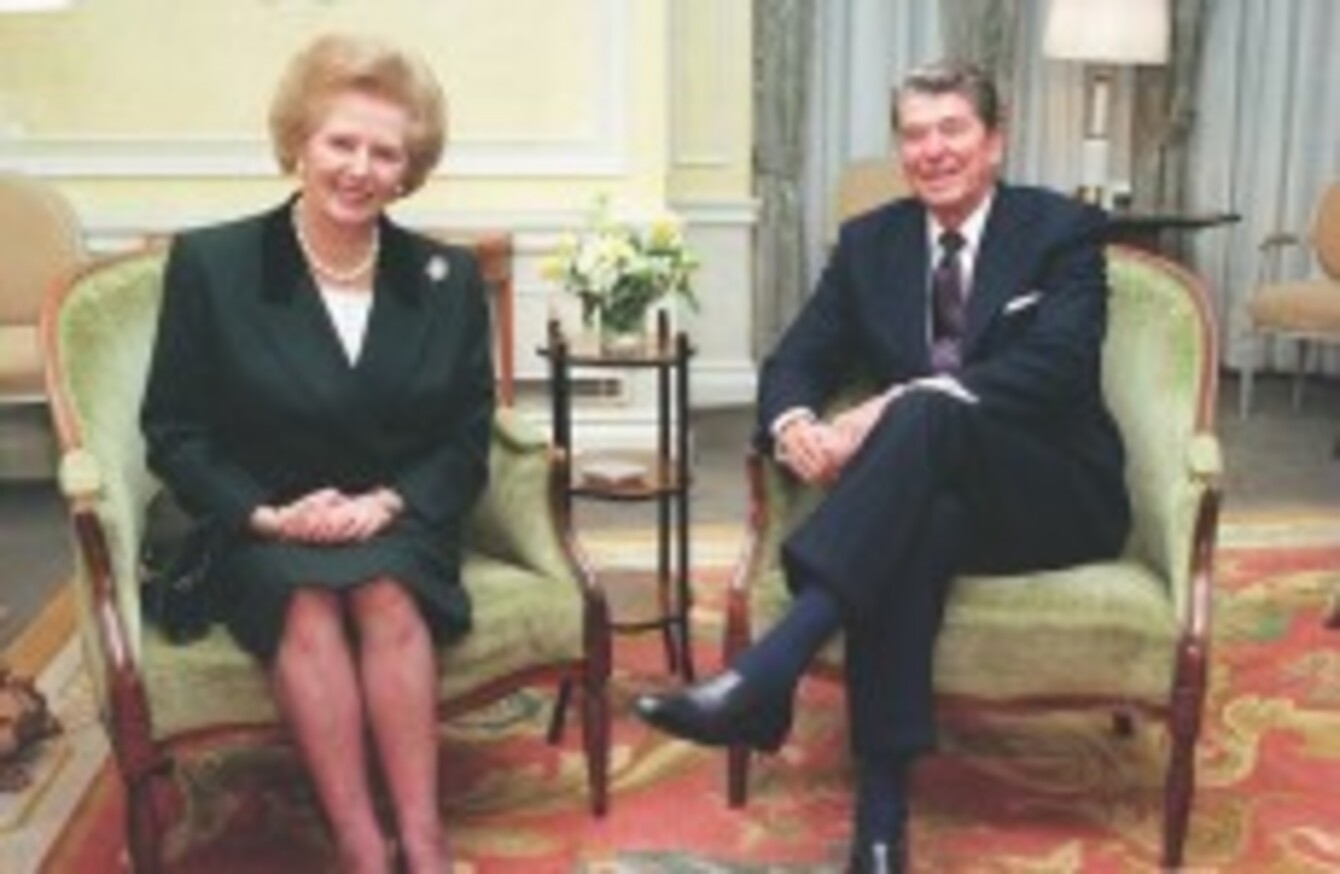 The US hailed Lady Thatcher as a "true friend". Pictured with US President Ronald Reagan in 1990.
Image: Fiona Hanson/PA Wire/Press Association Images
The US hailed Lady Thatcher as a "true friend". Pictured with US President Ronald Reagan in 1990.
Image: Fiona Hanson/PA Wire/Press Association Images
THE WHITE HOUSE called her "one of the greatest champions of freedom and liberty" and a "true friend".
Mikhail Gorbachev, the last leader of the Soviet Union, described her as "great politician and an exceptional person" who helped end the Cold War. But the rhetoric from Ireland's leaders and politicians about the death of former British Prime Minister Margaret Thatcher has been more muted and diplomatic in tone.
In a statement issued through Áras an Uachtaráin, Michael D Higgins said the 87-year-old will be remembered as one of the most conviction-driven leaders "who drew on a scholarship that demanded markets without regulation".
Both the president and Taoiseach noted Thatcher's role in signing the Anglo-Irish agreement, an early step on the road to peace in Northern Ireland.
Enda Kenny said he was "saddened" to hear of her death and extended his sympathies to her family and David Cameron.
However, he also acknowledged that her period in office came "at a challenging time for British-Irish relations" when the violent conflict in Northern Ireland was at its peak.
The Fine Gael leader also noted the Anglo-Irish agreement laid the foundation for improved cooperation and ultimately the Good Friday Agreement.
His statement added:
Mrs Thatcher was a formidable political leader who had a significant impact on British, European and world politics. During her eleven years as Prime Minister, she defined an era in British public life.
Tánaiste and leader of the Labour party also passed on sympathies to his counterparts in Britain.
Speaking from Turkey, Gilmore said:
Baroness Thatcher was a hugely influential figure in British and global politics. Always controversial, her legacy is now for the historians. Today, I wish to extend my sympathies to her family and friends.
Although Fianna Fáil extended "personal sympathy" to the friends and family of the late leader, the party's statement also called for a "balanced account of her approach to Irish affairs".
Micheál Martin said, "While I or the Fianna Fáil party would have had little in common with the politics of Mrs Thatcher, it would be wrong not to acknowledge that the long journey towards the peace and respect that we enjoy between Britain and Ireland today, took its first faltering steps in the bilateral discussions between Mrs Thatcher and former Taoiseach Charles Haughey."
However the British Prime Minister's hard-line approach to an increasingly violent situation in the North was one of a number of factors which limited the potential of those early initiatives.  Unfortunately her uncompromising approach to the escalating crisis in the early 1980s may actually have acted as a major boost for the recruitment efforts of the Provisional IRA at that time.
There can be no doubt that the career of Margaret Thatcher had a significance and impact that is seen very rarely in modern European politics. The debate about the consequence of her impact will go on for many years to come.
But today, our thoughts are with her family and close friends.
The strongest words, unsurprisingly, came from the Sinn Féin camp with president Gerry Adams issuing a statement about his one-time nemesis from the party's Ard Fheis in Castlebar.
He said the former PM did "great hurt" to the Irish and British people during her time at Downing Street.
Describing her as "belligerent" in international affairs, he claimed her "espousal of old draconian militaristic policies" in Ireland "prolonged the war and "caused great suffering.
He also criticised her support of Chilean dictator Pinochet, her opposition to sanctions against South African apartheid laws and her backing of the Khmer Rouge.
In her own country, more glowing tributes for the late baroness – who died from a stroke this morning – have been flooding in.
A statement from 10 Downing Street said David Cameron learned of the death of Lady Thatcher "with great sadness".
"We have lost a great leader, a great prime minister and a great Briton".
Many, including Ireland's president, also hailed her position in history as Great Britain's first female prime minister.
US President Barack Obama said:
As a grocer's daughter who rose to become Britain's first female prime minister, she stands as an example to our daughters that there is no glass ceiling that can't be shattered.
As prime minister, she helped restore the confidence and pride that has always been the hallmark of Britain at its best.  And as an unapologetic supporter of our transatlantic alliance, she knew that with strength and resolve we could win the Cold War and extend freedom's promise.
Here in America, many of us will never forget her standing shoulder to shoulder with President Reagan, reminding the world that we are not simply carried along by the currents of history—we can shape them with moral conviction, unyielding courage and iron will.   Michelle and I send our thoughts to the Thatcher family and all the British people as we carry on the work to which she dedicated her life—free peoples standing together, determined to write our own destiny.
European Commission President José Manueal Barroso also issued an evenly-worded statement, recognising both her "contributions to and her reserves about our common project".
"She was without doubt a great stateswoman, the first female Prime Minister of her country, and a circumspect yet engaged player in the European Union.
"She signed the Single European Act and helped bring about the Single Market. She was a leading player in bringing into the European family the Central and Eastern European countries which were formerly behind the Iron Curtain."