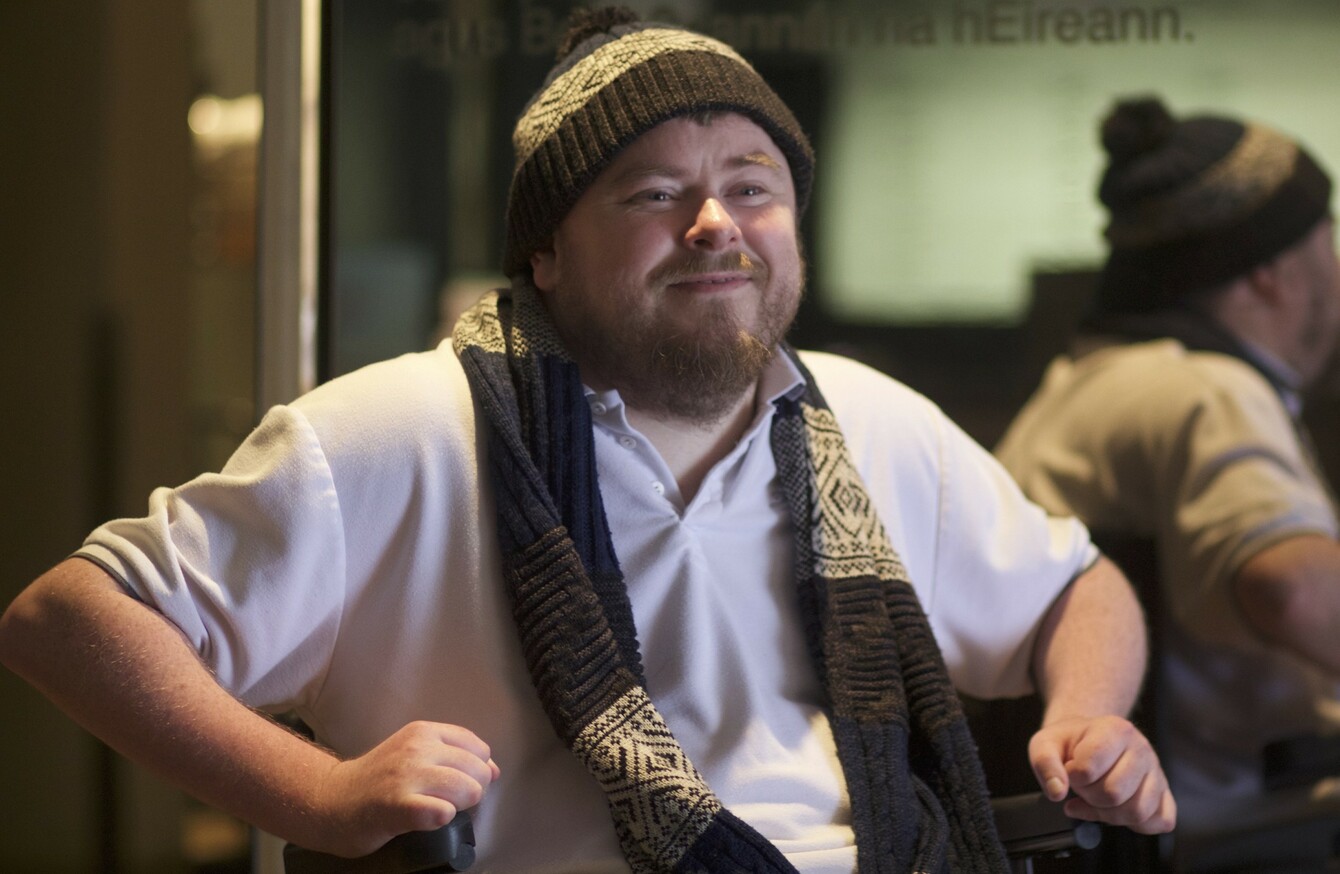 THE BROKEN LAW of Attraction – a story of ambition and morals, of love and family loyalty, and of the personal choices we make that often clash with our responsibilities within society.
A story about garda Dave Connolly, whose loyalty to the police force is tested when his criminal brother comes looking for help.
A story of his secret relationship with a girl named Amia, a victim of his brother's former crimes.
A story that might not even happen.
This is the story that Paddy Slattery, an award-winning writer and film director wants to tell.
He feels compelled to tell it, to make a positive contribution to the media and society he feels is filled with negativity and despair.
It's also important for him personally – not only is this his first feature-length film, but as he is quadriplegic, his passion for film is his daily motivation.
Speaking to TheJournal.ie, Slattery revealed the drive behind this particular narrative:
I was inspired by very close friends of mine who are gardaí and went into the force with the best of intentions. I wanted to tell the story of how easily you can come under a negative influence, get deviated and lose sight of your original goal.
When asked if he was worried about a backlash from the gardaí on this story, he said that this was not just reflective of the gardaí, but the global relationship between the public and police forces - from the race-related riots in America, to the Irish Water protests here.
One character in the film – an old-school garda called Superintendent Richard Byrne – is trying to improve the gardaí's image and sees that public relations need to change. And he's looking for a person to present to the media – a golden child to represent what's good. And Dave is good, he's just deviated from the path.
Although the premise of the film is uniquely fascinating, there is one big problem – he hasn't yet raised the funds to tell this story.
"Basically we're looking for €100,000 from the public. We've already applied for grants from the Broadcasting Authority of Ireland and the Irish Film Board, so we're hoping to raise €350,000 in total. That's the maximum goal."
Fundraising
Slattery and his production team have also set up an online petition so that the public can donate towards his campaign, and on the donation page he gives his reasons why this is the cause that should catch people's attention:
€100,000 is a hell of a lot of money. Even as I write the number I'm reminded of the countless ways in which that money could be better spent in our society, yet, here I am, appealing for your support to make a film. How can I justify the absurdity of such a request when so many millions are homeless and starving? Well, I look at it like this…
Storytelling, in its many incarnations, is something we have done since the creation of language as a form of communication. It's what made and shaped us, even at the primitive stages of our evolution. It has helped us view life in a particular way and was used as a device to influence the way in which we live today. Storytelling is the most important form of expression.
The petition also explains what the money would be used for – basically everything from paying the cast and crew, to insurance payments, to distribution fees.
Already there are three actors confirmed for the roles - Tristan Heanue will play the leading role of Dave Connolly, torn between morality and loyalty, Irish actress Gemma-Leah Devereux will play the love interest Amia, while Love/Hate actor John Connors has also been confirmed to star.
Slattery is determined not to let the financial mountain that is before him deter him or even slow him down, and maintains that the film will happen "by hook or by crook".
And in fairness – he's overcome greater obstacles than this.
Against all odds
Around twenty years ago, when Paddy was just 17 years old, he was in a car accident and broke his neck and spinal cord.
He's now quadriplegic – paralysed from the neck down – but he hasn't let that hamper his drive to create. If anything, he says it's enhanced it.
"I spent a year in respite in Dún Laoghaire, and submerged myself in music and film – exploring different genres and international themes."
"My salvation was my imagination – I reverted into a whole new world." Soon after Slattery's accident, three of his close friends died by suicide.
"Three young people, in the prime of their health, took their own life while I was paralysed and felt very optimistic" – he had survived the accident and felt he'd been given a second chance.
Ever since the accident I've been on a mission, to make a meaningful positive contribution, to educate and inspire, and now I'm so close. This is not just a film for me, I don't want to be a movie star or the red carpets or the tuxedos, I just want to spend the rest of my time on the earth creating and having a lasting positive impact on people.
Previous films by Paddy Slattery include short films The Moment (2010), Runner (2012), Skunky Dog (2014) and Today (2015). The Broken Law of Attraction will be his first feature-length film, and will be produced by Edwina Forkin and Deirdre McNally for Zanzibar Films. Donations can be pledged on IndieGoGo.