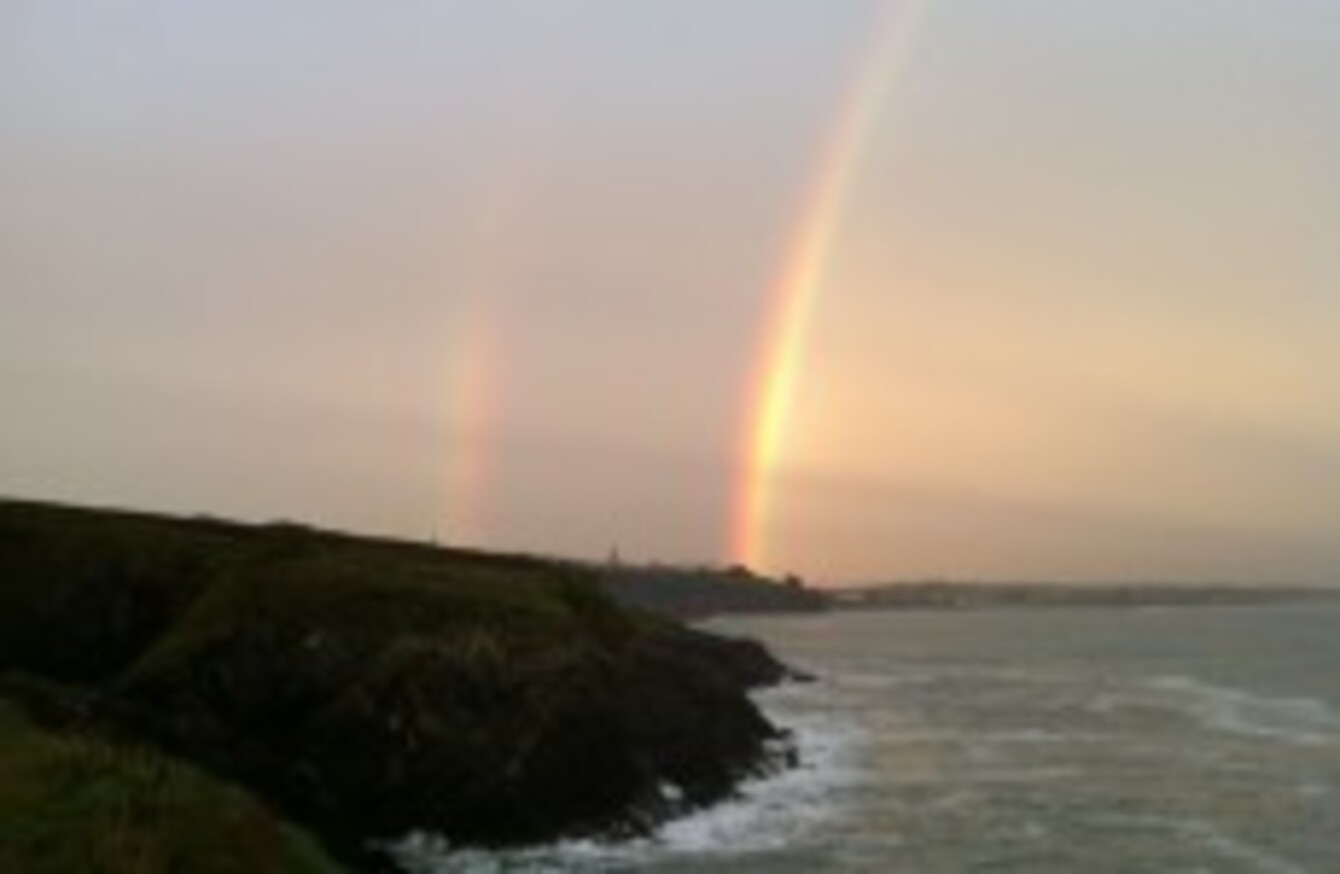 "If you want the rainbow, you've got to put up with the rain." The view at Tramore earlier today, from reader Conor Barry.
Image: Conor Barry
"If you want the rainbow, you've got to put up with the rain." The view at Tramore earlier today, from reader Conor Barry.
Image: Conor Barry
EVERY EVENING, TheJournal.ie brings you a roundup of the day's main news – plus any bits and pieces you may have missed.
In the race for the Áras…
In the day's other news…
Commuters beware – DART and Luas red line services are both delayed this evening as a result of the heavy rain. The Luas services between Belgard and Saggart has been pulled completely due to road flooding.
Motorists beware – the new lower drink-driving alcohol limit comes into effect this Friday.
A woman has been arrested in connection with the abduction of a 29-year-old man in Dublin last week. She remains in custody at Store Street Garda Station.
Eamon Gilmore has defended the two referendums being put to the public following this morning's unprecedented letter from eight former Attorneys-General, who said the ballots would compromise judicial independence and weaken the rights of individuals.
The Commercial Court has ruled that hotelier Jim Mansfield must repay a debt of €74m owed to NAMA.
The Grand Canal Theatre is getting a new name – it's to be renamed the 'Bord Gáis Energy Theatre' from next March.
Good news on the jobs front – there are 79 on their way to Leitrim, thanks to a new €7m investment from medical devices firm VistaMed.
11 people were rescued from the Wicklow mountains in a dramatic overnight rescue. The hikers from a Dublin club were caught unawares by the onset of the wet weather and found themselves stranded on the wrong side of a river. The operation began yesterday evening and didn't end until before 7am today.
The DUP councillor who told Rihanna to cover up after shooting parts of her new video on his farm – while topless – has given us his verdict on the video. Alan Graham said he wanted the Barbadian singer to "enjoy God's salvation in her life", after seeing the 'We Found Love' video – which has some, eh, adult scenes.
WikiLeaks is to stop leaking secrets – because it's leaking cash. Julian Assange says the site will suspend publications because of a 'financial blockade' which has seen donations fall by up to 95 per cent. The site is now living on cash reserves but needs that money to wage legal battles against the blockade.
There are conflicting reports over whether former Egyptian president Hosni Mubarak may have suffered a heart attack. It's rumoured that he had a coronary incident after hearing news of the death of his longtime friend Muammar Gaddafi.
As you might recall, we're not the only country with a seven-way presidential election this week… as expected, Argentina's president Cristina Fernandez has won a landslide re-election.
The UK's House of Commons will vote tonight on whether to have a full referendum on its membership of the EU.
Are you a 'typical' Irish person? A new project is trying to find out more about the Irish population – and it might need your help.
An Ohio dentist has come up with an unusual way to safeguard children's teeth this Halloween… he's going to buy sweets off the kids, and he'll even throw in a free toothbrush.
The official biography of Steve Jobs is out today – Walter Isaacson's account of the Apple founder's life portrays the recently deceased Jobs as a "petulant genius".
The rain is playing havoc with more than transport – Shamrock Rovers will have to wait another day to possibly clinch a second straight League of Ireland title, with tonight's clash at UCD put back for 24 hours.
We KNEW we'd heard it somewhere before….
#Open journalism No news is bad news Support The Journal

Your contributions will help us continue to deliver the stories that are important to you

Support us now