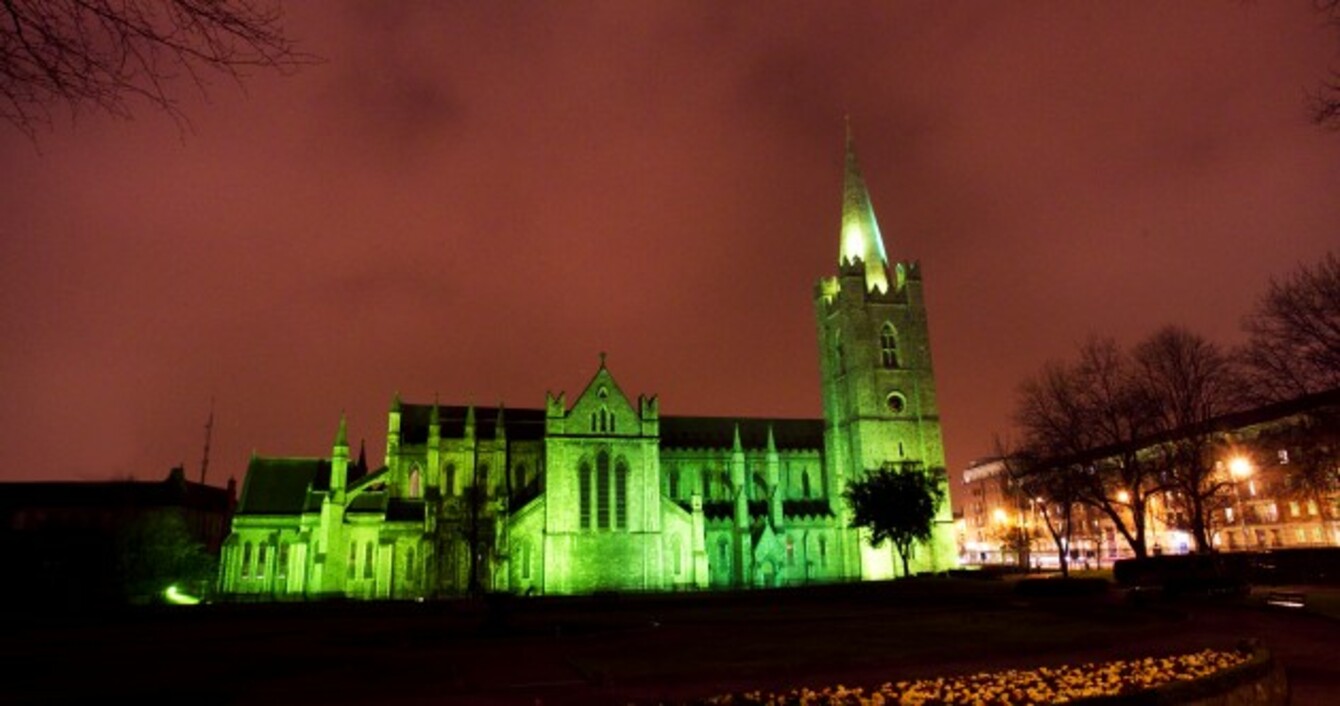 St Patrick's Cathedral goes green for St Patrick's Day weekend
Image: Leon Farrell/Photocall Ireland
St Patrick's Cathedral goes green for St Patrick's Day weekend
Image: Leon Farrell/Photocall Ireland
EVERY DAY, TheJournal.ie brings you a round-up of all the day's main news as well as the bits and pieces that you may have missed.
Dundalk prepares itself for PayPal, with one local business particularly excited about the company's imminent arrival. Thanks to Chris Clarke for the image, taken from the M1.
From tomorrow, members of the public can tour Leinster House for free. Nice!
Documents leaked in England have revealed that the then Prime Minister Margaret Thatcher was told that "drunken Liverpool fans" caused the Hillsborough stadium disaster in 1989.
A European Court has ruled that hotels should be subject to royalty payments for performance-related television and radio broadcasts consumed by guests in the privacy of their rooms. The Irish Hotels Federation is, obviously, not happy about it.
Syria's president Bashar Assad took advice from Iran, while his wife was offered potential exile in Qatar. These two facts were discovered through personal emails obtained by the Guardian. The paper also found out what music the Assads are currently listening to.
The Laois man who became an internet sensation last month after preventing a sheriff from entering his home was eventually evicted from his property yesterday.
In this evening's column, Eoin Carroll has seven ways to fix Ireland's broken prison system.
Here's a bit of fun for your Thursday evening: rate your husband/wife/partner with this 1939 couple's compatibility test.
The marvels of science: this video from Cambridge University's Under the Microscope series shows the battle between a killer T cell of the immune system (in green) and a cancer cell. The action is 92 times faster than real time.
Explanation from Professor Gillian Griffiths
: "Cells of the immune system protect the body against pathogens. If cells in our bodies are infected by viruses, or become cancerous, then killer cells of the immune system identify and destroy the affected cells. Cytotoxic T cells are very precise and efficient killers. They are able to destroy infected or cancerous cells, without destroying healthy cells surrounding them. The Wellcome Trust funded laboratory of Professor Gillian Griffiths, at the Cambridge Institute for Medical Research, investigates just how this is accomplished. By understanding how this works, we can develop ways to control killer cells. This will allow us to find ways to improve cancer therapies, and ameliorate autoimmune diseases caused when killer cells run amok and attack healthy cells in our bodies."