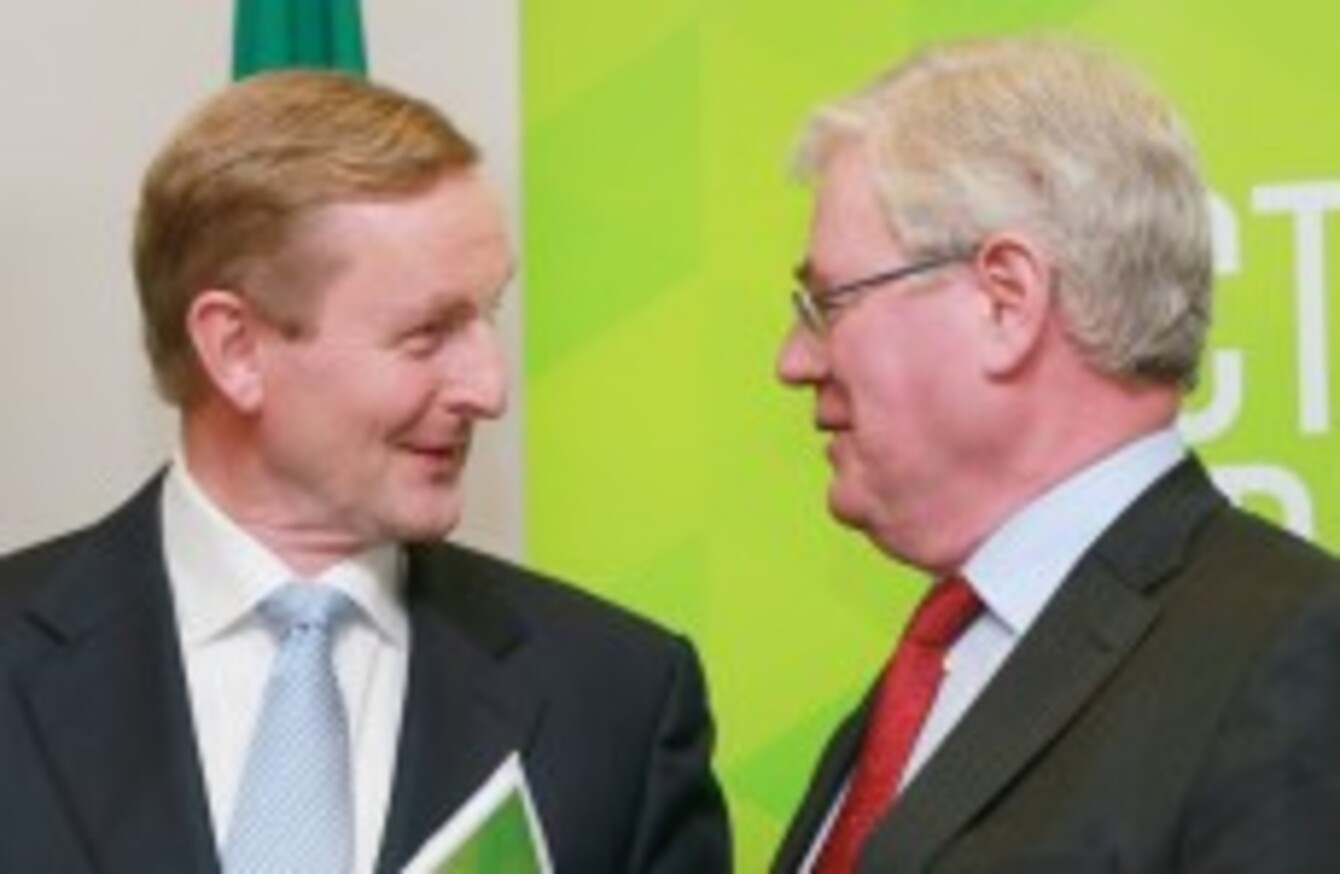 Enda and Eamon (File photo)
Image: Laura Hutton/Photocall Ireland
Enda and Eamon (File photo)
Image: Laura Hutton/Photocall Ireland
Updated 5.15pm 
THE TAOISEACH GAVE words of thanks to Eamon Gilmore at today's Cabinet meeting ahead of the expected reshuffle tomorrow.
Enda Kenny paid tribute to Gilmore, who officially resigned as Tánaiste last Friday but sat at Cabinet today as Minister for Foreign Affairs and Trade.
The Taoiseach also gave what a spokesperson said was a "a general word of thanks to everybody around the table" for their work done to date.
Ministers are expected to be reshuffled tomorrow with Gilmore and several others unlikely to be at the next Cabinet meeting.
Earlier, Jobs Minister Richard Bruton has said that this morning's final meeting of the current crop of Cabinet ministers "was a somewhat unusual occasion" but insisted it didn't get emotional.
The Cabinet met for the last time before the imminent reshuffle of ministers with at least two of those sat around the table, Gilmore and outgoing Education Minister Ruairí Quinn, said to have made farewell speeches.
"It wasn't emotional, no, I wouldn't say that. But… it wasn't your typical Cabinet meeting and I think everyone realised that," Bruton said at a press conference today.
 It's a tricky time. We work very close together there's a sort of a personal relationship built up among Cabinet members. Clearly there's always unease about the future of both yourself and others. So it is a slightly unusual occasion for a Cabinet meeting.
Asked if he was feeling uneasy about his position, Bruton who has been lined with a move to the Department of Health, insisted he was not ahead of the reshuffle which appears likely to be announced tomorrow.
"But I think we are a team," he said. "We worked as a team and obviously that team is going to be changed in some facets and it is a time when people do rightly mark what has been achieved by this particular team and I think that that's undeniable.
"I know that we've had bad election results but I think when you look back on the last three years the distance we've travelled from where we were to where we now are is a significant achievement."
The Fine Gael TD was also asked if he shared the concerns of backbench colleagues in his party that Labour might secure the Department of Jobs in the imminent Cabinet reshuffle.
Bruton said: "I think the important issue for me is not jobs that I have or anyone else has, it's the jobs that we create to create in the economy."
He stressed repeatedly that it wasn't about which party or politician was allocated which post, but a "coherent approach" to policy delivery.
He said: "I think the important thing is the quality of the policies that we implement rather than the allocation of posts."
First published 3.42pm