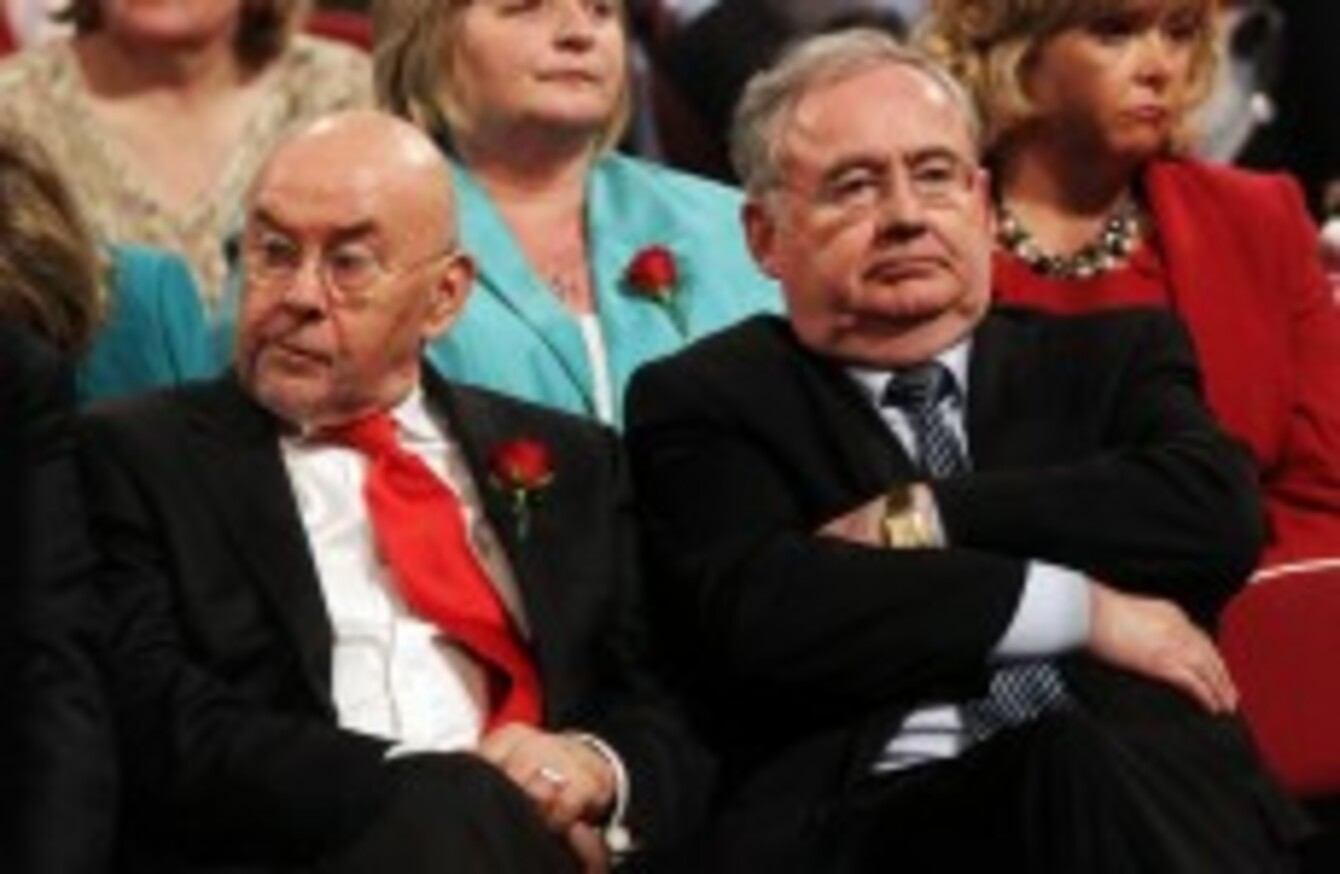 Image: Niall Carson/PA Wire
Image: Niall Carson/PA Wire
IS THE NEWS getting you down? Current affairs causing a frown? Satirical site The Mire has an alternative angle on the week's hot topics.
Irish captain Enda Kenny says country has no Plan B
Monday, 9 September
Taoiseach Enda Kenny has controversially admitted that Ireland does not have a Plan B for the economy or anything else.
"We talk about Plan A and Plan B and crap like that but Ireland has never had a Plan B," the Irish captain said.
"We've always had a Plan A, it's a simple as that. As long as I've been around we've always done things exactly the same way even though it doesn't work."
"We're not Germany or anyone good. We know our strengths are weaknesses and we stick to them," Mr Kenny added.
The main thing is that everybody is proud to wear that jersey. Come on Ireland!
Dept of Finance negotiators don't understand Trapattoni's tactics
Tuesday, 10 September
The officials who negotiate for Ireland with the EU, ECB and IMF have confessed to not understanding what Giovanni Trapattoni is doing.
The Irish soccer manager's job is on the line after a string of poor performances and worse results.
"The FAI want him to go," a Department of Finance spokesman said, "but he's refusing. What's that about?"
"It looks like he will force them to buy out his contract. It's very hard to understand why he doesn't just do what he's told. That's what negotiating is all about."
Obama to explore diplomatic route on Seanad
Wednesday, 11 September
US President Barack Obama has promised to explore a Russian diplomatic initiative before attacking the Seanad.
However, Obama made clear his belief that waging war on the Seanad remains the best option.
"We're postponing a vote on military intervention to give the Russians a chance to solve things," Obama said. "But we won't delay forever."
It is understood that the Russian initiative would see the Seanad relocate to a warehouse in Ballymount. "They'd still be paid to spout nonsense but no one would have to listen," Vladimir Putin explained.
FAI to seek manager who speaks same language as players
Wednesday, 11 September
The FAI today announced an ambitious plan to appoint a national team manager who speaks the same language as the players.
The move comes after Giovanni Trapattoni left the Ireland job by "mutual consent".
"We are deadly serious about finding a manager who can communicate with the players in their own language," FAI supremo John Delaney said.
"And we are reasonably certain that that language is not Italian."
Mr Delaney said FAI linguistic experts were already trying to establish what language the players speak.
Taoiseach calls on Government to 'look busy'
Thursday, 12 September
Taoiseach Enda Kenny has responded to stinging criticism from the OECD by calling on his Government to look busy.
The OECD said the government needed to do more to tackle the jobs crisis.
"Everyone needs to look busy in these difficult times," the Taoiseach said.
"When you are playing solitaire, tweeting, or, God forbid, browsing porn, make sure no one else can see your screen," he added. "That way it looks like you're working."
Dáil reform plans described as 'completely unnecessary'
Friday, 13 September
Ambitious plans to reform the Dáil have been described as completely unnecessary by a locksmith.
The Government unveiled a Dáil reform package yesterday aimed at improving parliamentary operations.
However, a locksmith in Lucan immediately dismissed the proposals.
"They're completely unnecessary," he said. "Why reform the Dáil? All you have to do is change the locks."
Ireland in the Bailout Years – a trot through 2009-present day through the satirical lens of The Mire's Donal Conaty – is on sale now here.