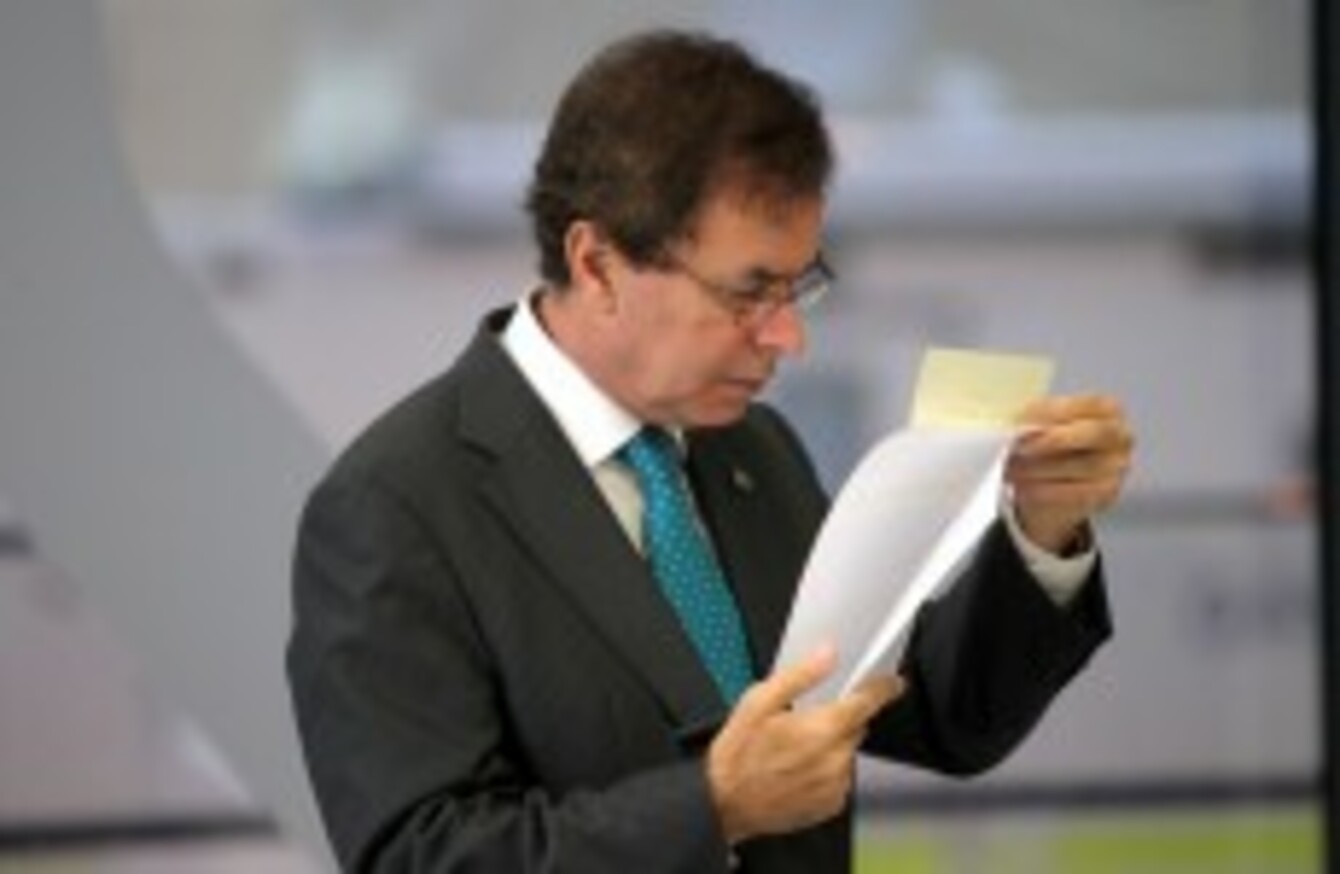 "Ah, more fanmail about Laura"
Image: Mark Stedman/Photocall Ireland
"Ah, more fanmail about Laura"
Image: Mark Stedman/Photocall Ireland
IS THE NEWS getting you down? Current affairs causing a frown? Satirical site The Mire has an alternative angle on the week's hot topics…
Government pledges more austerity after the bailout years
May 27, 2013
Finance Minister Michael Noonan has promised that Ireland will not have to forego austerity after the bailout exit.
Mr Noonan said he and Public Expenditure Minister Brendan Howlin had devised a plan that would allow the normalisation of poverty to continue.
"We know enough now about austerity to do it without any help from the IMF," Mr Noonan said.
"We can stand on our own two feet."
A grateful nation wept.
Author humbled: 'Don't you know who I am?'
May 28, 2013
Celebrated author and Justice Minister Alan Shatter was so crushed when a garda didn't recognise him that he couldn't complete a breathalyser test.
"Poor Alan," a source said. "When the garda stopped him he thought she wanted a copy of his book Laura signed."
Instead, the garda asked Mr Shatter to perform a breathalyser test at the mandatory checkpoint.
"Don't you know who I am?" Mr Shatter apparently asked her.
"She had no idea. She had never read Laura," the source said. "Alan was completely deflated. He couldn't perform."
HSE officials too busy watching video of Chinese baby to appear on Prime Time
May 29, 2013
HSE officials were too watching the video of a Chinese baby that had been flushed down a toilet to appear on RTÉ Prime Time's shocking show on abuse in creches last night.
The programme laid bare appalling conditions and treatment in some of Ireland's creches.
"We would have liked to appear on the show to defend that," a HSE source said.
"But we couldn't stop watching this mad video from China of a baby after it had been flushed down a toilet and ended up in a drain."
"Pity you couldn't do that here," he added. "It would get stuck in the u-bend."
Ireland to introduce plain branding for creches
May 30, 2013
Ireland could become the first country in the world to introduce plain branding for creches.
Health Minister Dr James Reilly hopes the move will help make creches less attractive to children and their parents.
Research has shown that branding has been used to dismiss the risks associated with creches by combining cute words and bright colours.
Creches would only be allowed brand themselves with a stark Government health warning and an image of a broken child.
"Ultimately this could save lives," a Government source said.
Parents using clothes recycling containers to mind children
May 31, 2013
Parents who no longer trust Irish creches are turning to clothes recycling containers to mind their children.
Since RTÉ Prime Time exposed maltreatment in creches parents have been left in a quandary about what to do with their children while they work.
The Mire's childcare expert explains that there are some benefits to using the recycling containers.
"By and large they are safe," he explained. "Safer than creches anyway."
"Most recycling centre have CCTV. And a child would have a good chance of landing on something soft."
"My two are on a waiting list to get into the clothes container," a mother said. "Meanwhile they're in the bottle bank. That's them screaming now."