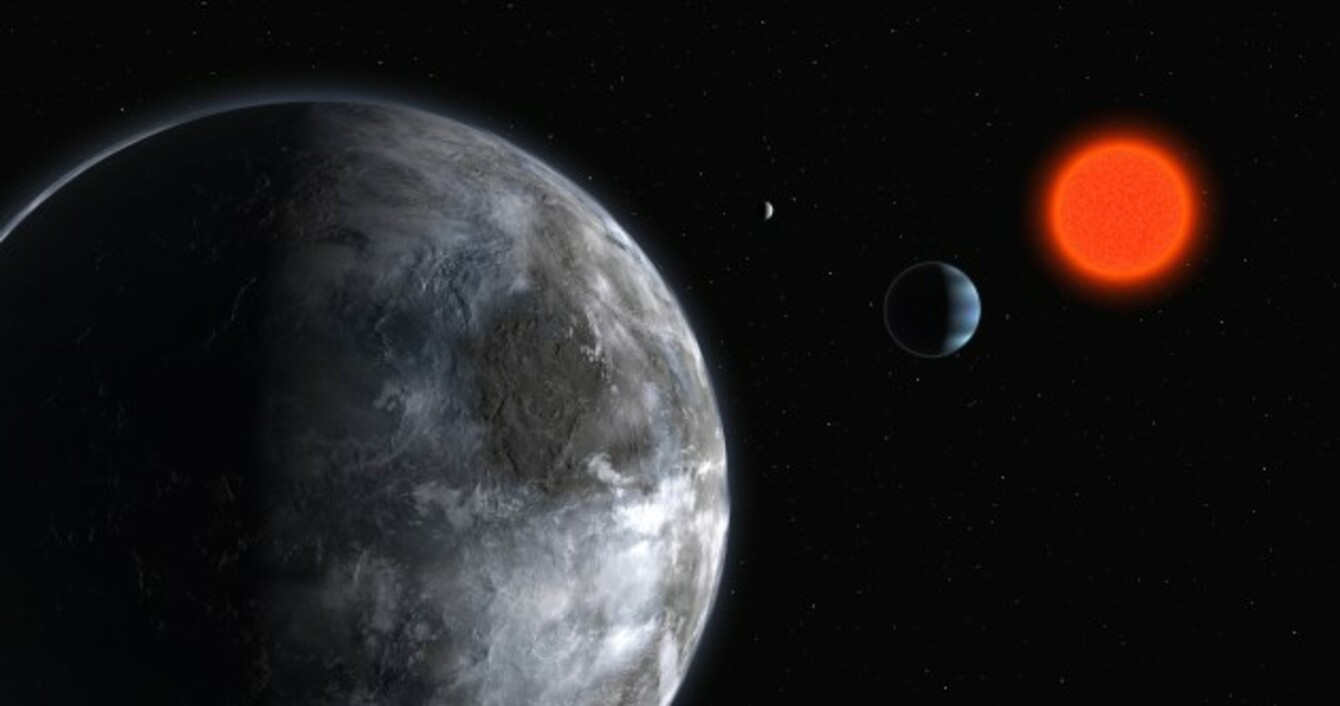 This artistic illustration released by the European Southern Observatory on Tuesday, April 24, 2007, shows planets orbiting the red dwarf star, Gliese 581.
Image: AP/Press Association Images
This artistic illustration released by the European Southern Observatory on Tuesday, April 24, 2007, shows planets orbiting the red dwarf star, Gliese 581.
Image: AP/Press Association Images
A LIST OF planets that are most likely to harbour alien life – as well as other worlds that could potentially support human life if the Earth were to become "uninhabitable" – has been compiled.
Saturn's moon Titan and Mars were among the most habitable planets, according the rating systems used by the international team of scientists that gathered the data.
Their research shows that the planet most like our own is a world called Gliese 581g, which some believe may be able to support human life. However, although the planet has many of the conditions necessary for us, there is some bad news': its about 20 light years -  or 118,000,000,000,000 miles – from Earth. To put that into perspective, if a rocket flying from Earth travelled at a tenth of the speed of light (19,000 miles a second) it would take 200 years to arrive at Gliese 581g.
The planet is thought to be one of six worlds that orbits the red dwarf star Gliese 518, which is 50 times cooler and a third of the size of the our Sun, however some astronomers doubt its existence.
New classifications
In the past, astrobiologists have searched for three conditions which are believed to be essential for life: organic compounds, liquid water,and an energy source – for example, the sun or undersea volcanoes, reports msnbc.com.
However, by using the two new indexes, scientists are now also focusing on new conditions. The traditionally used Earth Similarity Index (ESI) is still employed to categorise a planet's more earth-like features, while the Planet Habitability Index (PHI) is used for describing a variety of chemical and physical parameters that are theoretically conducive to life in more extreme, less-earthlike conditions.
Dirk Schulze-Makuch, an astrobiologist at Washington State University said in a statement: "The first question is whether Earth-like conditions can be found on other worlds, since we know empirically that those conditions could harbour life," he said.
"The second question is whether conditions exist on exoplanets that suggest the possibility of other forms of life, whether known to us or not."
The paper's authors explained that focusing on earth-based assumptions of what is necessary for life to exist may too restrictive as a potential variety of life forms may exist on other worlds.
"Habitability in a wider sense is not necessarily restricted to water as a solvent or to a planet circling a star," they said. "For example, the hydrocarbon lakes on Titan could host a different form of life. Analog studies in hydrocarbon environments on Earth, in fact, clearly indicate that these environments are habitable in principle. Orphan planets wandering free of any central star could likewise conceivably feature conditions suitable for some form of life."
As such, the PHI flags more general conditions that may indicate the potential life, reports CBC News, including:
A stable and protected substrate (not necessarily Earth's rocky surface)
Energy (not necessarily light from a Sun-like star)
Chemistry that allows large, chain-like molecules to be built (not necessarily the carbon-based chemistry)
A liquid medium (not necessarily water)
The results of the data are as follows – with an ideal score of 1.0 to indicate similarity to the Earth's conditions:
Earth Similarity Index
Earth – 1.00
Gliese 581g – 0.89
Gliese 581d – 0.74
Gliese 581c – 0.70
Mars – 0.70
Mercury – 0.60
HD 69830 d – 0.60
55 Cnc c – 0.56
Moon – 0.56
Gliese 581e – 0.53
Planet Habitability Index
Titan – 0.64
Mars – 0.59
Europa – 0.49
Gliese 581g – 0.45
Gliese 581d – 0.43
Gliese 581c – 0.41
Jupiter – 0.37
Saturn – 0.37
Venus – 0.37
Enceladus – 0.35
See China.org.cn for slideshow of the ten alien worlds most similar to Earth.
The paper, entitled A Two-Tiered Approach to Assessing the Habitability of Exoplanets, is published in the journal Astrobiology.