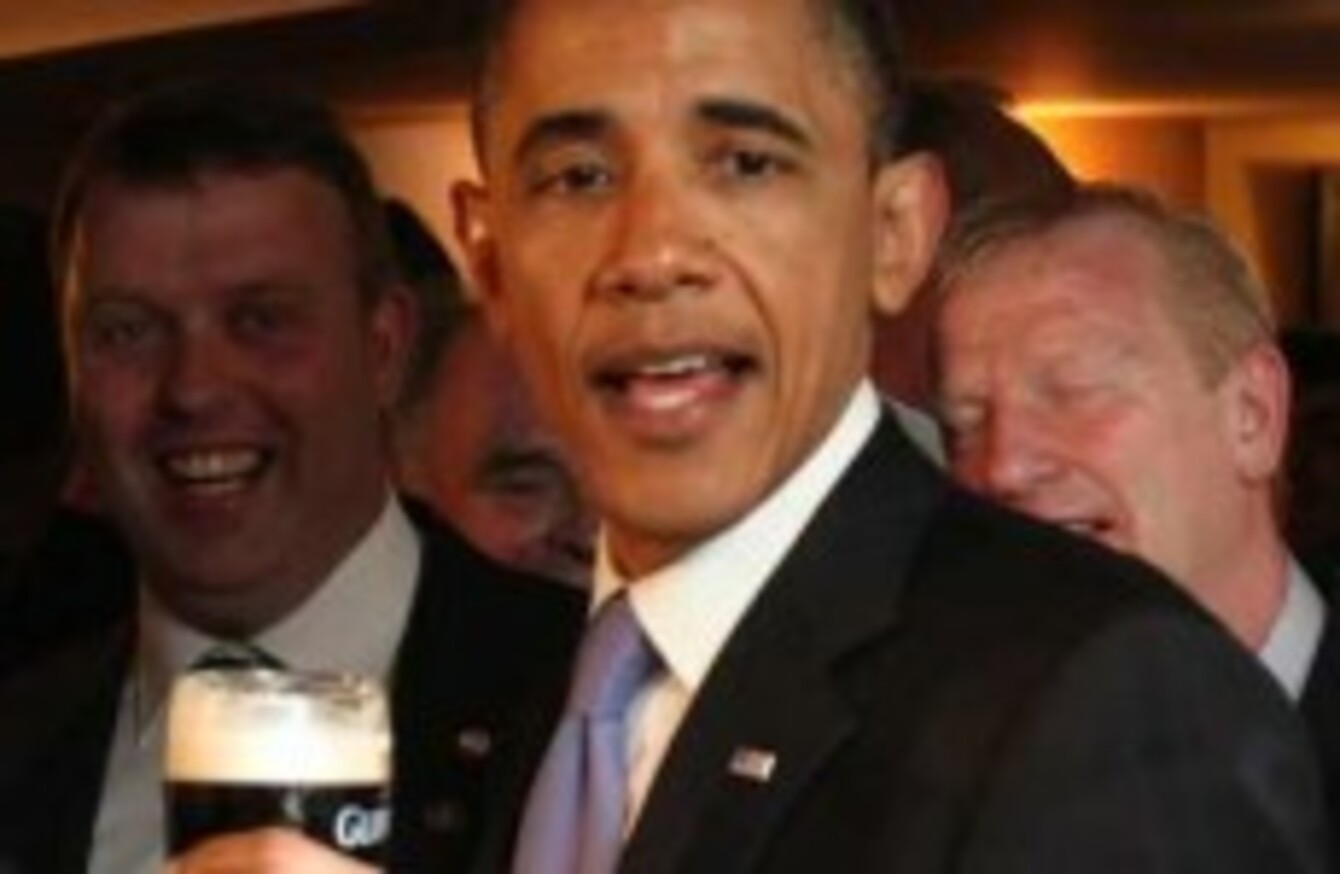 US President Barack Obama enjoys a pint in Ollie Hayes' pub in Moneygall
Image: Photocall Ireland/GIS
US President Barack Obama enjoys a pint in Ollie Hayes' pub in Moneygall
Image: Photocall Ireland/GIS
IT SEEMS THAT images of Obama holding babies in Moneygall and the Queen clinking glasses in Dublin Castle has given a boost to the numbers of people looking to make Ireland their next holiday destination.
A survey by the UK website Hotels.com has found that internet searches by potential visitors from the UK and the US have gone up almost 200 per cent for some of Ireland's top tourist spots. The Queen's visit seems to have been particularly instrumental in sparking imaginations, with three times the number of searches for the Rock of Cashel compared to 2010.
There's been a huge surge in the number of people looking to visit Kildare, after the county showed off its horse racing pedigree to her majesty, while double the number of US tourists are now interested in visiting Cork, where the Queen did a walkabout and visited the English Market.
Reuters reports that busloads of tourists are now showing up in Moneygall where Obama pressed the flesh, visited his ancestral home, and enjoyed a pint. Bus Eireann is touting its Dublin to Limerick route as chance to follow in the US president's footsteps by hopping off the bus in the small Offaly town.  Japanese and American tourists have been clamouring to have their picture taken with Henry Healy, Obama's eighth cousin. Twitter reveals that people, from Ireland as well as abroad, are making an effort to stop off in the town, just so they can say there were there.
Image: Kiara via Twitter
Image: Sharon O' Donoghue via Twitter
Fine Gael TD Alan Farrell passed through Moneygall yesterday and tweeted that it was "jammed full of tourists". Tourism Ireland is already capitalising on the Obama visit to promote Ireland as a holiday destination abroad.