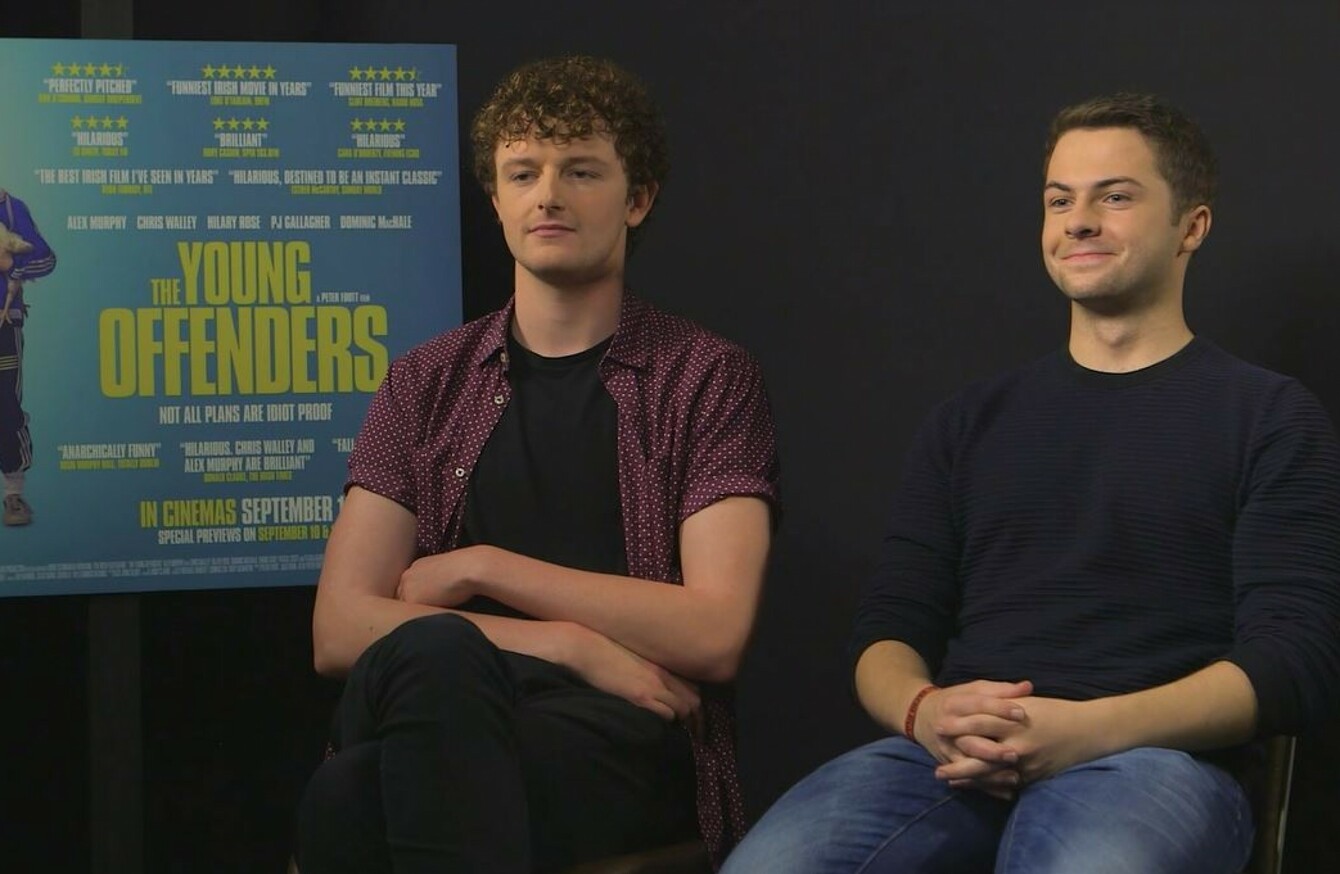 Image: aoife
Image: aoife
IN 2007, A small boat got into trouble on the west Cork coast.
As the two men on board scrambled to keep it afloat, the 1.5 tonnes of cocaine they were carrying with them started to slip into the water. The men eventually made their way to the shore, where they were spotted on the nearby cliffs.
They eventually ended up in court, charged with possessing cocaine for sale or supply – the largest cocaine seizure to date in the history of the Irish state.
That bizarre incident is the backdrop to a new Irish comedy that takes two hapless young teens and explores what would happen if they went on a roadtrip – a roadtrip to snatch a bale of cocaine that had fallen aboard from the ill-fated boat.
Source: WildCard Distribution/YouTube
The film, The Young Offenders, is a first-time feature for director Peter Foott (who was also behind the infamous Horse Outside video from the Rubberbandits). In turn, the film gives two young Cork men, Alex Murphy and Chris Walley, their first roles in a major movie.
For Corkonians, watching The Young Offenders will be a glorious experience as they get to hear wall-to-wall melodious Cork accents for 90 minutes (the only Dublin voice is provided by comedian PJ Gallagher). Murphy and Walley play Conor and Jock, two 15-year-olds who hear about the cocaine haul and decide to go see if they can get some of the drugs for themselves.
The pair had to shave their heads and further Cork-up their accents to play the pair of hapless teens.
Actor and comedian Hillary Rose, who is married to Foott and well known for her roles on The Fear and Republic of Telly, stars as Conor's mum, while PJ Gallagher plays a dodgy Dublin drug dealer.
'Everyone has a story about the drugs haul'
The story was inspired by an experience of Foott's as a teenager – though no cocaine was involved back then, we hasten to add.
"I'd been on a bike trip when I was 15, with a friend of mine and we weren't very smart at the time so we loaded our bikes up with tents and bags and beers and ghetto blasters and everything," he tells TheJournal.ie. "And we went on this crazy journey to west Cork where lots of silly things happened, and lots of the silly things that happened we put into the movie."
I wanted to give them a real interesting goal, so that's when the drugs haul element came into it.
Walley and Murphy laugh about the fact that people "are really proud" of the cocaine seizure in Cork. "Everyone has a story about someone they knew who was around it when it was happening, we've heard so many stories about it," says Whalley.
PJ Gallagher plays the token Dubliner, though he was born in Cork as he tells me. "They were nice enough to me – I was fed daily," he jokes.
But it was great – if you're going to have a movie that's all about Cork you're going to have to have a villain from Dublin. You couldn't have a villain from Cork, it wouldn't be fair on the county.
Jock and Conor come from working class backgrounds in the film, and both struggle in their own ways. Jock's domestic situation is troubled, while Conor and his mother find their relationship strained at times.
"I think it's a real nice part of the movie that it is a film based on working class people and working class young lads and it isn't based in Dublin – there's something refreshing about that," says Gallagher.
"We had really good chemistry"
Rose describes the young Whalley and Murphy as "amazing". "I was lucky enough to be involved in the casting process with Peter and from the get-go you could see there was something special about both of them. They were naturals. If anything, I learned stuff off them."
They felt like "a family unit", says Rose, thanks to their "really good chemistry".
Walley and Murphy are both studying acting – Walley is in his second year at RADA and Murphy is about to start at the Lir.
Both shine in the film, managing to make their characters become more than just the eejits they show themselves to be at times. Instead, they turn them into the kind of lovable chancers who you're rooting for even as they attempt to break the law.
"I think in any story you want the audience to invest in your characters and in this case they've had a troubled background and and you need to believe it," says Foott.
Especially when you're dealing with these subjects, you need to have the audience feeling sorry for them in the right places. And they're going on this quest to find €7m of cocaine, it's not really the most noble of things to be doing but you want the audience to want them to actually do it.
"I think the audience do go along with them on this journey and want them to do it because they realise all these guys really want is to have a better life, and everyone can relate to that."
Foott can say he was the one to give them their big break. "That's the beauty of shooting a film with two 15 year olds, they're going to be unknown," says Foott.
It was also, he says, quite liberating to only be able to choose from unknowns.
"A lot of the time when you're making movies and even when you're pitching them, what you're always told by financiers is that you're going down the wrong road because making films about teenagers means you can't cast… the sweet spot is people in their early 30s everyone knows who they are you can get finance based on that."
But with The Young Offenders, "we knew from the start this is about two 15-year-olds so it was almost liberating knowing that we didn't have to go for that, we could go find some fresh comedic talent."
A family affair
The film was part-funded by Foott, and friends and family all came on board. "Everyone got in and helped – most of Cork city came in and helped," he says. "We all just enjoyed it so much doing it that it didn't seem like work a lot of the time."
"We never really felt like we were making a film," adds Murphy. "Everyone was in it together – everyday was such a laugh, we were learning so much."
Walley describes it as a passion project: "Because it was low budget a lot of people were working just for the love of it."
He also really enjoyed getting to play a guy like Jock, saying transforming himself into someone so different to himself enabled him a certain level of freedom.
"I think there's definitely an appeal with that, you always want to play young naive and stupid young lads – it's fun to do that because you can let loose," says Whalley.
"Everything is coming from a place for him of an abusive upbringing and he doesn't do it in a sinister way at all, it's just him trying to get by, and he's a young guy. The two of them they're really nice guys and they're young and naive and there's no malice intended at all, just mischief."
"Conor looks up to Jock in many sense of the word," says Murphy. "I always feel that Conor is a bit more smart than Jock, but they're both naive and stubborn to believe that because Jock is the leader and he brings Conor along with him wherever he goes."
Towards the end I think they might start to realise 'maybe we don't know everything' – at the end of the day they are 15 and they are growing up and learning.
Cork on screen 
The landscape of both Cork's city (particularly the English Market, which last got major attention when Queen Elizabeth popped by during her Irish visit), as well as the west Cork coastline get a great showing in the movie.
"I was always wondering why the English Market isn't on screen more," says Foott, who filmed the boys on a bike trip through the narrow aisles of the famous food market. "There is so much colour to Cork as well, I think we just really wanted to show it off and just enjoy filming somewhere that we knew."
It might just renew people's pride in the county (though as a Corkonian myself, I can admit that there are some who don't need their rebel pride boosted at all).
"I always find it funny though people say 'oh Cork looks amazing," all the people from Cork going "it looks stunning in the [film]," laughs Walley. "You live there, you see it all the time, but it's not until it's actually on screen that people are like 'actually… it is nice'."
The Young Offenders is in cinemas now.