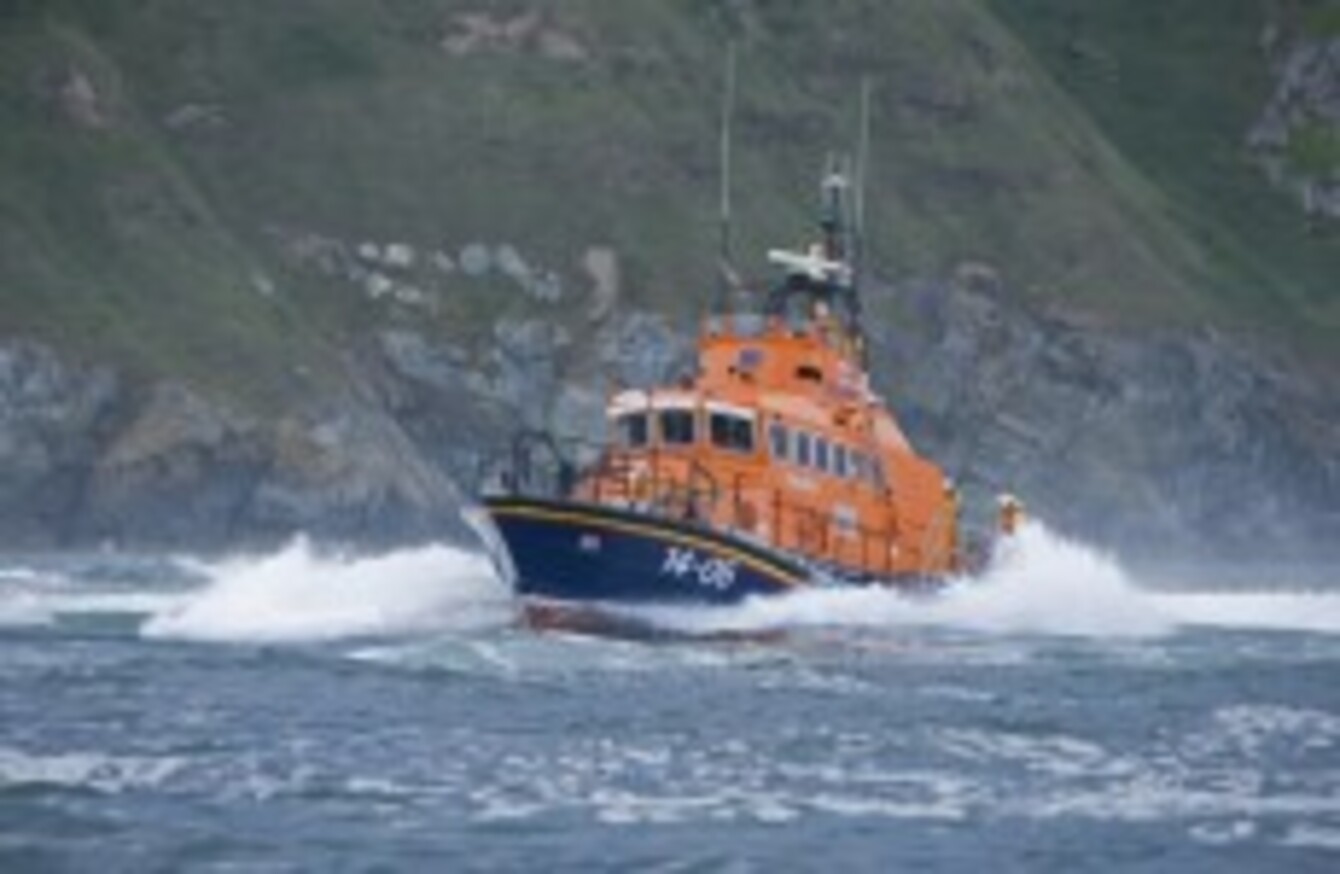 Dun Laoghaire All-Weather Lifeboat
Image: RNLI
Dun Laoghaire All-Weather Lifeboat
Image: RNLI
RNLI LIFEBOATS RESCUED a number of people who got into difficulties at sea over the weekend.
Lifeboats were launched in Cork, Clare and Dún Laoghaire in three separate incidents.
Yesterday afternoon at 4.06pm, the Valentia Coast Guard received a call after a father-of-two raised an alarm that his two sons and their two friends were stranded off Ballyvaughan. He had swam ashore to look for help for the young boys.
A spokesperson for the Coast Guard told TheJournal.ie that the Shannon helicopter was deployed and the RNLI Galway lifeboat launched. The Gardaí and ambulance service were also at the scene by 4.30pm.
The helicopter's winch was lowered but the boys were rescued by members of the RNLI team who waded through the water and lifted the children onto the emergency vessel.
They were taken to Ballyvaughan Pier by 5.30pm. An ambulance was on hand but no one had to be taken to hospital.
In another incident offshore Dublin, two yachts were brought to safety as gale force winds and driving rain lashed the east coast of Ireland.
The boats were returning from a race on the Irish Sea at about 8am when they got into difficulty. The Irish Coastguard's Marine Rescue Co-Ordination Centre (MRCC) Dublin received the calls for assistance and requested that the RNLI All-Weather lifeboat at Dun Laoghaire launch to assist the crews that were unable to enter the harbour.
One of the boats had earlier fouled its propeller and was unable to use power for entering harbour and berthing while the other boat that was travelling in its company couldn't start it's engine due to battery problems.  A heavy swell driven by near-gale force 7 winds with higher gusts blowing from the East caused a large swell and steep waves on approach to Dún Laoghaire.
One yacht had seven passengers and the other had five. The lifeboat towed both to a safe marina berth after finding them about half a mile from the harbour entrance. No one was hurt on either vessel and the lifeboat returned to its station by 10am.
"The casualties in these incidents were both prepared for offshore conditions but unforeseen circumstances meant they needed the assistance of the lifeboat on this occasion," commented Mark McGibney, RNLI Coxswain.
The RNLI lifeboat at Ballycotton was also called out yesterday afternoon to help a vessel in the water off the coast of southeast Cork. The Austin Lidbury was launched just before lunchtime after a call from a boat situated about 23 miles south east of Ballycotton. The vessel, with four people in board, had begun to take on water. All four were rescued.