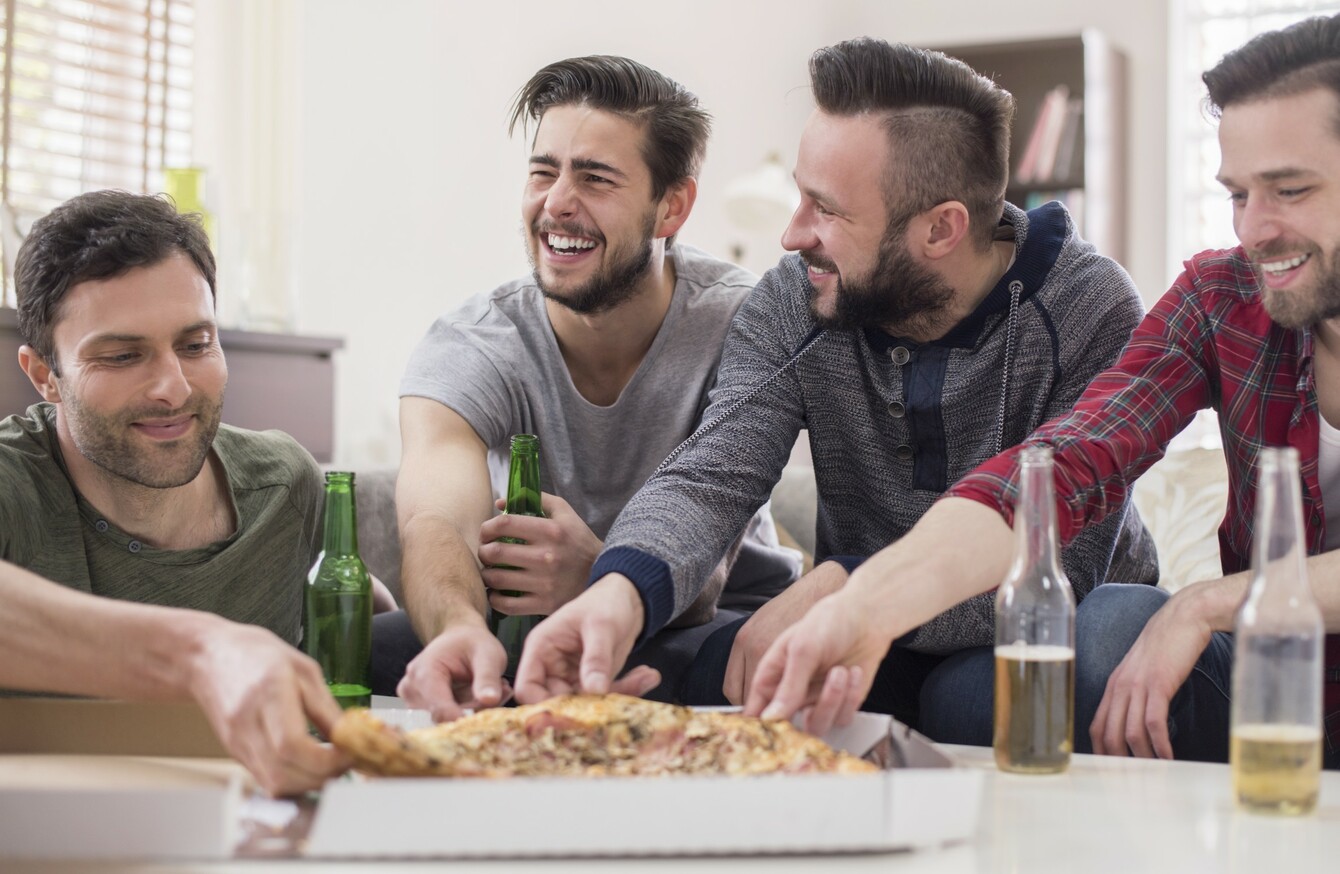 Pizza for everyone = a recipe for harmony
Image: Shutterstock/gpointstudio
Pizza for everyone = a recipe for harmony
Image: Shutterstock/gpointstudio
This article is part of our Change Generation project, supported by KBC. To read more click here.
LIVING WITH PEOPLE other than your family for the first time can be difficult.
It is, perhaps, inevitable that when you move in with others that some tensions will arise. However, it is how you choose to deal with these conflicts or what you do to avoid them happening in the first place, that will determine your happiness.
So, are some people just terrible at sharing? Why can others seem so inconsiderate? And, how can you call someone out on their shortcomings without risking World War III?
Shared Space
Psychologist Niamh Fitzpatrick told TheJournal.ie that there are a number of reasons why difficulties arise when a group of people who have never shared a home before move in together.
"This is a group of people that are going to share one space but they don't necessarily share one set of goals about that space, or one set of history or background coming into it. So, they're all there with different ideas, different wants, different needs and that's what can create the tension in the space," she said.
People bring their own baggage (literal and figurative) into this shared space and that's where it can cause problems. Some things can be avoided though.
Ground Rules
Fitzpatrick has worked with sports people for years and has travelled with the Irish Olympic team. She says part of her job has been to prepare them for living with strangers when they go to the games.
"We would work beforehand and talk about basic ground rules: what works, what doesn't work. In a team situation you would have a conversation around it to understand what people like and don't like and therefore people can behave accordingly."
The same can be applied to college housemates she says – having conversations around a set of ground rules that should be adhered to in order to try and avoid conflict arising as much as possible.
"You can have those conversations, but the trick is doing that in such a way that you don't come across as domineering or bossy, but actually helpful," she says.
Sometimes you will find yourself in the presence of someone who believes that ground rules are only there to be broken. Fitzpatrick says dealing with this type of personality can be difficult, but not impossible.
The trick really is to try and find out what this person cares about. There's something that matters to them and if you can link the behaviour that you need from them with what matters to them, then you may have a chance to make them see the light.
But, she says, sometimes that person is simply not suited to living with others.
"We like to believe in the goodness of others but sometimes with the best will in the world you just have people who have a different agenda. When we're talking about that kind of inconsideration, often what's behind that is some sort of resentment, hurt or anger, or it could be just pure laziness because they have been babied all their life. What you, as a house, have to do is help them realise that it stops here."
Lasting impact
Learning to live with strangers during this stage of life is a vital tool in recognising the wants and needs of other people around you. It is, says Fitzpatrick, the middle-ground between childhood and adult-life.
You can't really learn those skills until you're in that situation, because when you're at home and mammy or daddy is doing it for you, how can you learn? By the time you get to be in your own partnership or with your children, well it's a bit late to be learning at that point, so this is a great opportunity to learn tolerance, understanding and team work.
You will have rows, people will steal your food and some may even pee in the shower. If, however, you approach it the right way, says Fitzpatrick, you will get the most out of house sharing in your twenties.
"What's the most useful way for me to approach moving into this house and living with strangers? If you can think like that and see it as an opportunity then it can be a great experience."
TIPS FOR GETTING ON WITH HOUSEMATES
• Communication – Be clear from the beginning.
• Address things when they're little – Don't let that molehill reach mountain status.
• Respect your housemate's stuff and (hopefully) they will respect yours.
• Don't overdo it with guests.
• Be open-minded – respect other people's beliefs and cultures.
• Be open to change.
• Practice the Golden Rule – be as sound to your housemates as you would like them to be to you.
What are your top tips for harmonious house sharing?