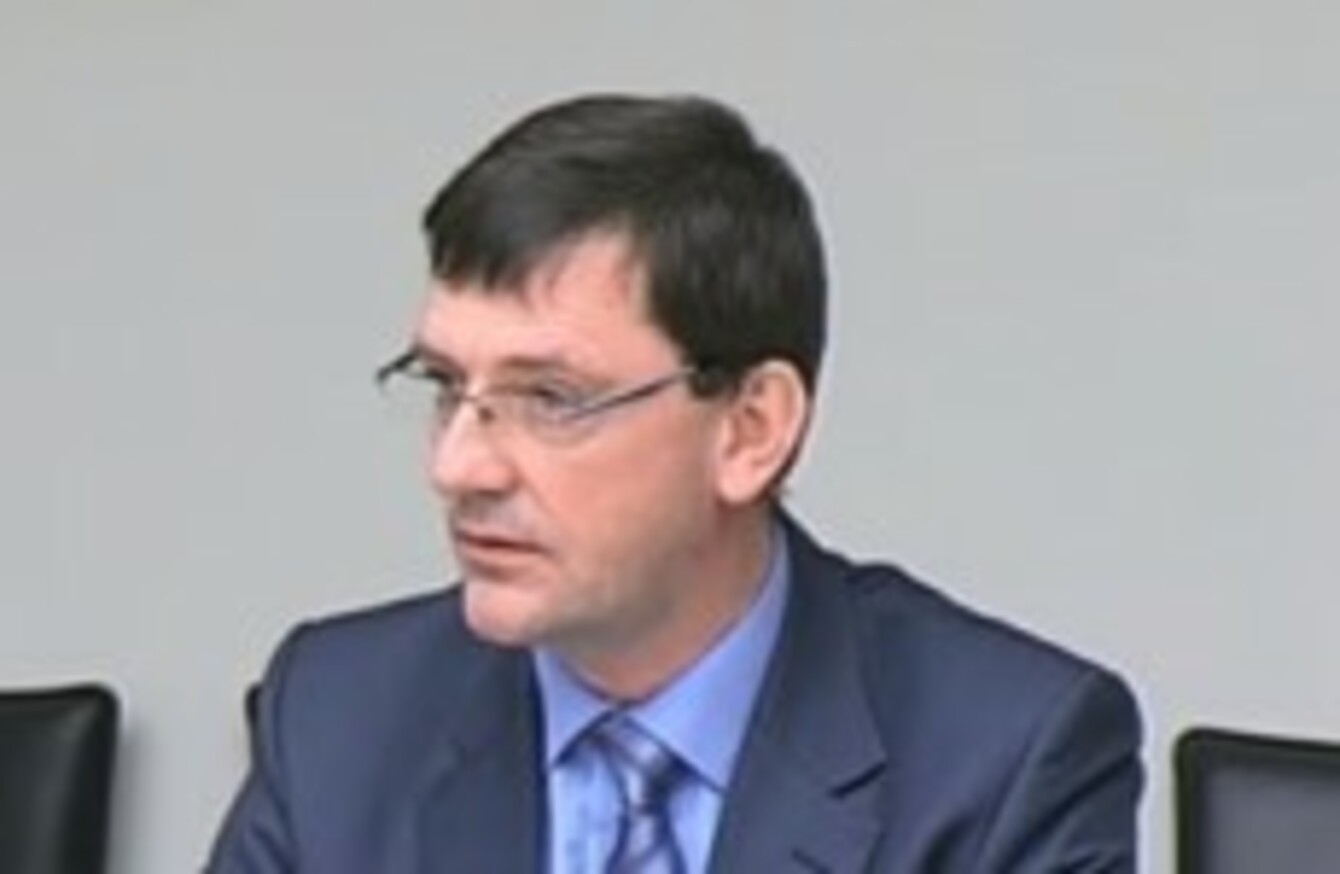 Andrew Meagher, John Player Ltd
Image: Screengrab/Oireachtas TV
Andrew Meagher, John Player Ltd
Image: Screengrab/Oireachtas TV
CIGARETTE COMPANY BOSSES in front of the Joint Oireachtas Committee on Health and Children this morning faced harsh criticism, with Caoimhghín Ó Caoláin TD stating that they represented an "illness industry".
The cigarette bosses were before the committee to discuss the possible introduction of plain packaging on tobacco packets.
They said that the introduction of plain packets on tobacco will boost the black market sales of illegal cigarettes and would not reduce the rate of children taking up smoking.
TDs said the credibility levels of the tobacco industry are "fairly well shattered".
Cigarette companies
The heads of PJ Carroll, John Player, JTI Ireland and smokers group Forest Éireann lobbying for the Standardised Packaging of Tobacco Bill to be scrapped, stated that there is no "real-world" evidence that plain packaging on cigarettes will bring about a decline in children taking up smoking.
Steven Donaldson General Manager of PJ Carroll said that his company "fully accepts" that smoking leads to cancer and other smoking-related diseases and said they are not in the business of marketing cigarettes at children.
He said that there is no definitive evidence that this bill will reduce the rates of children taking up smoking, stating that Australia is the only country to introduce this initiative and that it has had no impact on the rates of minors smoking there.
Speaking about the illegal selling of cigarettes, he said that criminal gangs sell twice as many cigarettes as his company.
Illegal trade
"They will not appear before you in committee… they don't care what is in the cigarettes they sell," he said, adding that plain packaging cigarette packets will only boost and already lucrative trade. "It will only make this worse," he said.
He added that since Australia introduced plain cigarette packaging in late 2012, there has been no decrease in the rate of smoking, but there has been an increase in black market selling, stating that if replicated in Ireland it will undermine legitimate retailers, bring about a drop in excise duty and undermine government policy.
Andrew Meagher from John Player said he would like to "debunk" the myth that they market their brands to entice children to smoke, stating that no one at John Player is in the market to get children to start smoking.
Mary Mitchell O'Connor said she had "crocodile tears" listening to the managers, stating "do you really think that people believe you don't want children to start smoking," citing that it is their business model to recruit more customers.
Customers
Billy Kelleher TD said that he was under no illusion that the smoking industry was not in the business of getting new customers, stating, "your customers die, you need new customers," adding that while they may not "aggressively" target children in Ireland, in other countries it is evident.
Meanwhile, Regina Doherty TD said she did not believe the industry heads, stating that she had "no respect" for the bosses and that she had young children they were not getting "their hands".
Senator Jillian van Turnhout said that their business model will collapse if "you don't get new customers".
The company bosses said that giving minors the "life skills" to say no and stand up to peer pressure is the best way forward, citing Germany as a good model where this had worked. They added they were very concerned that there was no regulatory impact assessment carried out prior to the committee meeting and urged for one to be carried out.
It was also put to the industry heads that they should walk through a ward in hospital and see the impacts their products are having on people's lives.
'Illness industry'
O'Caoláín said, "at the end of the day, I have no other way to say it to you, but you are representatives of an illness industry and that is the bald fact of it… it's time for payback with all respect," he said, stating that for far too long the ordinary people of the state have had pay for the the consequences of their products, which O'Caoláín stated had "shortened lives".
Andrew Meagher and the other heads of the tobacco companies continually refuted that they marketed to children.
He added, "we have nothing to hide" stating that their marketing files are open for inspection. He questioned the reasoning behind the introduction of plain packaging, asking, "where is the evidence, the Australian evidence is not there yet, not saying it is not going to be, but why the rush?"