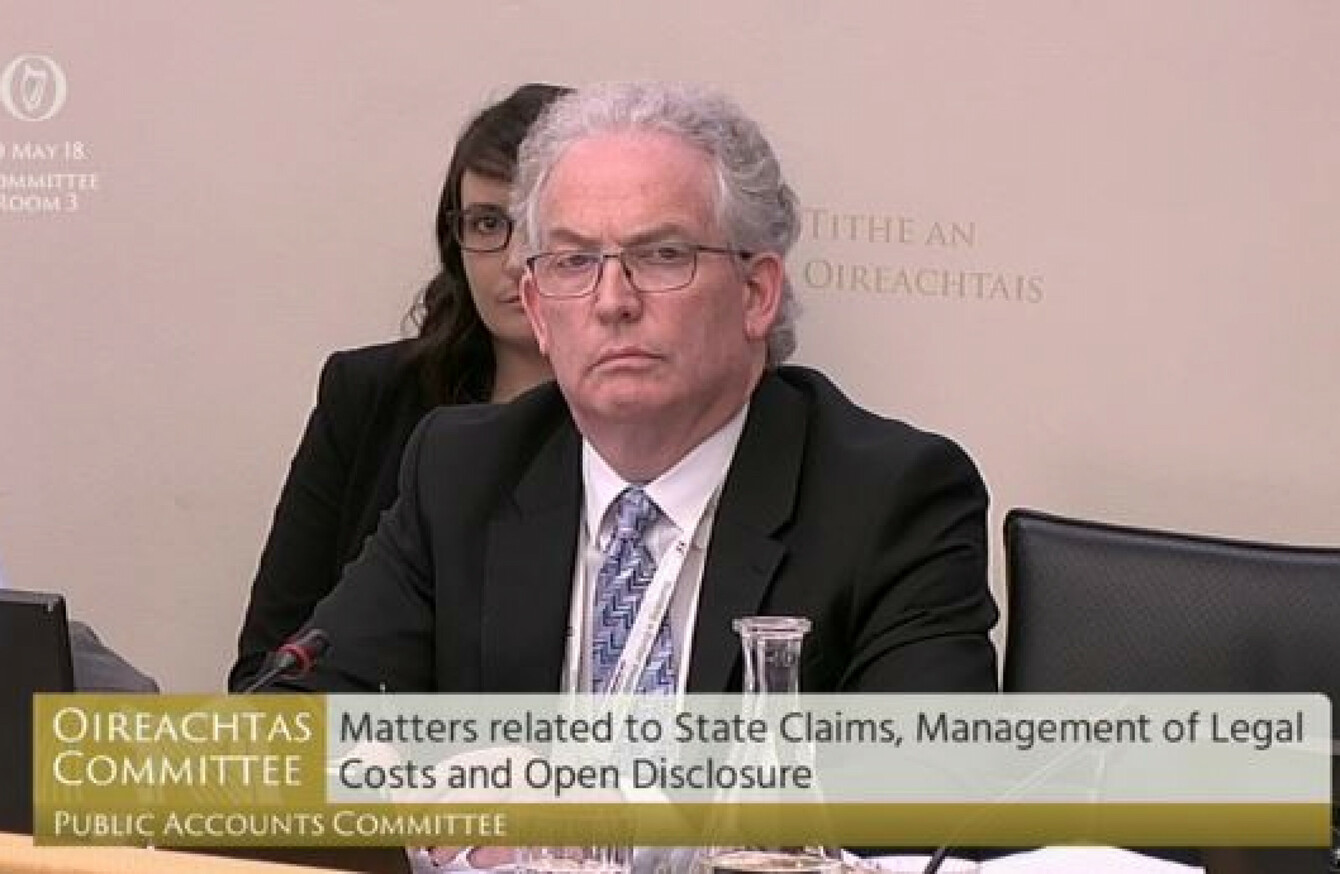 Tony O'Brien
Image: Oireachtas.ie
Tony O'Brien
Image: Oireachtas.ie
TONY O'BRIEN HAS criticised how TDs questioned him at the Public Accounts Committee (PAC) yesterday.
O'Brien stepped down as the HSE's Director General last night amid the controversy over a failure to communicate the findings of tests to women who were diagnosed with cervical cancer.
The scandal came into the public eye last month when Vicky Phelan, who has terminal cancer, settled a High Court action against the HSE and Clinical Pathology Laboratories for €2.5 million over incorrect smear test results from 2011.
At least 17 women wrongly given the all-clear following their smear tests have since died. Health Minister Simon Harris has launched an inquiry into the controversy.
In a heated exchange at the committee, Fianna Fáil TD Marc MacSharry said if such a controversy had taken place in the private sector, O'Brien would "be gone months ago".
"You wouldn't last 20 minutes [in the commercial sector] and you know it."
O'Brien disagreed, telling MacSharry: "You are causing hysteria. You are absolutely failing to accept the reality of population-based screening."
Source: TheJournal.ie/YouTube
This morning, without naming any particular individual, O'Brien tweeted about how people conduct themselves at committee meetings.
"Would I be happy for my children or my mother to see how I behave? I sometimes look across the room and hope their children will never see and hear how they behave."
Memos released to the committee showed that HSE management was warned in 2016 that there could be negative media coverage an audit into CervicalCheck, the national cervical cancer screening programme.
A briefing note from July 2016 said "all international screening programmes will have encountered a media headline that 'screening did not diagnose my cancer'". It said that the CervicalCheck programme was prepared for such media coverage.
'He's lashing out' 
Responding to O'Brien's tweet, MacSharry told Today with Seán O'Rourke: "I can understand Tony O'Brien is unhappy, he's lashing out somewhat."
Quoting Fine Gael TD Kate O'Connell at a previous Oireachtas Health Committee meeting, MacSharry said: "This is not about Tony O'Brien, this is about the women of Ireland, their health, life and death, and the accountability that people are entitled to."
He added: "Somebody in the HSE needs to take Tony aside and say, 'Listen, this is not about you.'"
MacSharry said his questioning at committees is always robust and that his "personal frustration and anger may have come across" yesterday as he had just listened to Emma Mhic Mhathúna speaking about her terminal cancer diagnosis on the radio.
Emma, a mother of five children, yesterday gave a deeply emotional interview with RTÉ Radio 1′s Morning Ireland.
Source: TheJournal.ie/YouTube
Speaking on the same programme as MacSharry, Vicky said of O'Brien: "Can he not go away quietly? … This is not about him, not by a long shot."
She added: "More heads will have to roll."
Vicky said the tone of the tweet "smacks of someone who is used to getting his own way, throwing one's toys out of the pram springs to mind".
She said O'Brien's use of the word 'hysteria' at the committee yesterday "just sent me over the edge".
At the committee, O'Brien said "anyone who is found to have failed in their duty" will be held to account following due process and disciplinary procedures. He said the outcome of this process will be made public once it is complete.
He said he takes "partial responsibility" for what happened but cannot be held accountable for the actions of others.
O'Brien said the public is generally well-served by employees of the HSE and CervicalCheck, who are "as devastated as anybody by the circumstances that have now unfolded".
If you're concerned about the results of your smear test, you can contact the HSE's CervicalCheck freephone helpline:
From Ireland: 1800 45 45 55
From outside Ireland: +353 21 4217612