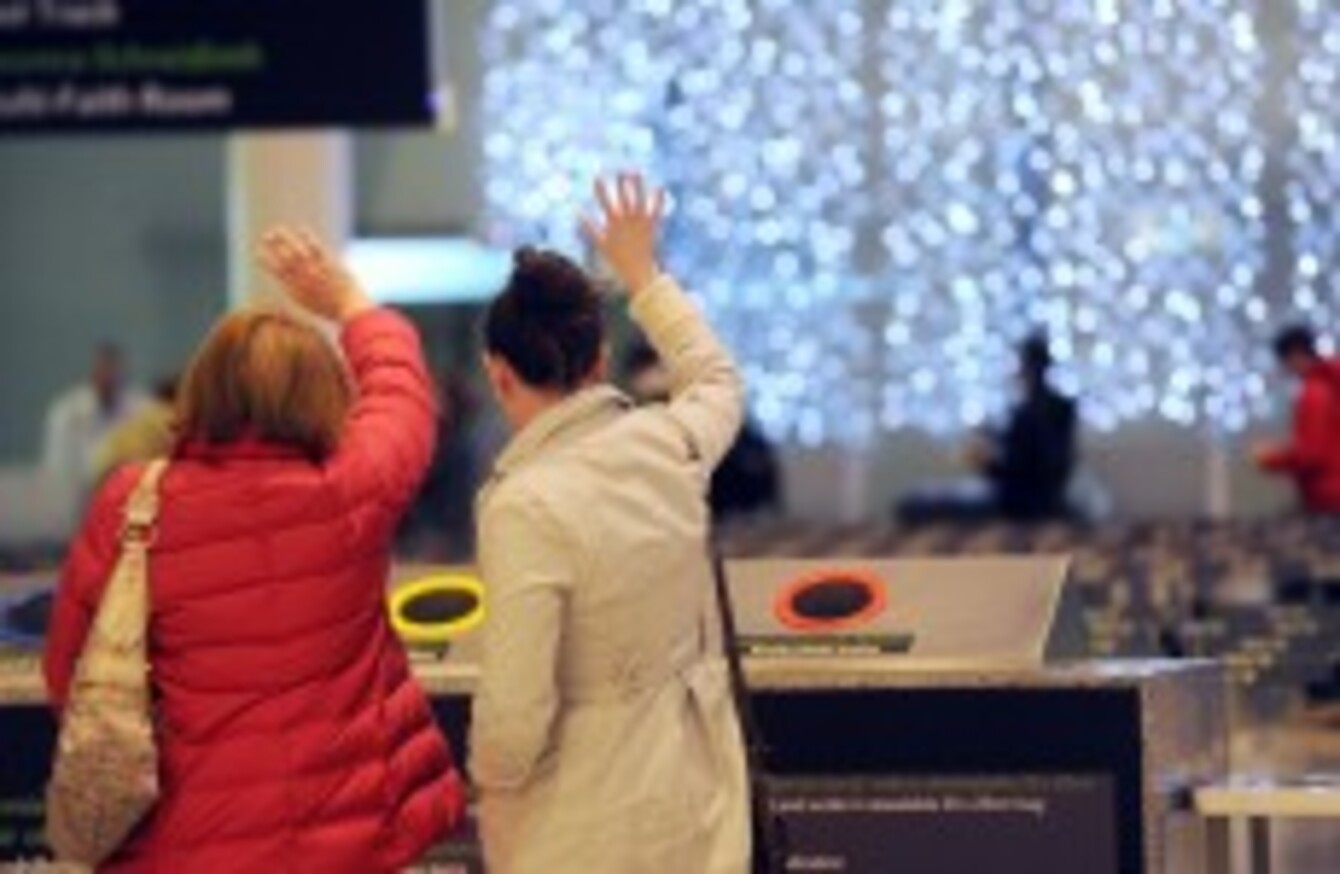 People wave goodbye to family and friends at Dublin Airport as they leave Ireland after the festive break
Image: Laura Hutton/Photocall Ireland
People wave goodbye to family and friends at Dublin Airport as they leave Ireland after the festive break
Image: Laura Hutton/Photocall Ireland
EVERY SATURDAY MORNING we like to take a look at all the best comments left on the site by you lot over the past week.
This week, we're doing something a bit different: we're going to look at some of the comments which received the most thumbs up from other readers, plus the articles which received the most comments – as well as the usual mixture of the best comments of the week.
So here, in no particular order, are the standout comments from the week that was.
The top 5 articles which received the most comments this week:
1. Seán Quinn: 100 per cent of prison inmates felt I shouldn't be there
2. Immigration in Ireland: Approximately 88,000 visa applications received in 2012
3. 'If I could play for Northern Ireland I would' – McIlroy ponders opting out of Olympics
4. Poll: Should sex offenders be electronically tagged after prison?
5. Creighton calls for 'rational debate' over abortion issue
Some of the best comments left on the site this week:
These photos showed some of the emotional goodbyes at Dublin Airport this week as emigrants left Ireland after the festive period. Baby Ita remembered how tough it had been for her:
Lucky enough to be working in Ireland only a few hours drive away from family, but lived in UK for most of my early twenties. The more I did it, the harder I found it to leave. Worst was my Mum & my then 5yr old niece coming to Knock airport with me. We were all in tears, my niece wouldn't let go of my leg so she could try and stop me leaving. I cried all the way through check-in, in departure/shop area, then as I was boarding, I looked back at the building & they were waving at me from the upstairs bit. Absolutely broke my heart then, and am almost in tears now again recalling it!

My heart goes out to all parents who are saying the goodbyes & to all those family & friends who have/are boarding flights this week. It might only be an hour or several hours flight away, but that distance can feel a thousand times longer when you miss someone.
So 2012 was one of the worst on record for Ireland's publicans. Stephen O'Connell had these suggestions for what Irish pubs need to do differently:
Pubs need to revamp

1. Stop charging so much for a drink, or come up with some form of loyalty scheme. Reward your regulars.
2. Stop playing music so loud that I have to shout to the person next to me
3. Offer things to do instead of Loud TV – pool table , darts etc. .
4. Reward people who chose to help others get home via driving. There is no excuse charging the prices for a dash of mi-waidi. When it clearly costs you 2 euro for the bottle!!

Until then, they are signing their own death cert
However Michelle Dowd pointed out that it is rural pubs – such as her parents' pub – that are the most badly affected.
The urban pubs are still thriving , you can see that any night in Galway , Dublin etc ! It's the rural and small town pubs which are hit hardest, it's down to numerous factors , price in local supermarkets , no taxi , no money and less punters , it's very depressing and heart breaking sitting in my parents rural pub waiting on 1-2 people to come in and even worse when they don't come at all and you close without even 1 punter ! A lot rural pub are in the same boat !
An estimated €1 million worth of products were stolen from Paris's main Apple store this week. From Finbar Ogrady:
Police are looking for an iwitness
The organisation which represents almost all national and regional papers in Ireland has said linking to Irish newspapers is a copyright breach. Mark Downes pointed out the problems with the idea:
Nonsense. It's logical to charge a fee for linking to someone else's site – that's advertising. The IT would justifiably charge a large fee for a banner ad on their site, linking to a page on mine. For me to expect a fee FROM them to link to a page on my site would be just ludicrous. If the newspapers don't want a site linking to stories on theirs, let them make it pay per view (and see how long they last). They can't have it both ways: freely available on the web, but nobody's allowed to link to it. That's now how the web works. That they think they can get away with this may be just another symptom of the underlying problem: even though it's in common use for over 15 years now, they have failed to adapt to the reality of the world wide web.
Random fact of the week comes from John McKenna:
In Uganda, mashed potatoes are known as "Irish", as in "would you like some irish with your goat stew?"
Top 5 comments with the most thumbs up this week:
#Open journalism No news is bad news Support The Journal

Your contributions will help us continue to deliver the stories that are important to you

Support us now
1. This comment by Stephen Murphy on Seán Quinn and how his fellow inmates told him he didn't deserve to be in jail got more than 1,100 thumbs up, making it the most popular comment this week:
I am sure they felt, they shouldn't be there either!
2. The DSPCA has appealed for people not to abandon any pets they received for Christmas – and this comment from Dearbhla Ní Mhordha was the second most popular comment on the site:
Having just returned from having my 15 year old Yorkshire put to sleep, it sickens me that so many people can think of a pup as a disposable item.
3. Begrudgy on the Seán Quinn story was the third most popular comment this week:
Ha ha ha ha ha
4. And showing that there were a lot of people supporting anti-Seán Quinn comments this week, Raisin_Girl got more than 600 thumbs up for this comment:
100% of inmates agree with Quinn. Talk about 'thick as thieves'.
5. Rounding out the top 5, here's Michael Geraghty on the tragic death of climber and adventurer Ian McKeever on Mount Kilimanjaro during the week:
This man changed my life, if I had never met him I would be obese, I wouldn't be a healthy personal trainer, thanks for just being a good person and just doing good things for other people!
(Sean Quinn photo: Laura Hutton/Photocall Ireland)
Spot any comments which you think should make the list of top comments of the week? Let us know: mail christine@thejournal.ie with any suggestions