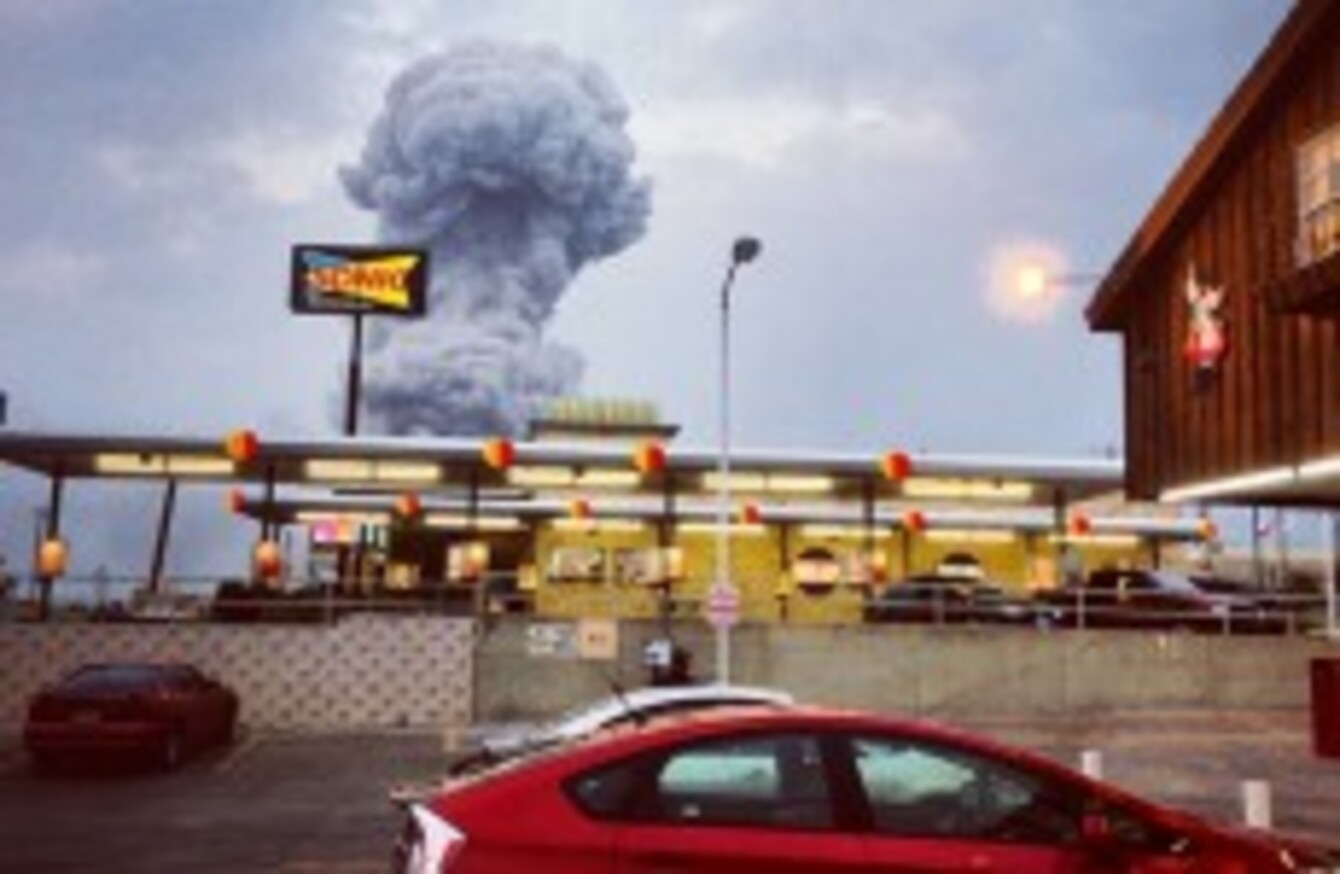 Smoke rises from the scene of the explosion at the fertiliser plant in West, Texas on Thursday
Image: Andy Bartee/AP/Press Association Images
Smoke rises from the scene of the explosion at the fertiliser plant in West, Texas on Thursday
Image: Andy Bartee/AP/Press Association Images
EVERY SATURDAY MORNING we like to take a look at all the best comments left on the site by you lot over the past week.
This week there was a lot of talk about a number of major stories: the inquest into the death of Savita Halappanavar, the bombs at the Boston Marathon, the rejection of Croke Park deal by unions, the explosion at the fertiliser plant in Texas and the funeral of Margaret Thatcher.
So here, in no particular order, are the standout comments from the week that was.
The top 5 articles which received the most comments this week
1. Croke Park II rejected as SIPTU, INTO, Unite and INMO vote No (341 comments)
2. Massive manhunt underway for 'dangerous' second Boston bomber (284 comments).
3. Thatcher: "You can't trust the Irish, they are all liars" (279 comments)
4. Howlin responds to Croke Park II rejection, says 'the arithmetic hasn't changed' (249 comments)
5. Three dead, 140 injured in Boston Marathon blasts (234 comments)
Some of the best comments left on the site this week
A lot of readers were unimpressed with the suggestion from a Mayo councillor to ban people from wearing hoodies in a bid to deter crime. Damien O'Connell was succinct:
This sounds just like Charlton Heston calling for the ban of trench coats after the Columbine high school massacre. . .
This week there were claims that some survivors of the Magdalene laundries are still under the care of religious orders and have not been made aware of the possibility of receiving some kind of compensation. Cliodhna O'Sullivan described how she had encountered women who had been institutionalised for their entire lives:
Saddest week of my general nurse training was spent in a lock up ward in a physciatric hospital in '91 four women in there who had become pregnant had their babies taken from them were effectively locked up for the rest of their lives given drugs they didn't need.
This column by 26-year-old graduate Aoife O'Connor about how she tried to do everything right but still can't get a job rang a bell with a lot of people. Bernie Groom posted this comment about how hard she has to fight just to get through the day right now:
My heart goes out to you and I know exactly how you feel. Both myself and my husband are job hunting and have many rejection letters, phone calls and e mails, the latest today.

We also have done everything right to no avail. We don't have the luxury of moving someplace else what with children in secondary school and one in university plus elderly parents living nearby with no other family to care for them.

I am at my wits ends we are living minute to minute not even having the luxury of living day to day. I never thought in a million years that this is where we would be at this stage of our lives. With no hope on the horizon of anything changing for the better.

Not sure how much more rejection I can take or how much fight I have left in me anymore. If it wasn't for our children don't think I'd still be here.
You might feel like you know the ever-huggable president Michael D Higgins who celebrated his 72nd birthday this week – but you've probably never had the experience that Helen Clifford has:
He goes to the same dentist as I do. You've never felt stoned until you've been injected with painkillers before having a wisdom tooth pulled, sent to the waiting room while it sets in and then Michael D. appears.
Masked raiders escaped with €500k worth of rhino heads and horns from the National Museum Archive this week. John Mullen described how there are gradual changes to the practice:
I live in Holland and this subject was discussed at length here recently in the wake of a spate of similar incidents throughout Europe. If there's a positive side to this it is that the recent spate of similar thefts Europe wide must be a reflection of increased success at stopping the poachers at source. The game wardens are involved in a sometimes deadly game of cat and mouse with the poachers and suffer relative to their number serious casualties in their struggle to protect endangered species such as rhino elephant's and gorillas. Good to see their efforts are beginning to bear fruit.
The 5 most popular comments on the site this week
1. The most popular comment this week came from Gary Dunn as one by one, the major unions voted against the extension to the Croke Park pay deal. His comment got 1,338 thumbs up:
Im in the private sector and i hope you all vote no to this deal.
2+3: This is unprecedented in the history of Comments of the Week: both the second AND third most popular comments this week came from one user in one thread. Here's what happened (because it needs some explaining).
On the article about how an episode of Family Guy was withdrawn after internet users spliced clips of it together to make it seem as though the show referenced the Boston Marathon attacks, Colm Connolly got 1,188 thumbs up for this:
I was under the impression every one had heard
Two users got involved:
Heard what?
DON'T!
Leaving Colm to deliver the punchline (and get 1,134 thumbs up in doing so):
Well everybody's heard about the bird, I said bird bird bird, bird Is the word ……….
For everyone scratching their head right now – which is probably a lot of people – here's the context, which was helpfully provided by David Higgins on the thread:

(Video: FoxBroadcasting/YouTube)
4. Getting back on track, the fourth most popular comment came from Joseph Wearen on this article about the new insolvency guidelines for people in massive debt, which received 881 thumbs up:
So the banks are running the country and not the, or any government? The banks will dictate how much a person/family will be allowed to live on? This is democracy when unelected private companies assume the role of dictator? The government should be dissolved immediately as it is not fit for purpose and obviously has no executive power whatsoever except to rubberstamp EU/ECB and other banks' policies. A Vichy Government in thrall to an occupying force, contrary to the Irish Constitution and therefore guilty of treason.
5. A survey by AA found that people in Offaly are most likely to fill their car with the wrong fuel while young women living in Laois are most likely to cause a flat battery by leaving their car lights on. Or, as Maeve Dempsey found out (and got 857 thumbs up for):
And if you're a female, aged 26, called Maeve, from Waterford and living in the West, then you'll probably manage all of the above at once, on a miserable Sunday in May, having bought your car on the Saturday…
(Michael D Higgins image via Photocall Ireland)
If you spot any good comments during the week, let us know! Mail christine@thejournal.ie with any suggestions for next week's list.