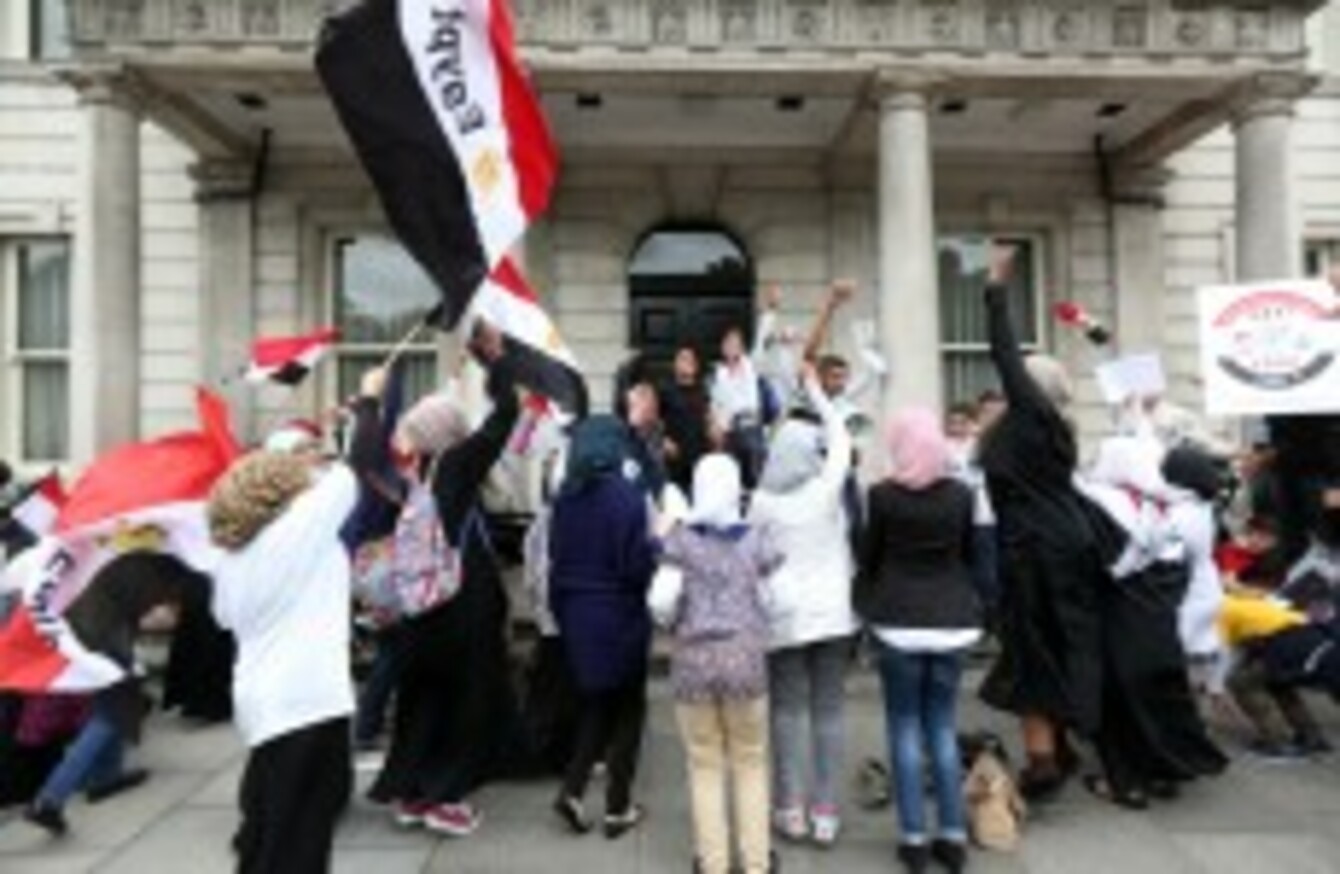 Egyptian protesters outside the Department of Foreign Affairs this week.
Image: Sam Boal/Photocall Ireland
Egyptian protesters outside the Department of Foreign Affairs this week.
Image: Sam Boal/Photocall Ireland
EVERY SATURDAY MORNING we take a look at all the best comments left on the site by our readers over the past seven days.
This week there was a lot of talk about chemical weapons in Syria, a medical termination at Holles Street, HMV re-opening, Chelsea Manning, photographs from Slane, and potatoes.
So here, in no particular order, are the standout comments from the week that was.
The top 5 articles which received the most comments this week
1. Win! Munster's new home jersey in TheScore.ie's reader competition (819 comments)
2. Lisa McInerney: Sharing of 'Slane Girl' pics does disservice to women and men (414 comments)
3. Thousands turn out at marriage equality march in Dublin (331 comments)
4. "I am Chelsea Manning. I am a female." (277 comments)
5. Column: Our medical culture denies women a say on how, and where, they give birth (264 comments)
Some of the best comments left on the site this week
Yesterday was National Potato Day – did you mark it appropriately? Alan Matthews had a suggestion…
This should be a public holiday.
… while Mike Clinton had some Useful Information:
Another little known fact..
The scientist that came to the conclusion that the humble onion is the only vegetable that will bring tears to your eyes obviously never got a smack of a potato.
Someone taping over your stuff, househunting and payphones eating your money – this list of things it's impossible to get nostalgic for inspired some other suggestions from readers. From John Smith…:
Having to call a girl you just met on the telephone in the hall with people earwiging and getting her father on the other end. And Trying to sound posh
Is Karen there? Pure Scarlett haha
… and John Quill:
Toasted sandwich makers that turned cheese sandwiches into triangles of tongue scorching plasma.
Malala Yousafzai spoke in Tipperary this week, telling an audience that she wants to be thought of as the girl who fought for children's rights, not just as the girl who was shot by the Taliban. Cannabis Freedom was impressed by her:
She's a true inspiration, it's amazing to see her stand up against such a brutal regime, knowing that she's doing what's right and not just for herself, but for every other child, whether they're male or female or from Pakistan, Ireland or any other country throughout the World. The World needs more people like Malala Yousafzai.
And speaking of brave women, this woman saved the lives of children in her school in the US when she kept a potential shooter talking. Jean Cross saw an interview with her:
Just watched the account on Piers Morgan on CNN where they played the tape extensively. Absolutely amazing. She just keeps talking and turns him around completely. She sounds so calm, both her and the woman at the other end of the 911 call seem so matter of fact and you would never imagine they are discussing the disarming of a gunman with a kalashnikov and 500 rounds of ammunition.

Then at the end,when the police finally come in she breaks us a bit and says she was never so scared in her life.

As one commentator says, she was like an entire hostage negotiation team on her own.
Should anonymous comments be phased off the internet? Understandably, commenters had a lot to say about this topic this week. Seán Gallagher explained why he thought it was important for people to be allowed to comment without giving their name:
Alcohol Dependency

Drug Dependency

Spousal Abuse

Crappy Neighbours

Depression

Coming out

Sexual Abuse

Financial Difficulty

Off the top of my head, these are a list of topics which I don't believe people would necessarily wish to have their name on, whether through a risk of people who know them learning these things, or in the case of the occasional nutjob tracking them down, but may still wish to join the debate, conversation or seek advice and can contribute significantly to a discussion on those topics.

This facility can and should be protected. While we (in the main, here) exchange ideas, some people use the Internet and online discussion for support and their ability to do so in a safe way, can be hampered hugely through forcing them to give an actual name or other information publicly.

On a technical level, it's possible to log the IP address (and with consent) the MAC address of a user, which although can be faked, is considerably more difficult. The moderator in the case of wanting to ban a user can ban either: User ID, User IP, User MAC address or any combination of these. Removing anonymity doesn't just fix problems, it also creates a lot more.

I agree that it's important for people in some cases to be held to account for their words, but I'm not convinced that HuffPo is going about doing this in the best possible way.
Finally, Rose of Tralee – yay or nay? As happens every year, there was a lot of of debate about whether this is an outdated Lovely Girls contest or just some good clean fun. Mary Cullinane put forward her view of the positives:
As somebody who dipped in and out of the Rose of Tralee on tv the last two nights I can honestly take it or leave it but the truth is that it does appeal to a huge percentage of the population & I'd imagine that will be proved when the viewing figures come out & I think most people are forgetting that the actual rose selection is a very small part of the whole festival which goes on for almost a week and brings huge much needed revenue to Tralee. I know people who go there every year and apparently the whole town is alive with free concerts, various street shows, lots of entertainment for kids etc etc so well done to Tralee for making such a great effort every year. I think no matter what program is broadcast on tv there will always be a percentage of people who disagree. I have friends who think GAA is a total waste of time & can't understand why it gets so much coverage during the Summer. I think we all need to have a little bit more tolerance & realise that just because we personally do not like a program that is not a reason why it shouldn't be shown. Fair play to Tralee & all the other rural towns who make a huge effort to put on festivals etc to put their town on the map & bring in much welcome revenue.
The 5 most popular comments this week
(Slane Castle pic: Matt McGee/Flickr/Creative Commons)
Perhaps unsurprisingly given the profile of the story, 4 of the top 5 most popular comments this week all come from one article: the one about Gardaí speaking to the girl involved in an incident with two young men  at the Eminem concert at Slane. The most popular comment was from Lára de Siúin who got 2,444 thumbs up:
I'm cringing thinking about how mortified she must be feeling… Imagine your parents being shown that photo of you!
Continent Simian got 1,714 thumbs up for this response to Lára:
Imagine how livid you'd be if it were your son in that pic.
Close behind in third place is Fiona Ryan who got 1,1710 thumbs up about the double standards involved:
Damn right. The disgusting hypocrisy of the reactions on this is appalling. Almost universally the lad involved was considered a hero and the slut shaming of the girl was so intense that I can't imagine hat state she's in. She made a mistake, we,ve no idea what circumstance were involved or her inebriation.

The double standards society treats men and women and how they express their sexuality came to the forefront the past few days.
Laurence McDonagh got 1,595 thumbs up on the same article:
The Internet is a very dangerous place.
Finally, the fifth most popular comment was from a completely different article – one about everyday things that will fill you with rage. Stuart Hyland got 1,542 thumbs up for this comment about one particularly annoying gif:
Waiting and waiting,then I copped bleeding on…….the loading gif is classic,it's up there with the rickrolled
(Sorry)