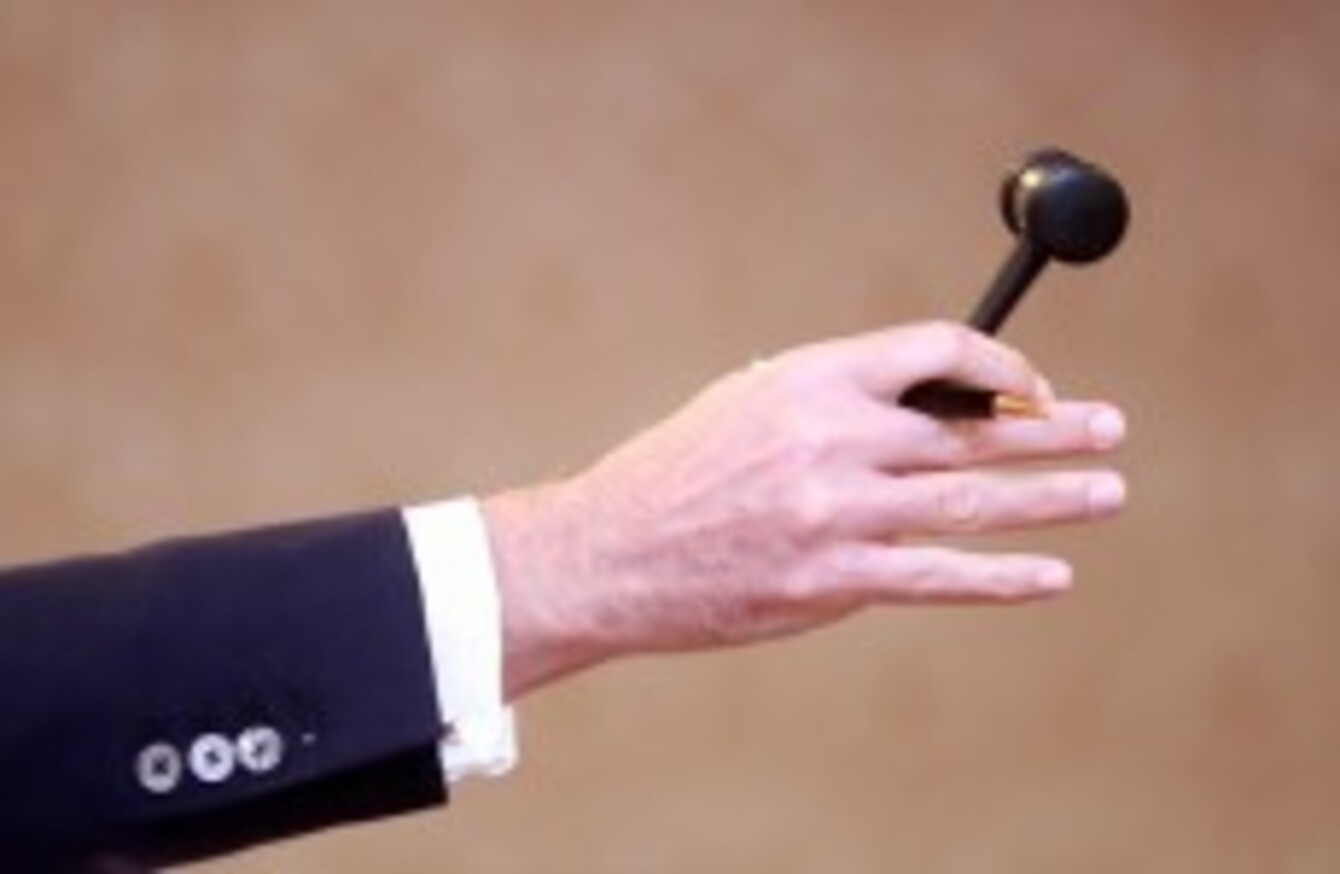 An auctioneer at the Allsop distressed property auction in Dublin on Wednesday
Image: Sam Boal/Photocall Ireland
An auctioneer at the Allsop distressed property auction in Dublin on Wednesday
Image: Sam Boal/Photocall Ireland
EVERY SATURDAY MORNING we like to take a look at all the best comments left on the site by you lot over the past week.
There was a lot of talk this week about the seemingly never-ending saga of James Reilly, some near misses on Dublin's roads, changes to first Communions and, unexpectedly, whether the Scissors Sisters were right to say that Ireland is part of the British Isles. Then there was also the news that looking at pictures of kittens kittens absolutely definitely (possibly) makes you more productive at work. It's been a strange week.
So here, in no particular order, are the standout comments from the week that was.
On Thursday one resident of a Kildare town got a surprise when she found a 75cm-long lizard in her back garden. Sean Butler was concerned about the animal:
Wonder if he has reptile dysfunction.
Mitt Romney has said he wants to cut government funding to America's public service broadcaster PBS – but insisted that he loves Big Bird, the star of Sesame Street, which is shown on the channel. Shane Ellis was suspicious:
First it was Afghanistan, then Iraq. Now Sesame Street? When will this madness ever end???

It's a little known fact that there are huge amounts of oil under Sesame Street. If Romney gets elected the first thing he will do will hit the street with economic sanctions followed by drone strikes.Ground troops will be deployed to liberate Sesame Street and give them the gift of democracy. Big Bird is Saddam Hussein in disguise.
On Thursday, we ran this story about a woman in America whose son wanted to "bring Ireland to her" as she dealt with her cancer diagnosis. A lot of readers were very touched. From King Olaf:
Damn these onions
This comment by Michael Murphy got almost 300 thumbs up:
thats a very heartwarming story.what we have as a people is obviously something special.being irish, is sometimes hard to appreciate what that something is. being irish is more than just having the passport..its the things that make us just that lite bit different and special.who we are and what we have inside.and we should be proud of that.its called identity..and we have a bloody good one
Bernadette Dunne got more than 200 thumbs up for her comment about the man who died in an accident involving a waste disposal truck in Dublin on Thursday:
R.I.P. Deepest Condolences to His Family,Friends, Colleagues and all who knew him. And not forgetting the Emergency Service Staff who attended the accident. Prayers offered for all at this very tragic time
A survey this week found four out of five transgender people have considered suicide. Here, Louise Hannon Foto empathised with what people had gone through:
The sooner we have a Gender Recognition Act allowing transgender people to be legally recogmised by this state the better it will be. Dignity and respect is something that trans people deserve like any other citizen in our society. People who are trans need to be incredibly strong to overcome the barriers that our society puts in front of them either deliberately or by accident, so it is no wonder that those in the early stages of coming to terms with who they really are and overcoming the predudice they meet every day consider ending it all. I've worn the T shirt on that one and I consider myself very fortunate that at that particular time, another human being was there for me otherwise you may not be reading this, on such a sunny morning.
Pun time: a man in the US this week get a phone call from what he thought was a burglar but in fact turned out to be his dog messing around on the house phone. From James Mc Kernan:
That must have been wuff……I'll get my coat….
And Jane Ward:
I'm getting dog-tired of all the puns on here!
If you looked to the skies last night you would have seen something special as the moon and Jupiter moved close beside each other, with Jupiter appearing like a blazing light. Brian Horton was looking forward to it:
Finally I get to watch something live on Sky for free :)
The Beatles' debut single was released 50 years ago yesterday. Time flies, right? Here's Paul Furey on it:
Sometimes we giggle at the young ones screaming and fainting over the ls of One Direction! You kind of forget that their grannies were doing the same 50 years ago.

Makes me think, what was the hysteria before rock n'roll????
(Video: tukkerenflits/YouTube)
Spot any good comments? Let us know! Mail christine@thejournal.ie with any suggestions for comments of the week