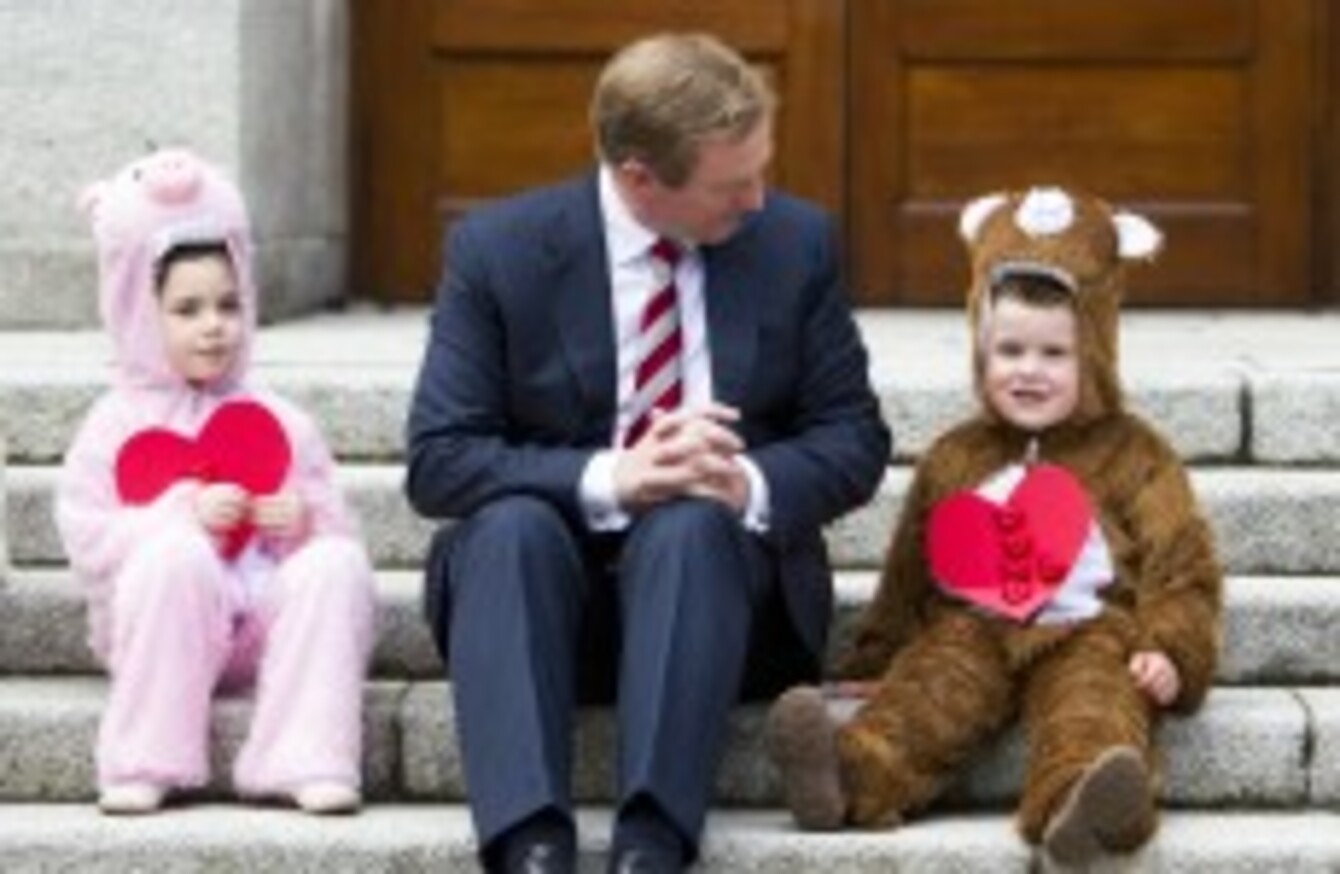 Just the Taoiseach with some Care Bears. No biggie.
Image: Leon Farrell/Photocall Ireland
Just the Taoiseach with some Care Bears. No biggie.
Image: Leon Farrell/Photocall Ireland
EVERY SATURDAY MORNING here at TheJournal.ie, we like to take a look at all the best comments left on the site by you lot over the past week.
This week has seen some big discussions in the comments sections, particularly about gay marriage and the will-he won't-he debate about Enda Kenny appearing on a television programme with Vincent Browne. There's also been the HSE study which found almost a quarter of adults think women who carry condoms are 'easy', the new social welfare ID card, armed gardaí, Prince Charles unexpectedly presenting the weather – and much, much more.
So here, in no particular order, are the standout comments from the week.
TDs and Senators have criticised a plan which could see cheese products banned from being advertised during children's television programmes. R Fin had this comment to make (warning: it's a little cheesey):
You'd be edam fool to eat too much cheese though but I think we should leave our kids brie, they can make their own choices about what they want to eat! Hopefully the authorities comte their senses on this issue :)
Got a spare €7.5 million? Charlie Haughey's old house is up for sale – replete with 2 lakes, 14 bedrooms, a ballroom and a dairy, amongst other rather extravagant things. Mark Andrew Salmon cast a critical eye on it:
Isn't it indicative of the state of the nation that for so long this man lived in a fashion so wildly beyond his stated means without serious challenge from the media, the Revenue, politicians.
And while we're talking property porn:  on Tuesday we ran these fairly amazing pics of this house in Castleknock with its own indoor pool, gate lodge, private pitch and putt course. Fancy. James Walton had this nugget from his family history to add to the story:
This was my great granddads house , Martin Walton he set up waltons music shop in town and fought in the 1916 rising :)
On the same story, Leila Jane pointed out the convenience of having two kitchens in your mansion:
I like a kitchen per person. No worrying about tea bags in the sink or empty milk cartons in the fridge then.
Apache Pizza has stopped delivering to Moyross in Limerick after a number of its drivers were attacked. Mike Reid got a lot of support for this comment from other readers:
If people were smashing my employees car windows and stealing their money I wouldn't send them there either. It's harsh on the honest residents of the area but again it's the loud minority ruining it
A Labour TD has criticised the number of posters put up during election campaigns and suggested they could be reduced in number.  John Murray added this:
I can't understand that anybody would vote based on a picture. The money would be better spent at local level sending people door to door explaining why we need to vote No/Yes. The internet has proven to be an extremely useful Electoral tool also.
A HSE-commissioned survey during the week found almost one quarter of adults believe women are 'easy' if they carry condoms with them.Cork2004 had this succinct rejoinder:
Bullsh** Thats like saying drivers who carry a spare tyre drive carelessly!!
Barack Obama this week became the first US president to openly declare his support for gay marriage. Commenters talked about whether it was time for Ireland to follow suit, and whether the US president was playing politics. JayK had this analysis:
Its a dangerous statement election-wise because states that support gay marriage with probably would have voted Obama anyway. Meanwhile, the contested "swing states", which could decide the election, have more patchy positions on gay marriage.

I guess that mean he's not playing politics but said it because it was actually the right thing to do.
Also on Monday, the burning question of the week tackled an issue that has divided Irish households since time immemorial: Crisp sandwiches – right or wrong? More than 80 per cent of readers voted in favour of the much-maligned snack, and Janet Thompson commented on how much she missed not being able to have them:
Oh, its my most missed treat since I emigrated. Nothing better than King Crisps cheese & onion in with some fresh bread 
#Open journalism No news is bad news Support The Journal

Your contributions will help us continue to deliver the stories that are important to you

Support us now
Political anoraks may already know this, but this comment by Ignoreland was useful and informative for anyone who wanted to know exactly what a party whip means - and what happens when you lose it:
If you are under the party whip, it means you vote how the party tells you to vote, rather than on your own personal conscience. In the Dáil the political parties meet behind closed doors in parliamentary party meetings where they debate and vote on a certain proposal. Once they are decided, the all vote according to the way the party has decided in the Oireachtas. So you may vote against the policy in private, but if the party approves it, then you have to vote for it too in the Dáil or Seanad. If you don't then you "lose the whip". I.e. you may still be in the party but you're not in the parliamentary party. You can't go to the meetings, you don't have access to party funds etc. etc.
On Thursday, TD Stephen Donnelly gave a speech to the Dáil where he talked about his personal experiences at a social welfare office when he was 23. Shanekny got a lot of thumbs up for this comment:
Its great to hear real people with real life experiences articulating these issues as public representatives in our parliament: Donnelly, Flanagan, Barrett and Wallace in particular. The Fianna Fail cartel were preposterously out of touch with the electorate.
Did you see the video (below) of Prince Charles presenting the weather on BBC Scotland this week? Lots of comments came from readers saying they thought he did a good job, which prompted this comment from rodrigo detriano:
Wow! Positive comments relating to a member of the British royal family! Things are definitely changing! It's great to see.