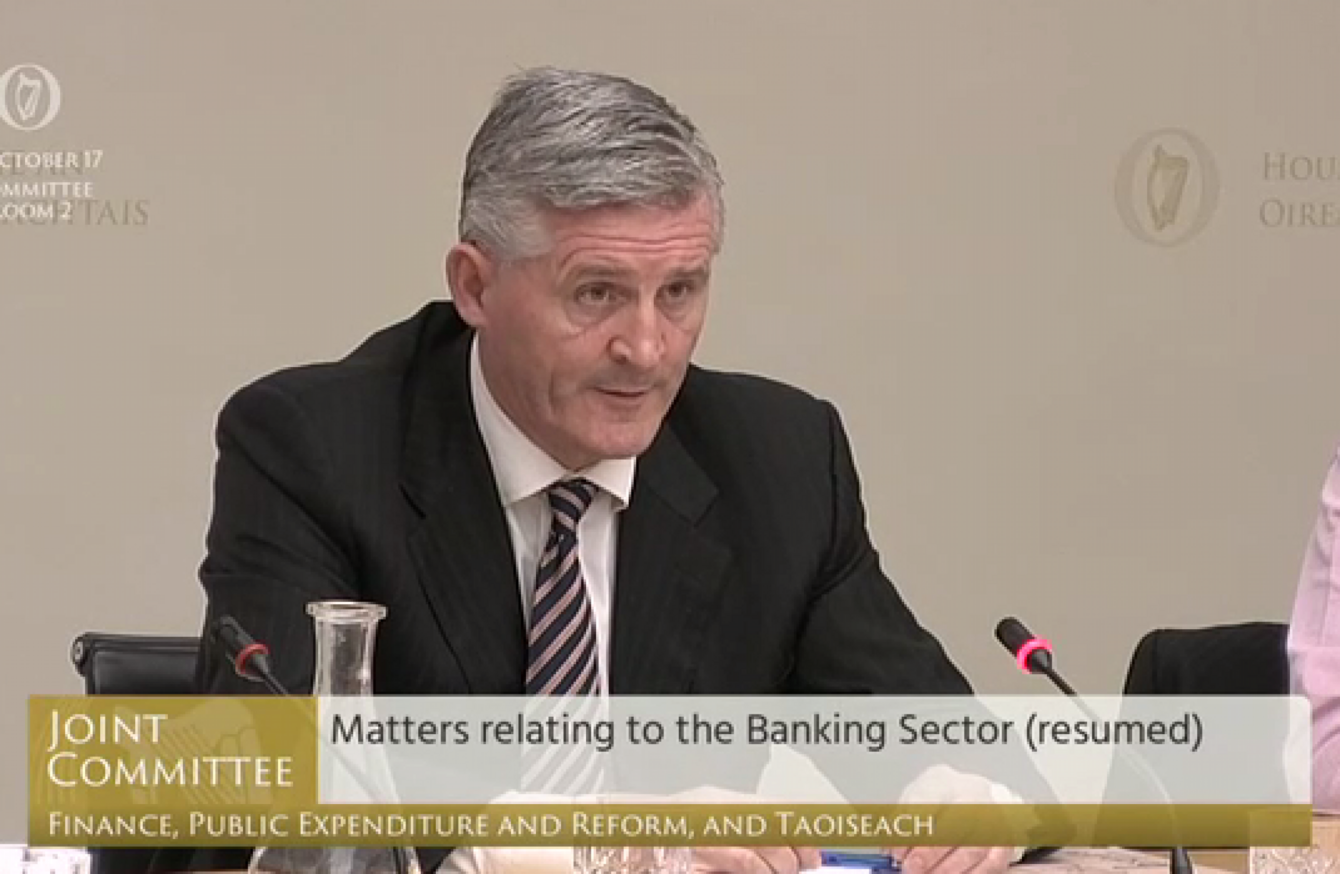 Padraic Kissane told the Oireachtas Finance Committee that many customers are being told they are not impacted, even though their documentation shows otherwise.
Padraic Kissane told the Oireachtas Finance Committee that many customers are being told they are not impacted, even though their documentation shows otherwise.
A FINANCIAL ADVISOR who represents several customers affected by the tracker mortgage scandal said he believes the true numbers impacted could be higher than 30,000.
Padraic Kissane was speaking to the Oireachtas Finance Committee yesterday morning and was joined by four customers who have been overcharged by their banks. In some cases, customers moved off a tracker rate to a more favourable rate for a fixed period of time, but were then refused the right to revert.
In other cases, they were charged a higher rate than stipulated in their contract. Many were paying hundreds of euro a month extra because of the error and in the worst cases people lost their homes as a result of their struggle to keep up with these payments.
This scandal emerged two years ago and the Central Bank launched an investigation and required the banks to set up redress schemes to identify and compensate impacted customers.
'Hours of tears'
Its most recent estimate of 15,000 customers is expected to rise when the Governor of the Central Bank appears before the committee next week. However, Kissane told the committee today that he is dealing with customers from every bank who have been told they are not impacted but whose mortgage documentation indicates otherwise.
He said if every one of these cohorts of customers was restored to correct rates, it would be in excess of 30,000 accounts.
"People don't cry deliberately in my office. They cry for a reason and I sat through hours of those tears," he said yesterday.
When asked about the appeals process for customers, he was critical of Permanent TSB's system.
I had an uphold ratio of 75% in the Financial Obudsman's office. There are two [PTSB] panels – the customer appeals panel and the independent review panel.
The independent review panel is for the more serious loss of homes and threatened repossessions and let's say more severe impact cases and a legal issue going on at the same time.
Of all of the appeals I've brought to the independent review panel 100% of them have been resolved. Now they wouldn't have all been resolved to my satisfaction, but they are resolved.
Of all of the appeals I brought to the customer appeals panel, one [customer] through fatigue accepted her position [and conceded to the bank's view]. 100% of the rest of them have been declined. I'll leave it in your hands to make your assumption.
He pointed out that two of the PTSB customers sitting with him in the chamber, Thomas Ryan and Hazel Melbourn, had both lost their appeals.
He said "all aspects" of their appeals were supported by documentation.
Yesterday Ryan attributed his stroke in 2013 and his wife's nervous breakdown two years later to the stress they endured as a result of financial difficulties and their battle with the bank.
The position they put us and countless others in could have been totally prevented if they had shown a shred of honesty and human decency. Even though there has been partial redress since, and that has been acknowledged, my family have suffered enormously due to stress caused.
Kissane was asked by the committee why he thought none of these appeals had been successful.
"I've questioned [it], I had even a row on the phone yesterday with PTSB, I mean it's astonishing. I've had oral hearings with the panel, I've had discussions with them on the margin issue and I don't know," he explained. "And the three people who are there, one of them is independent but works for PTSB but while he's on the panel he's independent of PTSB. There's more I could say, but I'd rather not."
He commended AIB, which he said had commenced a pilot process with him so he can meet directly with the people involved in the investigation. They have already carried out briefings on five cases.
#Open journalism No news is bad news Support The Journal

Your contributions will help us continue to deliver the stories that are important to you

Support us now
'A lot to be desired'
The financial advisor also said he believed the way complaints were handled by the Financial Services Ombudsman's office in the past "left a lot to be desired to put it bluntly".
He said the function of the ombudsman when that office was created was to level the playing field for customers when they had issues with their banks. This did not happen in many cases, he said, as customers who took complaints themselves and who did not bring the evidence required were seldom successful.
The average uphold rate was at 10 or 12% for customers and Kissane was at 75% at that time.
"The variance was because I knew what to send on," he told the committee. He added that he had improved confidence in the new ombudsman Ger Deering.
Deering has previously told TheJournal.ie that he believes the overcharging was "unacceptable" and that the banks "acted in the best interest of their profit line".
Though Kissane said he has confidence the Central Bank will do its job properly, he told TDs and senators that there are ways they could aid the process, by speeding up legislation that would give the governing body greater powers. He also suggested they look at a change in law that would allow these customers to take a class action against the banks.
"Who the hell do they think they are doing this?" he asked.
If you have been affected by the tracker mortgage scandal, we want to hear your story. Get in touch by sending a message to trackermortgage@thejournal.ie.