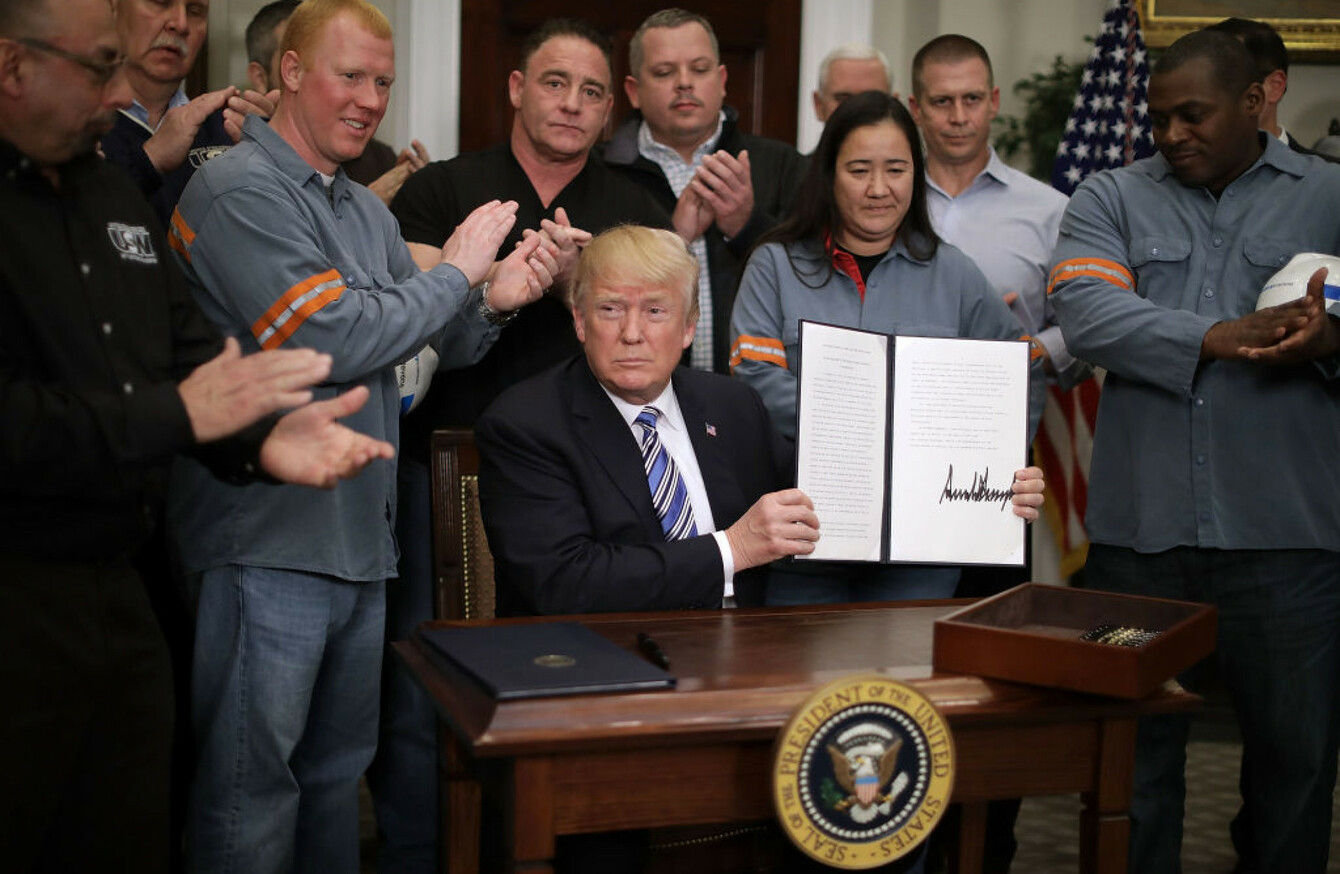 Image: Chip Somodevilla/Getty Images
Image: Chip Somodevilla/Getty Images
US PRESIDENT DONALD Trump has slapped deeply contentious trade tariffs on foreign steel and aluminum, swatting aside warnings of a global trade war and protests from allies in Europe and at home.
The tariffs of 25% on imported steel and 10% on aluminum will come into effect in 15 days, the White House said.
They will not apply to Canada and Mexico initially, an official said, adding that security and trade partners could negotiate to seek exemption.
The measures are likely to spark retaliatory sanctions from the European Union, China and other economic powers.
Moving to fulfil a protectionist campaign promise, Trump leaned on a little-used national security clause in US trade law.
"This is a promise made, a promise kept," a senior administration official said, "no one should be surprised".
The metals are used in everything from cars to construction, roads to railways. Economists estimate billions of dollars of trade will be affected.
Hours before the signing, Trump told his cabinet that these products were the "backbone of our nation, they are the bedrock of defense industrial base".
The mercurial 45th president compared his action to those of predecessors George Washington, Abraham Lincoln and William McKinley.
"Our greatest presidents, they protected our country from outside influence, from other countries coming in and stealing our wealth and stealing our jobs and stealing our companies," he said.
More than 50% of steel and aluminum exports come from allies in the European Union, Canada, Japan, and South Korea. But countries from Brazil to South Africa are likely to be affected.
Trump said he would be flexible toward "real friends", touting an exemption for Canada and Mexico as they renegotiate a trade deal with Washington.
"I have a feeling we're going to make a deal on NAFTA," Trump said before signing the sweeping program of tariffs on imports on aluminum and steel.
I said it for a long time: Make a deal or we terminate, and if we do (make a deal), there's no tariffs on Canada, there's no tariffs on Mexico.
If an agreement on NAFTA is reached, he said, "it is most likely that we won't be charging those two countries the tariffs."
Trump added Australia to a list of likely carve-outs, and indicated that other trade and military allies could be exempted.
"We have a very close relationship with Australia," he said. "We have a trade surplus with Australia, great country, long-term partner, we'll be doing something with them."
But he singled out Germany for criticism, reviving a longstanding gripe that European NATO allies do not pay their fair share.
"We have some friends and some enemies where we have been tremendously taken advantage of over the years on trade and on military," he said.
If you look at NATO, where Germany pays one percent and we are paying 4.2 percent of a much bigger GDP — that's not fair.
Partners promise backlash
Last week Trump stunned the world — and his own aides — with an off-the-cuff announcement of his tariff plan, before White House lawyers judged the legality of the move and before it was clear which countries would be targeted.
He cited Chinese overproduction and national security concerns as the main driver.
Since then, the White House has scrambled to catch up, Trump's top economic advisor Gary Cohn — who opposed the move — quit in protest and stock markets have sunk.
"He may be globalist, but I still like him," Trump joked on Thursday, alluding to an ideological clash within his administration that the "nationalists" appear to have decisively won.
As Trump approved the tariffs, 11 partners in the Asia-Pacific were in Santiago, Chile, to sign a multilateral trade deal embraced by president Barack Obama but rejected by Trump.
#Open journalism No news is bad news Support The Journal

Your contributions will help us continue to deliver the stories that are important to you

Support us now
While economic fallout from Trump's tariffs remains unclear, the political fallout has been swift.
More than 100 Republican lawmakers have signed a letter to Trump expressing "deep concern" about the policy, which they warned could "undermine" economic gains from the president's own tax reforms.
The European Union, China and Brazil have all warned they will retaliate, with the decision threatening to sour already troubled trans-Atlantic relations.
The European Union has promised tariffs on items from steel to peanut butter, bourbon and denim – most of which are produced in states that Trump needs to win in a re-election.
"Trade wars are bad and easy to lose," EU President Donald Tusk warned, rejecting Trump's assertion they were "good and easy to win".
"The EU is a close ally of the US and we continue to be of the view that the EU should be excluded from these measures," EU Trade Commissioner Cecilia Malmstroem wrote on Twitter.
"I will seek more clarity on this issue in the days to come," she said, adding that she would meet US Trade Representative Robert Lighthizer in Brussels for talks on Saturday.
Data released today showed the US foreign trade deficit widened in January to its highest level in nine years — heaping pressure on Trump, who had campaigned on a promise to reverse that trend.
Trump blamed the situation on his White House predecessors, while also taking aim at Beijing over the size of its trade deficit with the United States.
China meanwhile warned today it was ready to respond to US tariffs if they materialise.
"Choosing a trade war is surely the wrong prescription, in the end you will only hurt others and yourself," Foreign Minister Wang Yi said, adding that "China will certainly make an appropriate and necessary response".