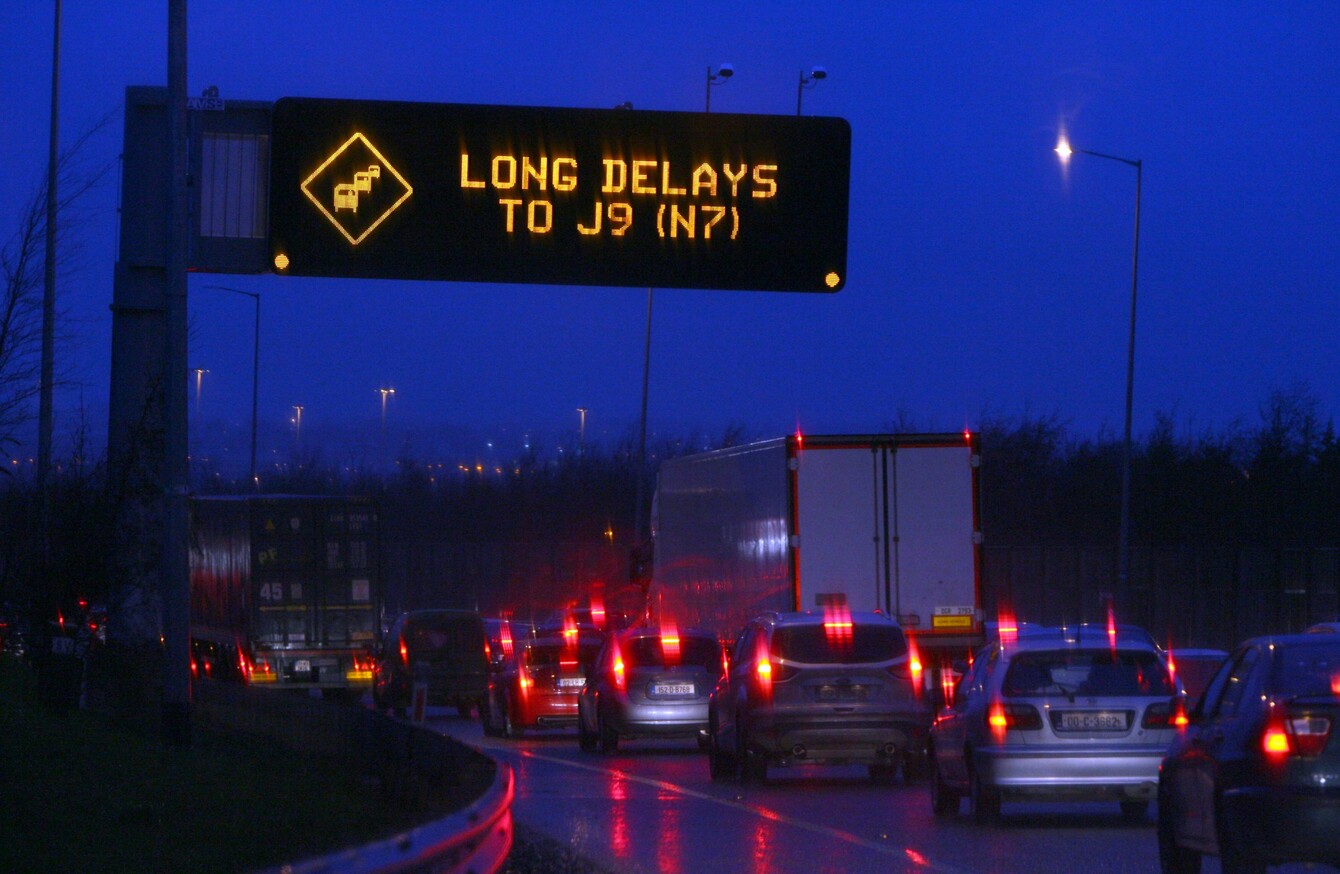 Image: Mark Stedman
Image: Mark Stedman
THERE HAS BEEN a significant increase in the number of cars on Irish roads in the past three years – with almost 15% more cars on the roads this year when compared to 2013.
Data collected by Transport Infrastructure Ireland show that there were 0ver 408,000 vehicles on the roads on one recorded day in 2013 – this has increased by 58,000 on the same day of the year in 2016 (representing a 14% increase).
The increase of cars on Irish roads is most pronouced at this time of year, as weather worsens and commuters opt for their cars instead of public transport.
Before, gardaí would implement a campaign called Operation Freeflow, where probational gardaí would assist in diverting traffic and helping ease congestions at particularly busy areas during the winter.
But due to the freeze on recruitment up until recently, there haven't been enough officers to roll out the campaign and Freeflow was stopped in 2011.
Since then, gardaí have introduced scaled back measures around the Christmas period, with similar measures planned for this year.
In a statement to TheJournal.ie, a spokesperson from the gardaí said:
There will be a traffic operation put in place for Dublin Metropolitan Region for the Christmas period. Finer details are yet to be confirmed.
Arwen Foley, editor of AA Roadwatch, says that there are a number of possible reasons for the increase of cars on the roads:
There has been an increase in the number of new cars being bought this year – we're not exactly at Celtic Tiger figures but they're up there, which is leading to an increase in traffic congestion.
"Six or seven years ago we were seeing our lightest numbers of traffic, but now more people are returning to the roads."
Housing is also having an influence – obviously rental costs and property prices are up, meaning more people are commuting from the Dublin commuter belt to the city centre.
"Traffic infrastructure has improved. The M7 opened up by the Newlands flyover, meaning that there are no traffic lights between Cork and Belfast now.
"The M50 has more lanes open, and the N11 has bypass open near Arklow/ Newtownmountkennedy.
That's not to say there aren't difficulties:
"The Swords Road is an ongoing problem where the only way to alleviate it is to go around using the Port Tunnel. That's an issue we are always reporting on.
"The N21 Adare goes from one lane to two and is a complete bottleneck. There are no other routes to Tralee which leaves little options for motorists."
And of course, the weather is a factor in how many vehicles there are on the roads:
"Earlier in the year we had a lot of bad weather and storms between October and March, which led to an increase in the number of people taking their cars to travel. This would also have an increase on the number of people on the roads."
#Open journalism No news is bad news Support The Journal

Your contributions will help us continue to deliver the stories that are important to you

Support us now
Councillor Mick Duff says that a build up of traffic in his Tallaght constituency is the result of a different problem altogether – namely construction works partnered with a lack of warning for approaching motorists.
"The increase in traffic build up in recent months in Tallaght is in part attributable to the new Amazon site on the Belgard Road, which required significant upgrades to services, which meant that parts of Belgard Road, Airton Road, Mayberry Road and the Greenhills were badly affected.
"Other upgrades, such as the Tallaght to Templeogue cycle way, seriously impacted on traffic through Tallaght village for over 12 months during the upgrade works."
Councillor Duff said that measures need to be introduced to give prior warning to local representatives to spread to motorists, as well as put signs up to warn people that a build-up could be ahead of them:
"We need to look again at major junctions on the motorways, compulsory electronic warning signs for roadworks on secondary roads and the local authorities to provide advance information to its elected representaives and on its websites to help inform the travelling public.
"The introduction of car pooling, with access to the bus lanes, now must also be considered and Operation Freeflow should be extended to suburban areas which experience major traffic delays."