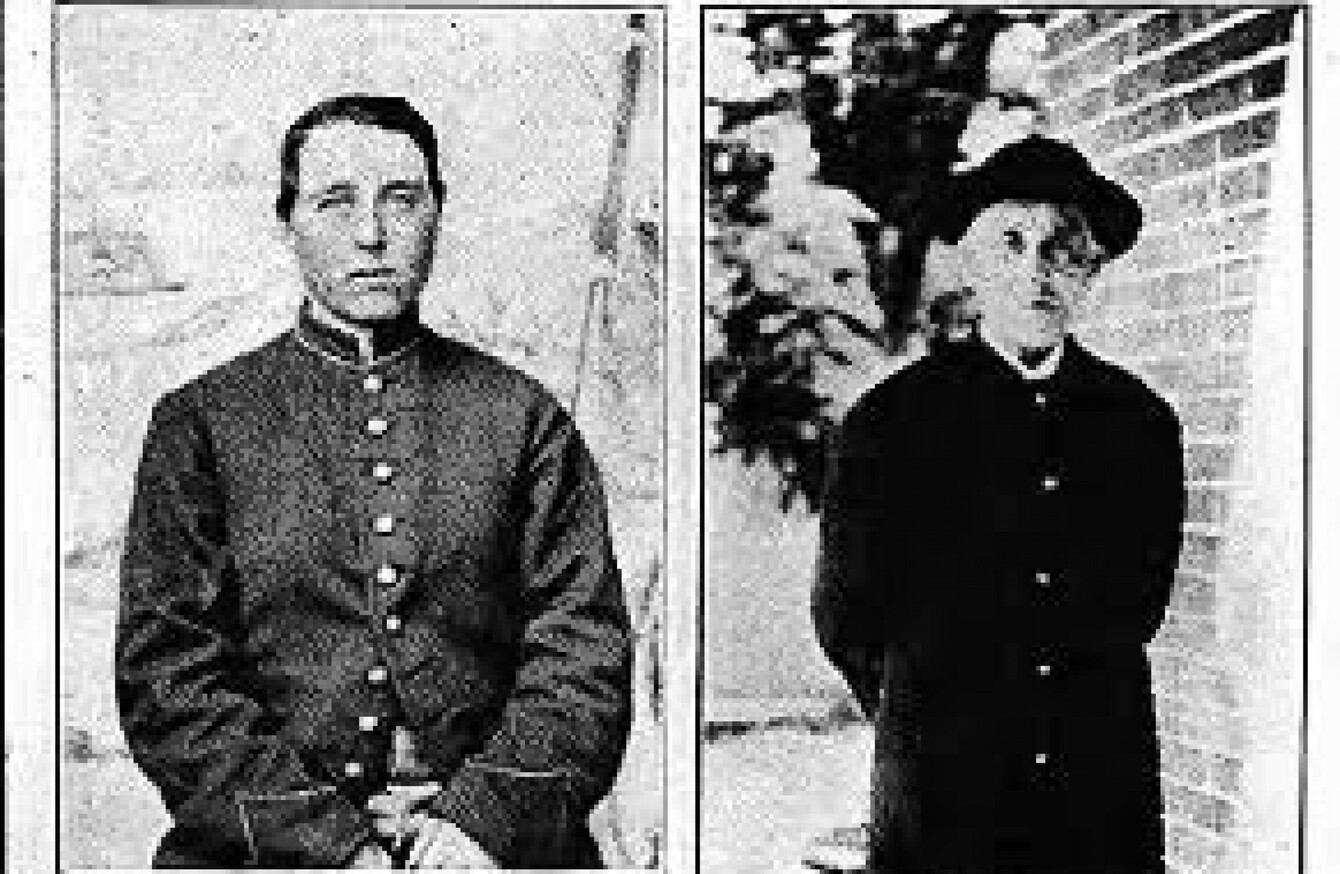 Image: Illinois State Historical Library via Fiona Ní Eidhin
Image: Illinois State Historical Library via Fiona Ní Eidhin
NOBODY WILL EVER know the true motivation behind Irish woman Jennie Hodgers' decision to become Albert Cashier.
It was 1914, when discussions about gender identity weren't as nuanced they are today. But what we do know is how different life was for women in the USA then, and how Jennie Hodgers had fewer rights than Albert Cashier.
As Cashier, she could vote, she could fight in the war, and her illiteracy didn't hold her back as much.
Hodgers was born in Clogherhead in Co Louth in 1843. At the age of 16, she took the boat to Liverpool and then travelled on to New York. She was, said Fiona Ní Eidhin, who has made a documentary about Albert Cashier – due to be aired on 10 November on TG4 at 7.30pm – a typical Irish emigrant.
"The only difference was she was all alone and a single young girl – she was only 16 when she arrived," said Ní Eidhin. "She had no one with her."
Three years after Cashier's arrival, the American Civil War began and President Abraham Lincoln called for soldiers to enlist. "It was at this point we're presuming she wasn't in any employment at the time or it was scarce," said Ní Eidhin. "She decided to join as a man and to don men's clothes and change her name, and she was successful in joining up."
Cashier was in the army for three years, being a member of the 95th Illinois Infantry (a New York Times article on Cashier said they would have had a "cursory medical examination that required recruits only to show their hands and feet").
Hodgers wasn't the only woman who presented herself as a man to join the army – you can read more about their stories in the US national archives - others include Mary Scaberry, whose alias was Charles Freeman, and Sarah Edmonds (a Canadian) who called herself Franklin Thompson.
But Albert Cashier is the only Irish person that we know of – as of yet – who did this. "Albert was in the army for three years," said Ní Eidhin. "And went completely undetected day and night, sleeping and living with the men and no one knew the truth."
After the war, Hodgers decided to continue living as a man. Again, we're not sure if Hodgers was transgender or gender fluid, but we do know their employment prospects as a woman "wouldn't have been great", said Ní Eidhin.
"As a veteran she would get a pension and have the respect from the local community," said the documentary maker. "Most importantly, she would be able to vote." Women did not have the vote at this point.
"The fact that she voted before women even had the vote was really something I found very interesting," said Ní Eidhin.
The authorities accused her of taking her pension illegally and tried to have her pension stopped, but her ex-comrades from the war came forward and said this was definitely the same person we fought beside. They did manage to keep her pension coming forward.
Saunemin
After the war, Cashier moved to a little village in Illinois called Saunemin, which has just a few hundred residents, and worked as a labourer, a farmhand, and a gas lamp lighter.
But Cashier's gender situation was revealed when they were working for a man named Ira Lisch. Lisch accidentally reversed into Cashier, breaking Cashier's leg.
While giving medical treatment afterwards, the doctor discovered that Cashier was born in a female body.
"Remarkably he agreed to keep the secret," said Ni Edihin. "This happened twice, and Cashier managed to plead with people not to say anything."
The injury was the start of Cashier's descent into ill-health and eventually dementia. Cashier's secret was again revealed once more but also kept secret after they moved to a home for soldiers.
But when Cashier began to become senile, they were moved to an insane asylum (as they were called at the time) and Jennie Hodger's secret was discovered for the third time – and released to the press.
It made national headlines.
"Her demise is quite sad," said Ní Eidhin. "They forced her to wear women's clothes – she couldn't move properly, she couldn't walk properly and she used to fall and trip."
Cashier eventually passed away from ill-health. The story is delved into and told in a more in-depth fashion in Ní Eidhin's documentary, which includes interviews with people in Saunemin, where Cashier's house has been kept as a museum (after a long battle to restore it).
Of the Saunemin residents, Ní Eidhin said: "They have a love-hate relationship with Albert because I think at the time there was a bit of shame involved – this person 'cross dressed' as they called it. They weren't sure whether to be proud of this person or not."
But she said that many residents today are "very proud" of Cashier and want to see Jennie Hodgers/Albert Cashier's story publicised more (there's even a new musical about the tale).
"Some are very proud and some are indifferent," said Ní Eidhin. "But if you're talking about perhaps the older generation who remembers her, they remember her for being very eccentric and but at the same time kept to herself. She wouldn't have been the most amiable of people. She used to always wear her veteran suit every single day apparently.
Perhaps the high collar helped her physically. She was very proud of being an army vet and did everything she could to become a respected member of the community."
Albert Cashier's story services to show "how far women have come in their opportunities", said Ní Eidhin.
Hodger's only opportunities would have been to work in a laundry or be a seamstress, said Ní Eidhin. "Or live as a man and get $13 a month being in the army, which was twice the average industrial wage at the time. It was a lot of money for a person. So I think when you look at it like that, and you put it yourself in her position, she has no family or friends in America: no one is going to know and no one is going to find out."
"I don't think she intended to send the world a message – it was purely by chance we found about it," she added. "I think we can look back at this time and feel sympathy for women who didn't have the opportunities we have and had to do this to survive."
But at the same time, Ní Eidhin said we will never truly know what Jennie Hodgers/Albert Cashier's internal life was like. That is their final secret they took to the grave.
Unfortunately it's something we'll never know – if she did feel she was a man inside or she did do it for economic reasons. All we can do is guess and look at the climate at the time and go with that.
The story of Albert Cashier will be aired on 10 November on TG4 at 7.30pm.