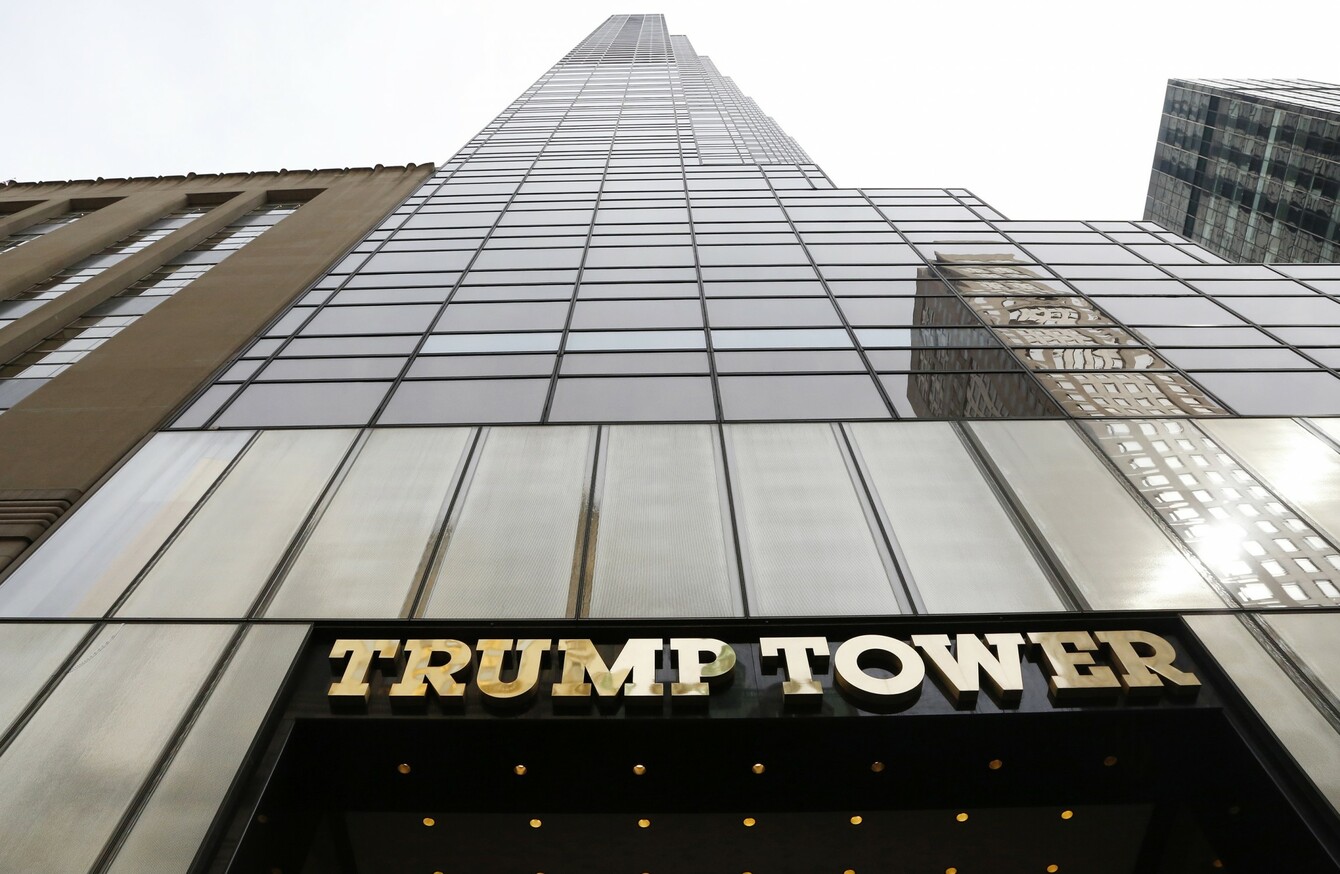 Image: Mark Lennihan/PA
Image: Mark Lennihan/PA
A SNEERING RESTAURANT review savaging a bistro in the lobby of his New York headquarters and casting aspersions on what it might mean for his presidency provoked another of Donald Trump's infamous Twitter broadsides today.
"Trump Grill Could Be The Worst Restaurant In America," screamed the headline on the Vanity Fair online article, sub-headlined: "And it reveals everything you need to know about our next president."
The incoming Republican president, who has been at loggerheads with the magazine's editor Graydon Carter for decades, was not impressed.
Carter's feud with Trump dates back to the 1980s when the real estate tycoon projected himself as the definition of wealth. Carter in the past infuriated the former reality star by calling him a "short-fingered vulgarian."
Tourists today make a beeline for Trump Tower on Fifth Avenue, shopping for souvenirs and stopping for lunch at the lobby bistro as they hope to catch a glimpse of the president-elect or his cabinet nominees.
'Slop'
But the Vanity Fair review, written by reporter Tina Nguyen, summed up a recent late lunch with a group of companions as "rich-man slop."
She complained about "unnecessarily high-end ingredients" such as truffle oil, compared a slumped, overcooked steak to "a dead body inside a T-boned minivan" and wrote that the cocktails "seemed to be concocted by a college freshman experimenting in their dorm room."
"As soon as I got home, I brushed my teeth twice and curled up in bed until the nausea passed," Nguyen wrote.
The most edible dish, she concluded, was the taco bowl, a dish that Trump famously tweeted a picture of himself appearing to eat, on top of a photograph of his ex-wife in a bikini, in an attempt to deflect criticism that he is anti-Hispanic.
Nguyen also reserved sympathy for the "well-meaning staff," but finished by suggesting that the Trump Grill was an alarming indication of what might lie ahead for America under a Trump presidency.
"Perhaps it's a sign that Trump is in over his head, and a shallow, mediocre man who runs a shallow, mediocre business empire (and restaurant) would sink and implode, crushing the expectations of millions of his hopeful supporters."