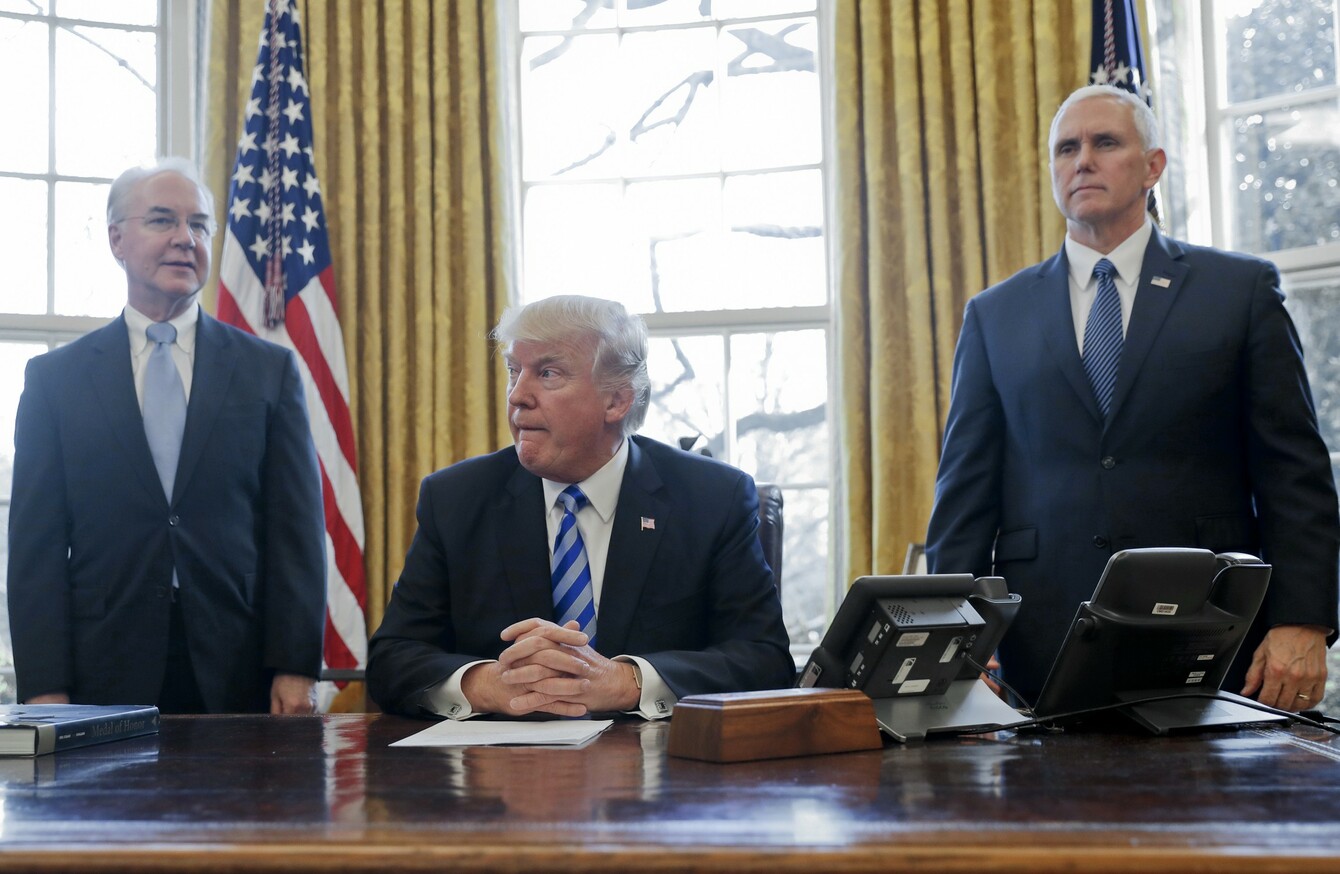 Image: Pablo Martinez Monsivais/AP/Press Association Images
Image: Pablo Martinez Monsivais/AP/Press Association Images
DONALD TRUMP HAS singled out the lack of support from Democrats as key reason for his failure to get the bill to repeal Obamacare passed in the House of Representatives.
When it became clear that the bill would not have the 215 votes required from Republicans to pass through the House, Trump pulled the bill at the last-minute.
Despite having a majority in both the House and the Senate, it is believed as many as 35 Republicans were opposed to the draft American Health Care Act.
It was estimated that as many as 24 million Americans would be left without healthcare coverage under the reforms proposed by Trump.
Trump's bid to make sweeping changes to the healthcare insurance measures that his predecessor Barack Obama introduced failed, as he was unable to win support from Republicans who felt his reforms didn't go far enough, and unable to win over any opposing Democrats to his cause.
Speaking to the Washington Post, he said: "We couldn't get one Democratic vote, and we were a little bit shy… so we pulled it."
Addressing reporters in the White House he added: "With no Democrat support we couldn't quite get there. They have Obamacare for a little while longer until it ceases to exist which it will at some point in the near future."
He said that if the Democrats were "civilised and came together", Trump's administration could work out "a great healthcare bill" with them. He added:
We learned about loyalty; we learned a lot about the vote-getting process.
On the campaign trail, one of Trump's pledges was to "immediately repeal and replace Obamacare".
As for what's next, Trump said he would move on to tax reforms and drop healthcare reform for the time being.
Red-faced Ryan
The most senior Republican in the House, Speaker Paul Ryan, had guaranteed a win for Trump's bid to repeal Obama's healthcare law.
While the pair were not in always in tandem during the new-President's campaign, Ryan had worked closely with Trump on this bill.
Speaking yesterday, he admitted that the failure to win enough votes was a blow.
Ryan said: "We are going to be living with Obamacare for the foreseeable future.
I will not sugar-coat this. This is a disappointing day for us. Doing big things is hard.
As Speaker, Ryan's role involves rallying support for bills to get through the House.
Trump, however, was not critical of Ryan. He said: "I like Speaker Ryan. I think Paul worked really hard."
House Minority Leader, Democrat Nancy Pelosi, reacted: "Today is a great day for our country, what happened on the floor is a victory for the American people.
Let's just breathe a sigh of relief for the American people.
With reporting from the Associated Press