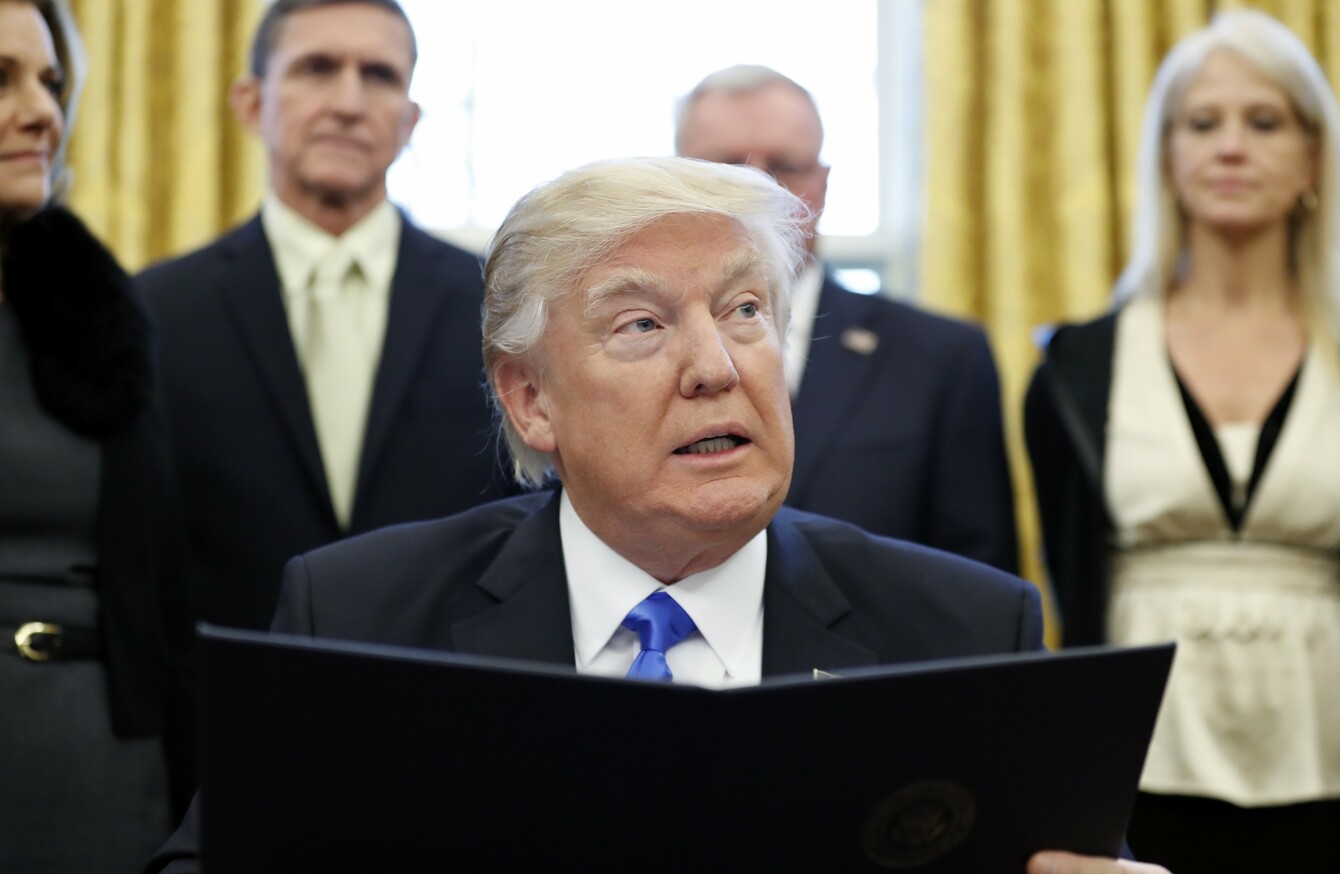 Image: Alex Brandon AP/Press Association Images
Image: Alex Brandon AP/Press Association Images
US PRESIDENT DONALD Trump has provoked a strong reaction with his move to ban travellers from a range of countries – all predominantly Muslim – from entering the United States.
Demonstrations took place across America over the weekend, and petitions opposing Trump's measures have garnered a lot of attention both here in Ireland, and elsewhere.
It must be pointed out, however, that while many anti-Trump petitions have been geo-specific, it is impossible to say if all of those signatories are from that country.
At the time of writing, just over 30,000 people have signed this petition aimed at halting Enda Kenny from meeting Trump in the White House for his annual St Patrick's day visit.
The petition is titled: "Shamrock for Trump: Not in my name".
Speaking to TheJournal.ie, the petition's creator Cornelius Traas said that the idea arose as he felt that there was room for people here in Ireland to express their dissatisfaction at what Trump was doing.
"I wanted to put something together that would be fairly simple," he said. "A simple petition that people could express a view on."
While happy with the response so far, he believes that he will receive a great deal more signatures to the petition, as many Irish people are "uncomfortable" with the actions taken by Trump.
"I think Kenny may go, but that's not the point. I wanted him to know that he isn't speaking on my behalf, or the behalf of anyone else that signs this petition, when he meets Trump."
He said he had canvassed local TDs in his own constituency and would urge those who feel strongly on the matter to do the same.
The more people that contribute to this conversation, the better.
It is has now become customary for the Taoiseach to present a bowl of Shamrock to the US President on St Patrick's Day and it is expected that Kenny would do the same again were he to visit this year.
Kenny will become only the second EU leader to visit Trump in the White House if he made the trip, which has been used as a platform to strengthen Irish-American relations in the past.
In a Q&A on its website, Fine Gael reiterated that Kenny intends on visiting the White House on St Patrick's Day:
St Patrick's Day provides the Irish Government with a unique annual opportunity to hold bilateral talks with the US President and this longstanding arrangement is of great value to Ireland.
Visiting the White House on St Patrick's Day allows the Taoiseach of the day to outline, in person, the Government's view on a range of issues, such as business and economic ties, immigration and other matters of common interest. The Taoiseach has accepted an invitation from President Trump to visit the White House for the annual St. Patrick's Day meeting. The Taoiseach will continue to act in the interest of Irish people.
Speaking on RTÉ's Morning Ireland today, Minister of State Darragh Murphy admitted that Trump's travel ban had created a sense of "significant confusion".
"I accept that this is a matter that should be discussed," Murphy said in relation to Kenny's visit.
He mentioned the concerns he felt from Irish people on a recent visit to the US. He added that it was vital to maintain US-Irish connections.
Labour Leader Brendan Howlin has said: "Put plainly, if the Muslim ban remains in place, Enda Kenny should not be boarding a plane to Washington in March. And our government should be working might and mane to make sure that these policies are not enforced on Irish soil."
One million signatures for UK petition
The UK's petition calling for the government not to allow Trump make an official state visit has already got well over one million signatures.
Under the rules for the UK parliament, if a petition gets in excess of 100,000 signatures, it must be considered for debate by parliament.
The petition says: "Donald Trump should be allowed to enter the UK in his capacity as head of the US Government, but he should not be invited to make an official State Visit because it would cause embarrassment to Her Majesty the Queen."
Although not all petitions end up being debated, a topic will be debated if it's on a topic that the UK government can do something about.
For example, a petition calling for Israeli Prime Minister Benjamin Netanyahu to be arrested for war crimes was rejected as a topic for debate, as the UK government could not do anything about the issue.
On the other hand, topics such as a sugar tax, legalising cannabis and junior doctors contracts have all been deemed relevant enough to warrant debate so it is likely that Trump's visit will get a mention in the House of Commons as that is something that the UK can control.
Theresa May has faced growing pressure over her ties to Trump, with this petition joined by dissenting voices on the opposition benches and within her own party urging her to reconsider inviting Trump to the UK.
Opposition Labour leader Jeremy Corbyn, the smaller Liberal Democrats and the Scottish National Party have all called for the state visit to be cancelled, as have some Tories.
"We have to question whether … this is something that Britain should be doing for a man who has no respect for women, disdain for minorities, little value for LGBT communities, no compassion for the vulnerable and whose policies are rooted in divisive rhetoric," Conservative Muslim peer Sayeeda Warsi told BBC radio.
Conservative MP Sarah Wollaston said Trump should not be invited to address lawmakers as Barack Obama did in parliament's Westminster Hall during his state visit in 2011.
Ruth Davidson, leader of the Scottish Conservatives, said the visit could not go ahead "while a cruel and divisive policy which discriminates against citizens of the host nation is in place".
Trump began telling the public his thoughts in his usual manner this morning, taking to Twitter to air his views on critics of his travel ban.
With reporting from AFP.