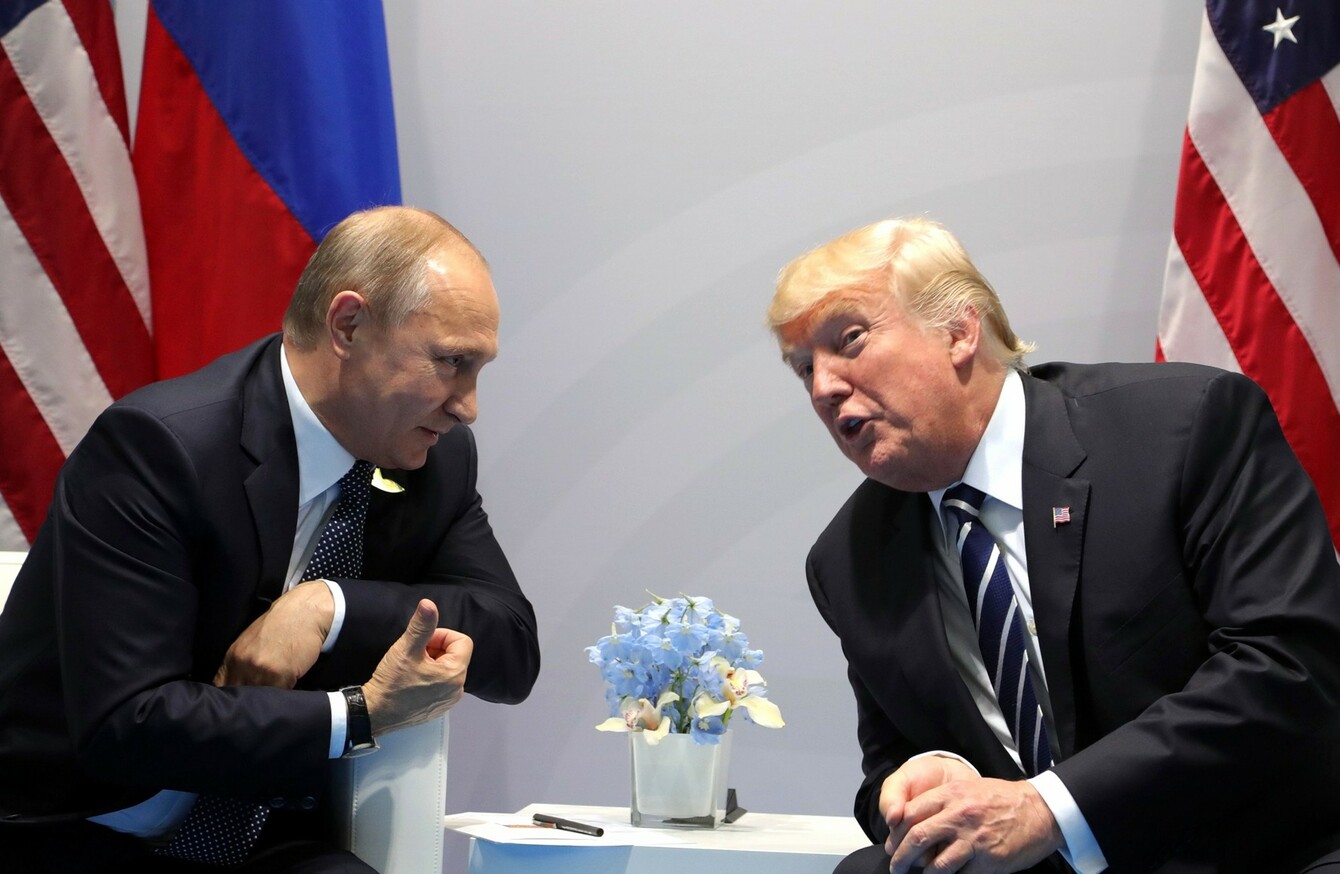 Putin and Trump meet at this week's G20 summit.
Image: Mikhail Klimentyev/AP
Putin and Trump meet at this week's G20 summit.
Image: Mikhail Klimentyev/AP
SENIOR REPUBLICAN SENATORS have ridiculed US President Donald Trump's plan to work with Russia to prevent election meddling, with one likening it to working with the Syrian regime to prevent chemical attacks.
The comments from Senators Marco Rubio, John McCain and Lindsey Graham came as Trump and his top advisers tried to put the best face on the US president's lengthy meeting on Friday with President Vladimir Putin of Russia.
Trump tweeted today that it was time to work "constructively" with Russia, despite Moscow's alleged interference in last November's US election, and he said he and Putin had discussed setting up "an impenetrable cyber security unit" to prevent any future election hacking.
That drew expressions of unmasked scorn from the Republican senators.
"Partnering with Putin on a 'Cyber Security Unit' is akin to partnering with Assad on a 'Chemical Weapons Unit,'" Rubio tweeted early this morning, referring to Syrian President Bashar al-Assad. Rubio sits on both the foreign relations and intelligence committees.
McCain, voice dripping with sarcasm, told a CBS interviewer that "I am sure that Vladimir Putin could be of enormous assistance in that effort, since he's doing the hacking." McCain chairs the armed services committee.
And Graham, with equal sarcasm, said on NBC that the cyber idea was "not the dumbest idea I've ever heard, but it's pretty close." Graham is a member of the armed services committee.
#Open journalism No news is bad news Support The Journal

Your contributions will help us continue to deliver the stories that are important to you

Support us now
Graham said he thought Trump was doing "a good job" in Afghanistan, on North Korea and in the fight against the Islamic State group, but then added: "When it comes to Russia, he's got a blind spot, and to forgive and forget when it comes to Putin regarding cyber attacks is to empower Putin, and that's exactly what he's doing."
All three senators have criticised Trump at times. Rubio and Graham vied unsuccessfully with Trump for the Republican presidential nomination last year. McCain was the Republican candidate for president in 2008.