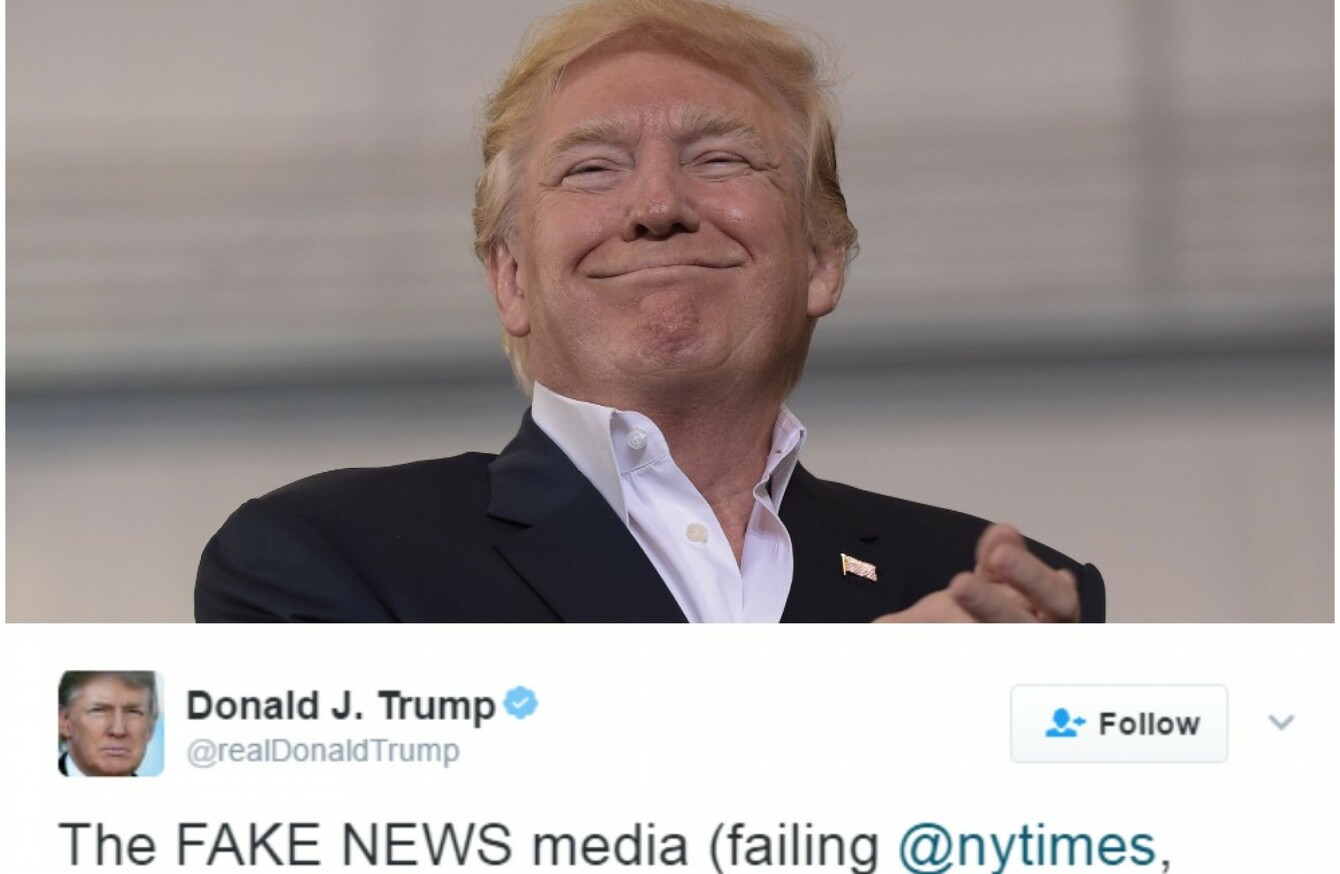 Image: Susan Walsh AP/Press Association Images/Twitter
Image: Susan Walsh AP/Press Association Images/Twitter
FOR THE MOST powerful man in the world, it's been a busy month.
In the 31 days since he was inaugurated as US President, there has been an intense scrutiny placed on everything the Trump administration has done, from the travel ban to the Russian leaks.
Political leaders are subject to such debate no matter what they do, but Trump's use of Twitter differs vastly from his predecessor.
On Twitter, he calls out opponents, criticises the media, defends the actions taken by his administration and makes declarations on what he plans to do.
But these aren't just personal thoughts. They matter. When it's the US President saying it, it makes a difference.
Officials in the US State Department have pondered just how literally they should take his tweets, and if they should form part of official US foreign policy.
"I have never hesitated to take anything that POTUS said in speeches, press conferences, and other remarks as anything but policy," a midlevel diplomat wrote in December.
Given the president-elect's penchant for using (Twitter) in a much more spontaneous context than most other [US government] officials, how should foreign service officers regard those statements?
It has been seen that Twitter has been the place where Trump has announced some major policies.
China has been taking Trump very literally from his tweets, and businesses have already begun to carefully monitor what is said on the platform, while other businesses are making money from it.
It is little wonder, then, that his daily schedule revolves around this regular habit and with plenty of eyes on his latest update.
"Oh, he's up"
According to the New York Times, Trump has a fairly steady schedule.
He gets up at 6am every morning, and it's usually not long before he starts tweeting.
In terms of his tweets, Trump posts early and often.
In his first week in the White House, his first tweets were all sent before 8am, with three coming before 7am.
Over the past month, that's stayed fairly constant.
So much so, that people were shocked on 13 February, the first morning he didn't tweet early.
His early tweets range from the personal to the political with some common themes cropping up.
Much has been made of the unsecured Android device from which he sends an awful lot of his tweets – particularly the early morning and evening tweets – which he carries around the White House despite "the protests of some of his aides".
He has professed his love for the phone in the past, but security experts have raised fears that the phone could be vulnerable to hacking.
Nevertheless, that Android phone remains his device of choice and most of his tweets originate from that phone.
Procrastinating?
The early riser is said to religiously watch news networks on TV before looking through the morning newspapers with his meetings starting at 9am.
The Washington Post has drawn attention to Trump's habit of tweeting during times he's supposed to be attending meetings.
When defending his daughter, Ivanka, whose clothing line was dropped by department store chain Nordstrom, at around 10.51am, he was due to be participating in his daily intelligence briefing.
They point out that he's often tweeting while he is due in meetings, such as when he was due to speak to Indian Prime Minister Narendra Modi, German chancellor Angela Merkel, the CIA director and the Australian Prime Minister Malcolm Turnbull (although we've already heard that chat didn't go so well).
He prefers to work most of the day in the Oval Office, before watching some more TV.
He is also said to read 10 letters sent to him by members of the public in the evening, which are chosen by his aides.
He has swapped Trump Tower for the White House but, so far, there is no indication as to whether he gets more or less than the "four or five hours sleep" he claimed he got while on the campaign trail.
This schedule doesn't actually differ that much from Obama's routine, who told NBC News back in 2009 that he would wake at 6.30am most mornings and would often stay up past midnight but Trump's use of Twitter to make political and personal points marks a departure from his predecessor.
The tweet effect
While the US President posting on Twitter is not exactly a new thing – Obama's personal and White House Twitter account sent out thousands tweets over his eight years in office – Trump's tendency to attack opponents and media outlets from his personal account in a public forum is unprecedented.
The views of Trump are nothing else if not influential, and sharing his take on events so regularly has a myriad of consequences.
Before he took office, the Washington Post released an extension for web browsers that allow people to read the take of paper's fact-checkers on Trump's tweets as they are reading them.
They now do a weekly series on what they think Trump got wrong on Twitter that week.
Trump's tweeting habit isn't just personal, it's big business too.
The US President's tweeting habit is so prodigious that companies are already finding ways to make money from it, while one post in December was enough to drop the market value of a US military contractor by €1.8 billion (curiously its share price has improved sharply since Trump's inauguration).
While we usually get a good idea what Trump is thinking from his press conferences and speeches - which can often provoke a lot of debate themselves - his tendency to tweet so regularly and so bluntly offers a platform that other world leaders shy away from.
It is virtually unthinkable to imagine Enda Kenny using his Twitter page in a similar manner, while UK Prime Minister Theresa May's account take a similar approach Kenny in posting simple updates from their day-to-day roles as leaders of the country.
Trump's rhetoric is controversial, his tone often argumentative and his medium for getting it out there widely available.
And we're only a month in. He's only getting started.