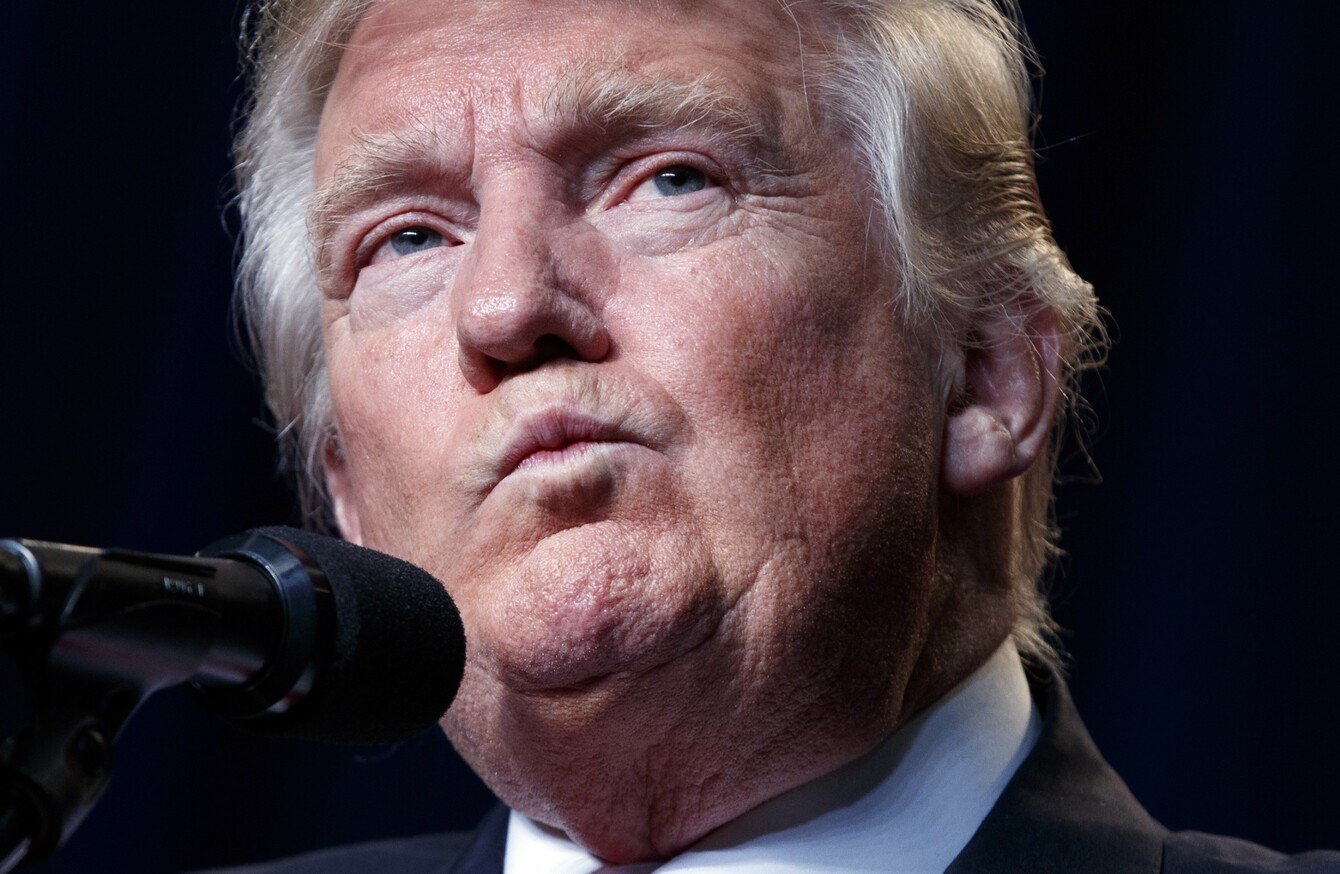 Donald Trump is more tight-lipped than usual.
Image: Press Association/Evan Vucci
Donald Trump is more tight-lipped than usual.
Image: Press Association/Evan Vucci
LAST WEEK WAS a tough week for Donald Trump.
The Republican presidential nominee began the week by tackling criticism from military and veterans' groups, after he made negative comments about Khizr and Ghazala Khan – the parents of a Muslim soldier killed in the Iraq war. Later that same day, he refused to endorse Paul Ryan, the US House Speaker; and Senator John McCain, a former Republican Presidential candidate.
He also claimed he watched a video that didn't exist and ousted a baby from one of the speeches he was giving.
And even though it might seem like picking on a baby is the lowest level a politician could stoop to (most people on election trails prefer to kiss them) it's actually the former two issues that may cost Trump the election.
Trying to look presidential
Yesterday, Trump took to the stage of the Detroit Economic Club to outline the financial steps he would take if he were elected president.
He promised to simplify the tax code to three brackets, freeze financial regulations on corporations, and allow parents to fully deduct the average cost of childcare from their taxable income, a policy first mentioned by Trump's daughter Ivanka at the Republican National Convention last month.
The most notable feature of this Trump speech though, was his preparation and uncharacteristically calm approach. He read his economic policies from a script, endorsed three Republicans for re-election, and when protesters at the event rose up and shouted questions at him, the businessman who's known for his controversial outbursts, remained unusually tight-lipped.
This out-of-character, 'improved' appearance by Trump is not the result of a new change of heart, and probably isn't even caused by public outrage at his comments – he's used to that backlash at this stage.
What is more likely to be at the root of Trump's reboot is reaction from those he's really representing – the Republicans.
Anger from the GOP
The Republican establishment have never been pleased with the idea of Trump as their presidential nominee, and although they have repeatedly said that they disagree with his controversial claims, they have also continued to endorse him for president of the US.
This week however, the Grand Old Party (GOP) seem to have reached a point where they can bite their tongue no longer.
Recent reports from the Wall Street Journal said that Trump's campaign appealed to Republican Congressmen and Senators, asking them to publicly defend Trump's questioning of the Khan family's motives for appearing at the Democratic convention.
Despite their efforts, only about half a dozen lawmakers did so, while numerous others chided him for his actions.
#Open journalism No news is bad news Support The Journal

Your contributions will help us continue to deliver the stories that are important to you

Support us now
One incident in particular is indicative of how the bad the problem is. It involves the Trump campaign's co-chairman in Congress, Republican Duncan Hunter of California, who defended Trump over the Khan episode last week on Fox News.
But even he has stopped going to the weekly meetings with Trump officials, in part because he has been disappointed by the nominee's lack of personal outreach to Hunter's Republican colleagues.
This is the lack of support that has worried Trump and his campaign team, and forced them to polish his public image by endorsing other Republicans for election in the hope that it drums up support. But it may be too little too late for these changes to have any impact.
Meanwhile, the Republican Party needs to decide if they're going to get behind their candidate for the final stretch before polling day, or if they're going to forfeit the election and give the Democrats another four years in the Oval Office.
As they weigh up these options, the words of Khizr Khan must be ringing in a lot of Republicans' ears:
This election will pass, the history will be written. The moral burden on the leadership of the Republican party will haunt them if they do not disassociate themselves from [Trump].
With just three months to go before polling day in November, we'll have to wait and see how Trump and his relationship with the Republican Party develops – the election result could hang on it.