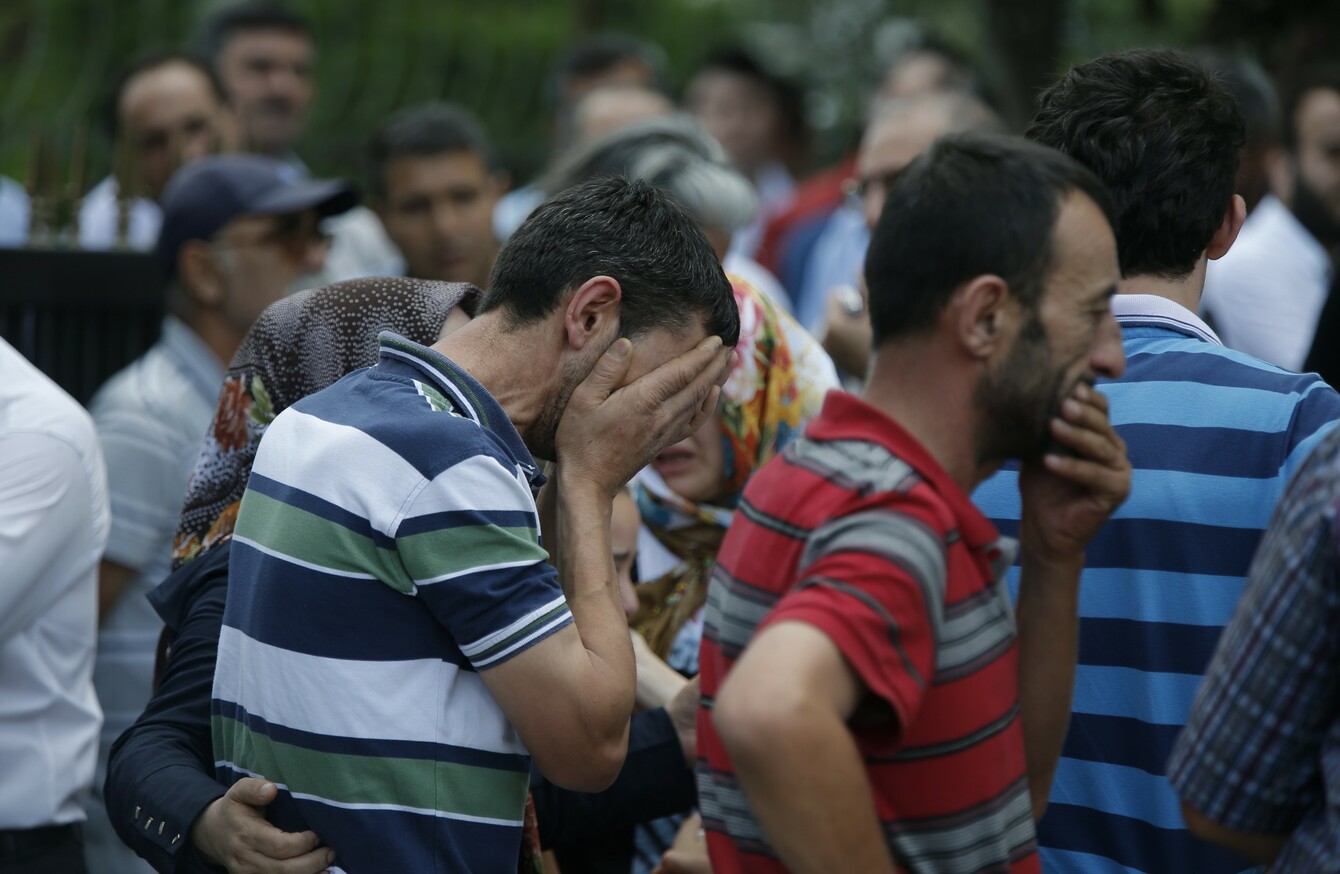 Family members of victims gather outside the Forensic Medical Centre in Istanbul.
Image: Emrah Gurel
Family members of victims gather outside the Forensic Medical Centre in Istanbul.
Image: Emrah Gurel
THE DEATH TOLL in a triple suicide bombing at Istanbul's international airport has risen to 41, with 13 foreign nationals among the dead.
A total of 239 people have been wounded in the attack, which Turkish officials believe was carried out by so-called Islamic State (IS) terrorists.
A Turkish official, speaking on condition of anonymity, said five of the dead were from Saudi Arabia, two were from Iraq, with one from Tunisia, Uzbekistan, China, Iran, Ukraine and Jordan,
The governor's office said 109 of the 239 wounded have since been discharged from hospital.
The airport has reopened and flights have resumed this morning, as the country comes to terms with the attack.
The attackers began spraying bullets at the international terminal entrance before blowing themselves up at around 10pm (7pm Irish time) on Tuesday.
It is the deadliest of four attacks to rock Turkey's biggest city this year, with two others blamed on IS and another claimed by a militant Kurdish group.
Irish reaction
Foreign Affairs Minister Charlie Flanagan condemned the bombings as a "barbaric attack on innocent airline passengers".
Ataturk Airport is a major international crossroads and this was an attack on the both the people of Turkey and on the whole international community. 
It shows the lengths to which extremists are prepared to go to inflict harm and reinforces the need for international cooperation to track down terrorists and to stop these kinds of attacks. 
Flanagan confirmed there were no reports of any Irish citizens being caught up in the attack.
However he said anyone with concerns for Irish people should ring (01) 408 2000 or the Ankara Embassy on 0090 312 4591000.
A moment's silence was held in the Dáil this afternoon as a mark of respect to those who lost their lives in the attack.
Several TDs condemned the attack. Tánaiste Frances Fitzgerald said it was a "vicious and indiscriminate attack", while Fianna Fáil leader Michel Martin said it was "brutal and savage".
The Department of Foreign Affairs is advising travellers to exercise a "high degree of caution".
Islamic State suspected
Though there was no immediate claim of responsibility for Tuesday's carnage, Prime Minister Binali Yildirim told journalists at the scene "the evidence points to Daesh (another name for IS)".
Yildirim said the suicide bombers had arrived in a taxi and opened fire on passengers with automatic rifles before blowing themselves up.
Security camera footage widely circulated on social media appeared to capture two of the blasts. In one clip a huge ball of flame erupts at an entrance to the terminal building, scattering terrified passengers.
Another video showed a black-clad attacker running inside the building before collapsing to the ground – apparently felled by a police bullet –and blowing himself up.
Tuesday's attack follows coordinated IS suicide bombings at Brussels airport and a city metro station in March that left 32 people dead.
"I can't find my sister"
An AFP photographer saw bodies covered with sheets at the terminal, which bore heavy damage from the blasts.
Bullet holes peppered the windows and shattered glass lay on the floor, while abandoned luggage was scattered everywhere.
Hundreds of police and firefighters including forensic officers were at the scene.
"Somebody came and shot at us and then my sister ran," Otfah Mohamed Abdullah told AFP.
I don't know which way she ran and after that I fell down. I was on the ground till he (the gunman) stopped… I can't find my sister.
"I was waiting for my flight to Tokyo and suddenly people started running and I followed them. I heard gun shots and everyone was panicking," Japanese tourist Yumi Koyi told AFP.
There was chaos at the nearest hospital in Istanbul's Bakirkoy district, which was inundated with relatives desperate for news of loved ones.
Yildirim visited the hospital to offer his condolences to the victims.
Brussels airport, the scene of suicide bombings just months ago, tweeted condolences, saying: "Our thoughts are with the victims of the attacks at@istanbulairport."
"Joint fight" call
Turkish President Recep Tayyip Erdogan called for an international "joint fight" against terror, as Western allies including the United States condemned the "heinous" attack.
"We urge the world, especially Western countries, to take a firm stand against terrorism," Erdogan said in a statement.
"Despite paying a heavy price, Turkey has the power, determination and capacity to continue the fight against terrorism until the end."
Istanbul, a major tourism hub that is home to some 15 million people, has suffered a series of attacks in recent months, including a bombing in the heart of the tourist district that killed a dozen German visitors and was blamed on IS.
Additional reporting: Isabel Hayes