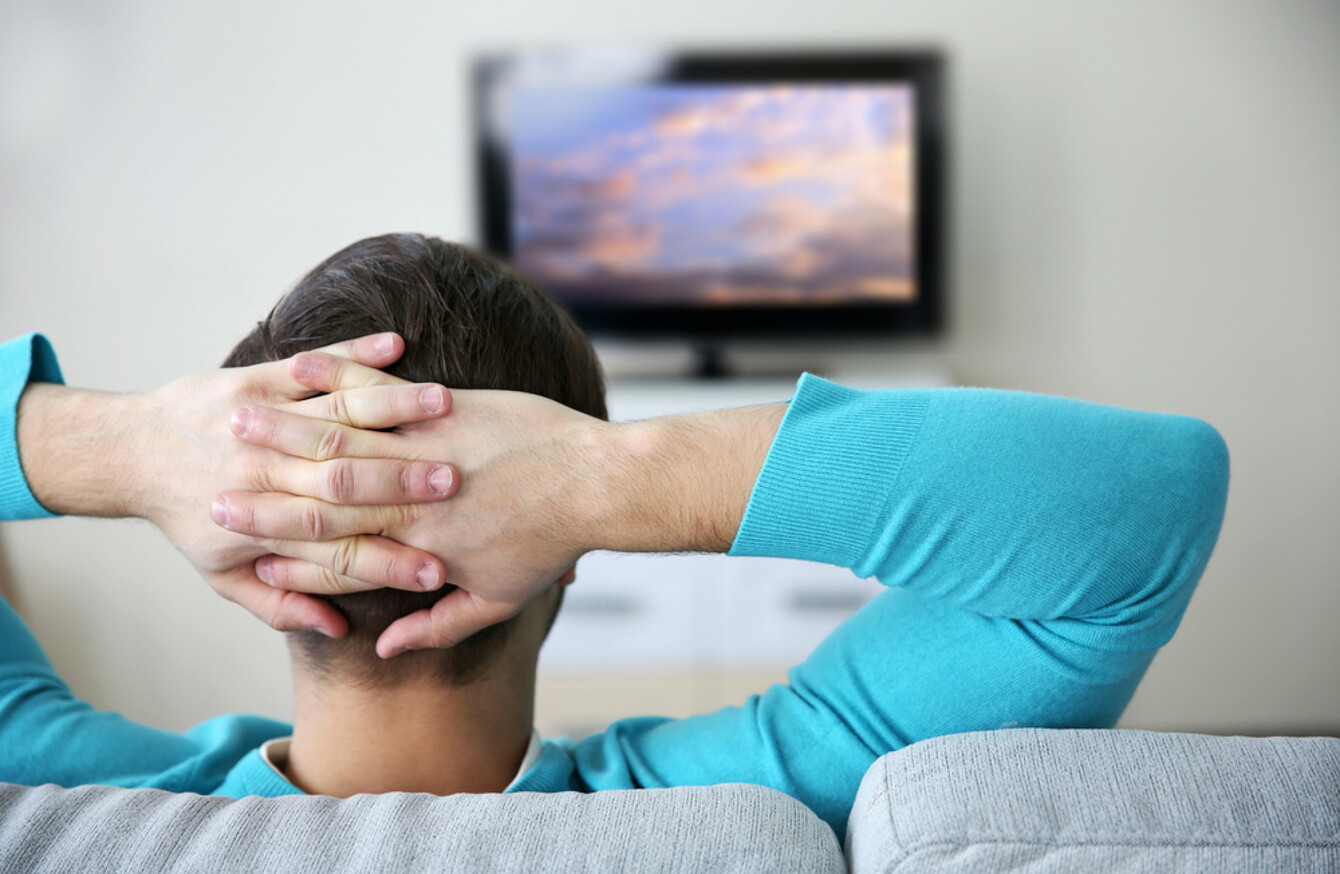 There has been a jump in the number of people buying a TV licence last year.
Image: Shutterstock/Africa Studio
There has been a jump in the number of people buying a TV licence last year.
Image: Shutterstock/Africa Studio
OVER 8,000 EXTRA households bought a TV licence in 2017. The latest figures show that the total TV Licence sales for 2017 were 1,027,596 – an increase of 8,427 from 2016.
A total of 1,019,169 TV licences were sold in 2016.
The jump in the figures over the last year is largely attributed to the public awareness campaign rolled out by the Department of Communications.
An advertising campaign, which ran across TV and radio, highlighted the penalties for non-payment of the €160 fee.
Communications Minister Denis Naughten previously told TheJournal.ie that his department had been focused on improving TV licence fee compliance rates, stating that the current levels of TV licence evasion were "unacceptable".
Evasion rates
The increase in TV licence purchases will go some way in improving Ireland's evasion rates, which are three times higher than the level of evasion in the United Kingdom and in Germany.
In 2017, Ireland had one of the higher rates of TV licence evasion in the EU, with 13.7% of those with television sets not paying up. The UK's evasion rate is estimated to be approximately 7%.
The figure in Ireland equates to a loss of approximately €40 million every year to public service broadcasting.
In a bid to clamp down on those who do not have a licence, the minister rolled out a raft of measures, including a communications campaign, as well issuing a new tender for a new TV licence agent tasked with carrying out TV licence inspections.
A spokesperson for the department said their research shows that the public campaign gave a definite push in the number of TV licences purchased. One tagline used in the ads where it highlights that buying a TV licence "is the law" resulted in a definite spike in take-up rates, they added.
Last year, there was a lot of talk about reforming the TV licence system.
Overhaul of the system
In November, the Oireachtas communications committee's report recommended that the TV licence fee be replaced with a broadcasting charge which would apply to every household "consuming media, regardless of the technology used".
This would mean any household with a device that can view public service content – that's television stations, radio stations, websites, or the RTÉ Player – will be subject to the charge. The report also stated that the current system is "broken" and called for radical reforms.
Meanwhile, the Director General of RTÉ called for an increase of the fee to €175. This has since been ruled out by the minister. Just this week, Fine Gael Senator Catherine Noone said the current model of the TV Licence system needed to be overhauled as a matter of priority.
#Open journalism No news is bad news Support The Journal

Your contributions will help us continue to deliver the stories that are important to you

Support us now
She suggested charging every home a modest fee per medium it uses, perhaps €4 per month, would be a positive move.
"This would result in every household paying for what they get," she said, adding: "This system would mean a household receiving just broadband would pay €48 per year, while a home using a landline and broadband would pay a total of €96 per year and so on.
In many cases this would significantly reduce the amount paid from the current flat rate of €160. She said introducing this measure would expand the eligibility of the fee to every home nationwide, rather than the current requirement that the home must have a TV.
However, the knock-on effect would obviously reduce the funding that goes to broadcasters such as RTÉ and TG4.
"This is completely outdated as many people now rely on laptops and streaming, a trend that is likely to grow.
"Moreover, this new system makes collection much simpler, as it would be collected by Telecoms companies, thus doing away with the need for the TV licence inspector," she added.