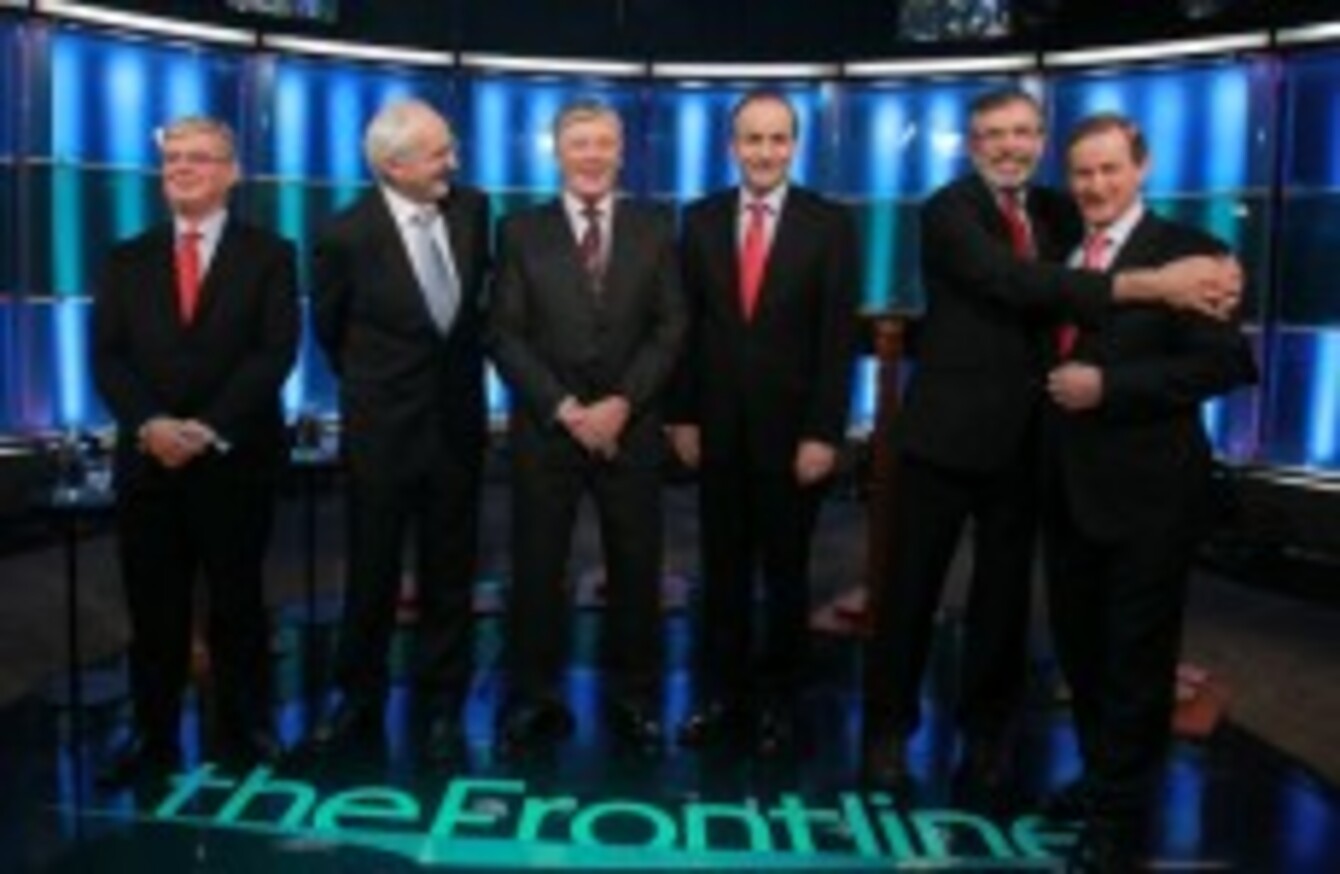 The Frontline Leaders' debate on RTE1
Image: Julien Behal/PA Wire
The Frontline Leaders' debate on RTE1
Image: Julien Behal/PA Wire
WE'RE A NATION of news junkies – and we have a lingering affection for Brendan O'Carroll comedy. That's what the AGB Nielsen Media Research figures for so far in 2011 have revealed about our TV watching habits.
However, it wasn't Enda Kenny and Michéal Martin at loggerheads which was the most-watched TV moment of the year so far. It was that other terrible twosome, Jedward, in all their Lipstick glory at the Eurovision. RTE hosted 48 out of 50 of the most-watched TV shows of 2011 thus far – with four current affairs and news programmes hitting the top ten.
TV3 managed to get into the Top 10 with an episode of Coronation Street. The most watched sports event was Ireland v England in the Six Nations rugby, broadcast on RTE2.
These are the top 20 most-watched programmes of 2011 from 1 January – 30 June, 2011, according to Nielsen figures released by RTE (RTE has posted the top 50 here>):
The Eurovision Song Contest, RTE1, 14 May – 1,182,700 people watched.
The Frontline Leaders' debate, RTE1, 14 February, 964,800
Mrs Brown's Boys, RTE1, 05 February, 924,200
The Late Late Show, RTE1, 11 February, 885,100
The Nine O'Clock News, RTE1, 20 March, 813,300
Prime Time Leaders' Debate, RTE1, 22 February, 806,700
The Eurovision Song Contest (semi), 12 May, 779,500
Six-One News, RTE1, 17 January, 771,100
Fair City, RTE1, 04 January, 764,400
The All-Ireland Talent Show, 20 March, 749,700
(10 in ratings divisions) Coronation Street, 3 January, 749,400
Primetime Investigates, RTE1, 16 May, 723,100
Queen Elizabeth II in Ireland, RTE1, 19 May, 710,400
Six Nations Rugby, RTE2, 19 March, 690,400
Election 2011, RTE1, 26 February, 684,400
Departure Day, RTE1, 10 January, 673,600
President Obama in Ireland, 23 May, 663,700
Raw, RTE1, 16 January, 649,000
Eastenders, RTE1, 04 January, 645,600
Operation Transformation, RTE1, 05 January, 640,500