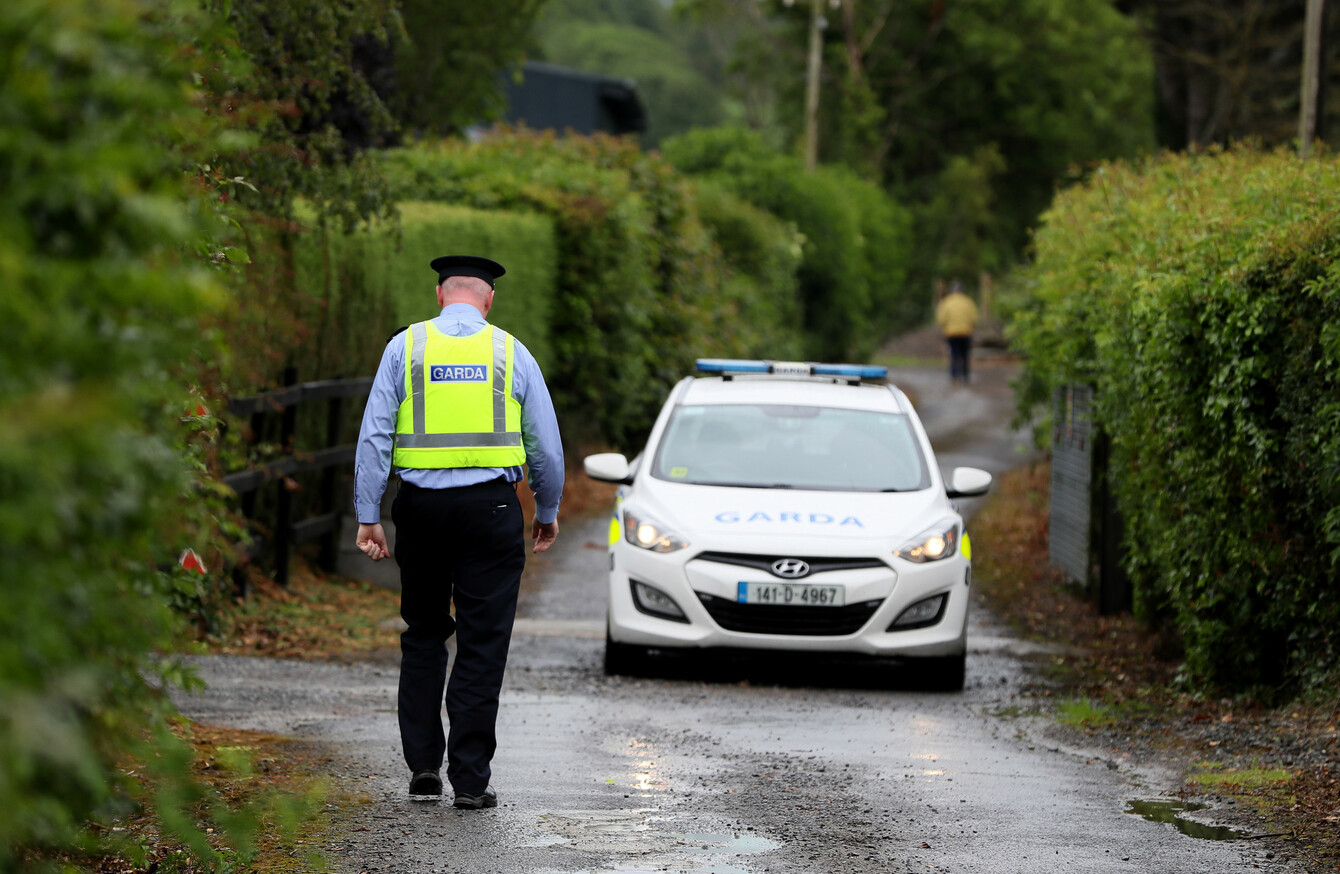 A member of An Garda near the scene in Belan, Moone, in Co. Kildare where two men have died following a light aircraft crash.
Image: PA Wire/PA Images
A member of An Garda near the scene in Belan, Moone, in Co. Kildare where two men have died following a light aircraft crash.
Image: PA Wire/PA Images
Updated Jun 14th 2019, 3:14 PM
TWO MEN HAVE been killed after a light aircraft crashed in Co Kildare.
The crash occurred at Belan, Moone, near Athy, Co Kildare yesterday evening, gardaí confirmed this morning in a statement. 
At 1am this morning, gardaí were alerted to the fact that a light aircraft with two people on board failed to return to Kilrush airstrip.
A search was carried out by gardaí and with the assistance of Irish Coast Guard helicopter Rescue 116 the aircraft was located today at 4.30am. 
The two men, one aged in his late 50s and the other 70 years old, were fatally injured in the crash and their bodies have been removed to the mortuary in Naas General Hospital.
Speaking to reporters this afternoon, Superintendent Martin Walker said that they will not be releasing the identities of the two men until their immediate family has been notified. He added that family liaison officers will be appointed for both families in Dublin and Kildare. 
The aircraft took off from Kilrush yesterday evening at around 7.30pm and later crashed in a remote area. The Air Accident Investigation Unit (AAIU) was notified at 3.30am that the aircraft was missing. 
Inspectors from the AAIU at the scene have carried out their initial field investigation. 
At a press briefing close to the crash site, Howard Hughes of the AAIU said the wreckage was being removed from the scene to the AAIU's facility at Gormanstown where they will determine what further steps need to be taken in the investigation.
Hughes also identified the plane as a BRM NG 5, a two-seater single piston aircraft.
He added that the rain had not made the process of recovery easy. "We have to do it in a manner that doesn't disturb any potential evidence," Hughes said.
According to the AAIU, early indications are that there was no communication from the aircraft before the crash. 
"Kilrush airfield is situated in airspace that does not have to make radio contact with any of the major air traffic control units around Ireland. They would not have had to submit a flight plan either.
"Light aircraft like this are not obliged to carry a flight recorder and to the best of our understanding at this early stage, there is none onboard," Hughes said. 
Speaking to RTÉ's News at One, the unit's Chief Inspector Jurgen White said that the aircraft was registered in the UK and was engaged on a local flight from Kilrush airfield.
"We believe they were engaged in a local training flight with the intention of coming back to Kilrush," White said. "But unfortunately they didn't return".
The AAIU hope to have a report on the investigation completed within 12 months. 
With additional reporting by Christina Finn, Cónal Thomas and Adam Daly